An In-Depth Handwork Experience with Mindy Upton of Blue Sky Craft Studio
Once-monthly, September 2023 through May 2024
This second year circle builds upon established handwork skills, so basic skills in sewing and wool felting are necessary. No previous attendance to Circle of Hands classes is necessary.   
Mindy is providing a unique and wonderful opportunity for participants, bringing together handwork, music and story for a complete experience that can be used in your early childhood program immediately after completion! The year's curriculum will include creating puppets, seasonal crafts and nature garden creatures that will enliven your growing repertoire.
Participants of the workshop need to have attended most of last season's Circle of Hands course, OR have solid, existing handwork skills in sewing, embroidery and wool felting.
This course is offered as an enriching experience for parents, care providers and educators, but is not available for CE hours.
How Will This Course Work
Each Circle meets over Zoom once monthly on Sunday afternoons, 1-3 pm Central. In order to create a lively "in-person" feel to the course, these sessions are not recorded.
We will meet: September 10, October 15, November 12, December 10, January 14, February 11, March 10, April 14, and May 12
Mindy strives to create beautiful crafts that suit multiple skill levels or levels of desire, with upcycled and simple materials that you may have around the house. Materials or supplies may still need to be purchased and each participant is responsible for procuring their own supplies.
Details of the Course Content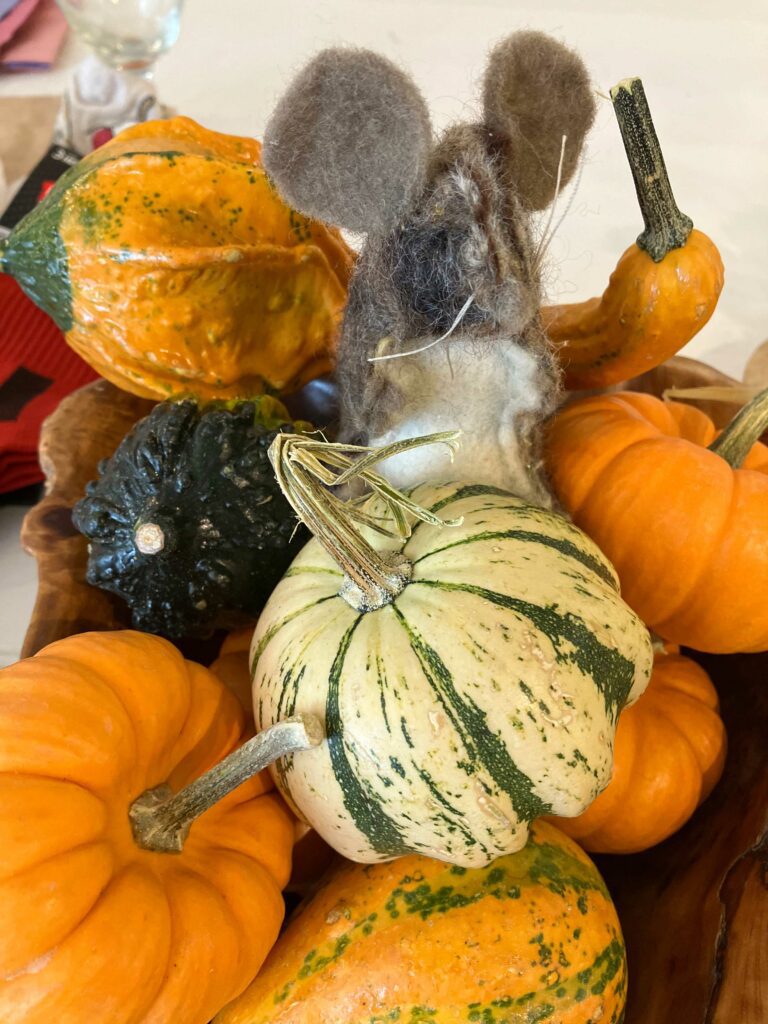 The Harvest Mouse from Mindy:
In this class we will look at the incredible tiny harvest mouse and her journey in autumn creating a winter home for her babies.
She works so hard to make a house for the winter and this is usually done while the farmers are out in the fields harvesting their crops.
These little mice are nimble climbers and are the smallest little creature you've ever seen.
If you stand in the middle of a field sometime in October, you will see some rushes swaying in the wind and there's probably a little nest very close by.
Harvest mice are at home wherever tall grasses and long stem plants grow. Underneath the harvest moon she skillfully builds between slits and stems, using her sharp little teeth and her long tail to help her build her home from grasses and reeds from the inside out!
This is a lovely protection story for the kindergarten offering a tale of a hard working creature preparing for winter by building a cozy home.
In this class we will make two kinds of mice; one will be wet felted, and one hand sewn. And we will also make harvest nests (we will learn the technique to create an empty vessel) I will offer a few patterns so that you can create a mousie workshop for school parents to join in as well!
Let's explore the art of story and puppetry together in the next few months and enjoy the magic and awe of sharing these beautiful stories and crafts and of course songs!
Mindy has been teaching Kindergarten for the past 40 years. She feels very fortunate to have been able to share her love of handwork, puppetry and fiber arts in the classroom with the children and families. She worked previously at her school, Blue Sky Kindergarten; and has recently opened Blue Sky Craft Studio in Niwot Colorado where she offers parent/child classes and art classes for children and adults. She has recently formed the "Three Wishes Puppet Troupe" that creates and performs Puppet shows for the Colorado community. This past summer, she was host to the Waldorf Association of Storytelling and Puppetry Arts Summer Conference. She is delighted to meet participants in our course and to enjoy the art of handwork together.
Learn more about Mindy and her craft studio at blueskycraftstudio.com.
$40 per session or $320 for the whole year
Refund Policy: Fees will be refunded in full up to 7 days prior to the start of the course, and at 50% if student cancels enrollment less than a week in advance. Fees are nonrefundable after the start of the course.
Also View all Our Other Courses
Welcome to LifeWays!
Online, view any time for free!
Brain Science and your Child's Journey Toward the Self
Online, Starts September 20, 2023
Inspired Homemaking with Rahima Baldwin Dancy
Online, starts October 4, 2023
Circle of Hands Year 2
Online, Next session October 15, 2023
Working with the Four Temperaments
Online, Starts October 18, 2023
Opening the Gate with Anna Rainville
Online, next session October 19, 2023
Circle of Hands
Online, Next Session Starts October 29, 2023
Celebrando: Entendiendo, Creando y Viviendo las fiestas con intención
En linea, a partir del 1 de noviembre, 2023
LifeWays Early Childhood Fundamentals Course
Starting August, 2024 in several locations!
Creating Home Away from Home: A Course for Home Childcare Providers
Online - Start Any Time!
Creating Your Family Culture -- An Elemental Approach
Online - Start any time!
Healthy Home Rhythms
Online - Start any time!
Living Arts Through the Seasons ~ Archived
Online Archive of past seasons
Subscribe to Living Arts Weekly Blog Posts by Email