Using "Home" as the Model in your Program with Rahima Baldwin Dancy
Starting Wednesday, July 19, 2023
A three-week online course for early childhood teachers and childcare providers in any location - schools, centers and homes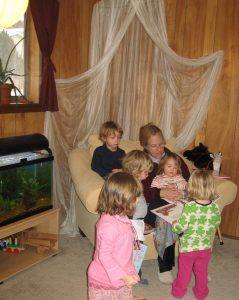 BONUS: Register now and receive a link to the video of Rahima's workshop "Family Matters: Homemaking 101 for Busy Parents" to share with your families.
LIVE CONFERENCE CALL and CONTINUING EDUCATION HOURS: The course includes a live video conference call with Rahima in the last week (Saturday, August 5th at 11am Central Time) and a certificate for 15 hours of continuing education upon completion.
Whether you're seasoned in the LifeWays approach or new to incorporating these elements into your program, this course is for you!
Rahima will guide you in looking at your program on four different levels – the physical, rhythmical, relational/emotional and spiritual/values levels.
Be inspired by hundreds of ways other providers have made their programs more home-like.
Create a plan to bring one or more new elements into your own program.
How Will This Course Work
Rahima has developed six multi-media lessons specially designed to affirm and inspire your interest in bringing more home-like elements into your program.
Receive two new lessons each Wednesday utilizing video, new written material, links to related reading, and suggestions for further resources.
Learn from Rahima's experience and photos from Rainbow Bridge and a wealth of other LifeWays and related programs.
Join the live online discussion with other active early childhood providers from all over the world.
Join a live video call with Rahima during the final weekend of the course, Saturday, August 5th at 11am Central Time (also recorded for those who can't attend).
Enjoy the video recording of Rahima's lively workshop, "Family Matters: Homemaking 101 for Busy Parents" and share it with parents in your program.
Certificate of Completion for 15 hours of continuing education available upon completion by August 11, 2023.
Details of the Course Content
Among the topics we'll cover:
The importance of elements of home for young children and throughout the lifespan
Physical Aspects: What makes a program "home like" and ways to incorporate more elements into your work with children, both indoors and outside.
Rhythmical Aspects: The things you actually do with the children and ways to make these activities more home-like, including snacks and lunches, nap or rest time and activities of bodily care. Ways to "tweak" your rhythms by looking at underlying principles.
Emotional/Relational Aspects: The emotional "tone" of your program and the qualities of relationships—with yourself, the children, colleagues, visitors and parents.
Spiritual Aspects: The highest level of intention, focusing on values that underlie your program and that inform the children's experience as life together unfolds. We'll include media and gun play, dolls and dump trucks, honoring diversity, using teaching stories and developing reverence, gratitude and joy.
"It was a wonderful chance for me to be able to take a step back and evaluate how things move, what works, what does not and what changes need to be implemented." ~ J.V. "It was helpful to have a look at how other teachers and programs bring the elements of home. Because doing this is not uniform, and is a very personal expression, I loved getting to read and see how so many other people have created their individual style." ~ C.B.
Rahima Baldwin Dancy
is internationally known as a midwife and the author of
You Are Your Child's First Teacher.
She was a Waldorf kindergarten teacher and had an in-home program in the 1980s, and then from 2008-2012 she and her daughter, Faith Collins, ran Rainbow Bridge LifeWays Program for children ages 1-5 years. Rahima was a founding board member of LifeWays North America, where she worked as Training Coordinator and later as Outreach Director.
Cost $150; Groups of five or more $100 each.
Refund Policy: Fees will be refunded in full up to 7 days prior to the start of the course, and at 50% if student cancels enrollment less than a week in advance. Fees are nonrefundable after the start of the course.
Also View all Our Other Courses
Welcome to LifeWays!
Online, view any time for free!
Circle of Hands
Online, next session June 11, 2023
Celebrando: Entendiendo, Creando y Viviendo las fiestas con intención
En linea, a partir del 14 de Junio, 2023
Curative Education in Early Childhood
Online, June 16-18, 2023
Using "Home" as the Model in your Program with Rahima Baldwin Dancy
Online, Starts July 19, 2023
LifeWays Early Childhood Fundamentals Course
Starting August, 2023 in three locations!
Creating Home Away from Home: A Course for Home Childcare Providers
Online - Start Any Time!
Creating Your Family Culture -- An Elemental Approach
Online - Start any time!
Healthy Home Rhythms
Online - Start any time!
Living Arts Through the Seasons ~ Archived
Online Archive of past seasons
Subscribe to Living Arts Weekly Blog Posts by Email