Mary O'Connell, President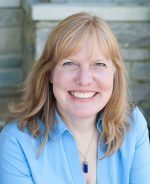 In 2002, Mary opened LifeWays Early Childhood Center in Milwaukee where she served as director for 13 years.  Mary is an alumni of the University of Wisconsin-Madison. She is a traveling teacher and Training Coordinator for LifeWays North America. She has taught parents and childcare teachers all over the U.S. and internationally. In 2010, Mary co-authored Home Away From Home: LifeWays Care of Children and Families with Cynthia Aldinger, and in 2018 she authored Observing Young Children: A Tool for Meaningful Assessment. Most recently, Mary started a non-profit farm education program at Paradise Farm in West Bend, where she and her colleagues provide outdoor, farm-based education to children and adults.
Kerry Ingram, Vice President
Kerry Ingram lives in Sebastopol, California with her husband Michael and son Francis. She is a trained Waldorf teacher and LifeWays graduate with years of early childhood experience, including running an in-home LifeWays program, Little Red Farmhouse. She created Mothering Arts in 2012 with the vision to inspire local gatherings in communities everywhere to nurture the nurturer and connect women in a positive way. Kerry enjoys the outdoors, gardening, canning, crafting, singing, camping, tending to bees, and meeting new people. She hopes that mothers and babies can always find a source of support and care within their community. http://www.motheringarts.com/
Rhoda Kambandu, Secretary
Rhoda Kambandu currently lives in Green Bay, Wisconsin with her husband Steve and their four daughters.  Rhoda is passionate about working in early childhood.  She was the Parent/Child Teacher at Tamarack Waldorf School in Milwaukee, WI for five years, and concurrently taught preschool at LifeWays Milwaukee for three years.  Rhoda completed her LifeWays training in Milwaukee and then went on to become a lead kindergarten teacher at Tamarack for two years, before relocating with her family to Green Bay.  Rhoda found her work with LifeWays and Waldorf to be profound and inspiring.  She joined the LifeWays Board of Directors out of a desire to help carry forward the work of providing quality childcare for children and loving support for parents.
Cynthia Aldinger, Executive Director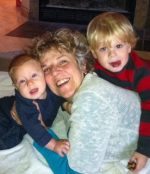 Cynthia founded LifeWays North America in 2001.  Author of the book Life is the Curriculum and co-author of the book Home Away From Home: LifeWays Care of Children and Families, Cynthia has lectured and presented internationally and is pedagogical director for trainings and seminars across the United States.  She served fourteen years on the board of the Waldorf Early Childhood Association of North America.  A former Waldorf Kindergarten teacher, Cynthia received her Waldorf teaching certificate at Emerson College in Sussex, England.  A mother and grandmother, Cynthia's passion is the preservation of the playful spirit of childhood and helping to create home-like environments that provide the comfort, security and activities found in a healthy home.
Marianne Alsop
Marianne is the Director of the California Coast LifeWays Early Childhood Training. She has been involved in Waldorf education for over 40 years as a mother, early childhood teacher and facilitator of Waldorf parenting groups. She holds a B.A. in English and attended Emerson College in England, a center for Waldorf teacher training.  Much of Marianne's focus and interest has been on all things early childhood. She was a co-founder of The Ark (Fair Oaks, CA) in 1977, one of the first Waldorf toy stores in North America. The growing interest in Waldorf education in this country led her to become the first Managing Editor of Renewal, A Journal for Waldorf Education. For 15 years Marianne developed and led parent support groups in the Sacramento, CA area and for 8 years she taught in the San Francisco Waldorf School Parenting program. She is also the Administrator of the Online Waldorf Library www.waldorflibrary.org , a website for Waldorf educational resources.  She and her husband, Dave, have two Waldorf educated adult children and three adorable grandchildren.
Shanah Ahmadi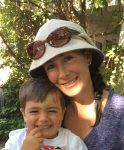 Shanah completed her LifeWays training in 2007, the same year she began a home-based program named The Purple House. In 2010, The Purple House became a non-profit organization, which was renamed Rose Rock School. Rose Rock School became a LifeWays childcare center in 2015, when it relocated, outside of Shanah's home, to a much larger property. Currently, Shanah is a lead caregiver and the administrator at Rose Rock.
Shanah loves getting to know the individual spirits of the people with which she works--children, parents, and colleagues. She cannot begin to count the ways that the many people she has worked with over the years have shaped her character and helped her to be a more loving, authentic, and dedicated human being. When Shanah is not at work, she enjoys biking, sewing, gardening, and having fun with friends and family.
Ashley d'Ambrosi Masters
Ashley's life has revolved around working with children and their families.  After growing up in her mother's home care program, she obtained a degree in Art Education and taught in public schools.  During this time, she felt a strong pull towards early childhood education.  She went on to become a preschool teacher, Director of a large childcare center, student of Anthroposophy and Board member for two Waldorf school initiatives (in CO and NC).  Ashley worked at the Santa Fe Waldorf School, was the lead Waldorf early childhood teacher at Azalea Mountain School, led parent-tot classes and operated a home-based LifeWays summer playgroup.  Now homeschooling her two sons, Ashley continues to incorporate her LifeWays work into their daily lives.  She is thrilled to help bring the LifeWays training to western NC, a dream since she completed her training in 2010.  Ashley also enjoys traveling, gardening, hiking, handwork, and shooting slingshots with her husband and boys. In addition to serving on the Board, Ashley works as Student Services Director of the LifeWays Trainings in Asheville, North Carolina.