A Collaboration between Mothering Arts and LifeWays North America - Ongoing—enroll any time!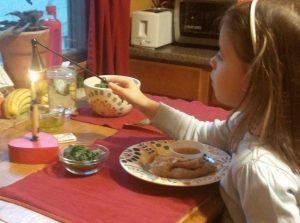 This popular online course, developed by Kerry Ingram at Mothering Arts, supports you to create a balanced home rhythm rooted in presence and joy. In this self-paced course, you will work with four water-colored seasonal rhythm wheels (printer required), a meal planner wheel and LOTS of practical resources to develop a rhythm wheel that is unique for your own family.  Create a more connected home life with the help of this inspiring, step-by-step, course that you can do any time and access again and again as the seasons—and your family—change.
Start now (register below)—the course is always accessible, and registration is only $40. Create time for fun, home-care, family traditions, self-care and nourishment.
 When you purchase the course, you have lifetime access to print as many seasonal rhythm wheels and meal planners as you wish. No start date and no finish date, just click the link when you feel inspired — perfect for busy parents. The course is divided into three steps that can be done all at once, over three days or any time period that fits in your schedule. A worthy investment for you and your family, less than taking your family out to eat for one meal and the benefits will last years. Make this the best year yet with a healthy rhythm that begins at home.
"This simple course has had nothing less than a profound positive effect on my life as a mother. It has helped me shape my day, offering a new sense of freedom. I now have space, not only to do the tasks of daily living, but to also have pauses in my day, to take a break from the 'doing' and fully enjoy BEING in the moment with my child. It is like a fresh new breath, and I get to inhale deeply and slowly!" ~ J.L.

"I recently did this course and was vaguely skeptical about whether it would create major change in our household or even whether I'd finish it… Well, it was amazing. A GAME-CHANGER." ~ A.R.E.
"The printable rhythm wheels are beautiful enough to frame and I can re-print them as my rhythm changes. Since living with my new rhythm, there have been less meltdowns and more fun. Thank you for this course, it's priceless." ~ L.D.
Invest in your family and yourself! Register now
Price $40 Register online below.
Refunds are not available for ongoing courses.
Also View all Our Other Courses
Welcome to LifeWays!
Online, view any time for free!
Opening the Gate with Anna Rainville
Online, next session November 30, 2023
Circle of Hands Year 2
Online, Next session December 10, 2023
Circle of Hands
Online, Next Session Starts December 17, 2023
Home as the Model; Life as the Curriculum 2.0
Online, Starts January 17, 2024
Care Begins with Me - An Online Workshop for Women
Online, Sunday, January 21, 2024
LifeWays Early Childhood Fundamentals Course
Starting August, 2024 in several locations!
Creating Home Away from Home: A Course for Home Childcare Providers
Online - Start Any Time!
Creating Your Family Culture -- An Elemental Approach
Online - Start any time!
Healthy Home Rhythms
Online - Start any time!
Living Arts Through the Seasons ~ Archived
Online Archive of past seasons
Subscribe to Living Arts Weekly Blog Posts by Email