July 17, 2022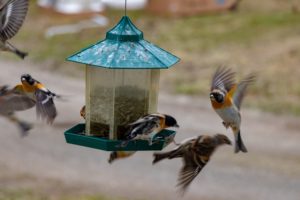 Despite the heat of summer, the verdant gardens and trees, and the bustle of wildlife keep me wishing to be outdoors. I have a ritual to my mornings- outside on my back deck as soon as possible, with my breakfast, an iced coffee, and a book of poetry. This summer, Sharifa Oppenheimer's, A Litany of Wild Graces, has been my food for soul.
I have more flexibility to my work schedule these months, so I give myself the gift of this slower start. I mindfully eat my breakfast and watch the birds eat theirs at the feeder. I read a poem or two and sit with it for a while, feeling the breeze or watching the trees, just being. Then, I tend to my gardens, every morning, before turning to work. I often stay out for as long as I can, bringing my computer or books outdoors under our shade sail, trying to draw my now-older children out with me as often as possible. In our current culture, the rise in temperatures drives people indoors to their air conditioning but our innate need for nature doesn't disappear. Being outdoors isn't just beneficial, it's crucial; and if we start outside in the morning, and make a habit of being there regularly, we acclimate to the heat and spend the time we really need out in nature, at work or play.

It's completely possible to do this with young children, too. Back in my days at Rose Rock School, we spent all day outdoors except for nap time; and I'm sure they still are now. Our slower rhythms with gardening and water play made summer both relaxing and rich. The children were robust and busy as bees, or dreamy and peaceful. In July of 2013, Faith Collins shared her tips to creating an outdoor program for toddlers and preschoolers in her article, An Outdoor Summer. Check out how she brought that feeling of "having all the time in the world, with nothing else to be done but to sit with the flowers" to the toddles in her program.
Happy Summer!