June 30, 2019
In summer, the song sings itself.     -William Carlos Williams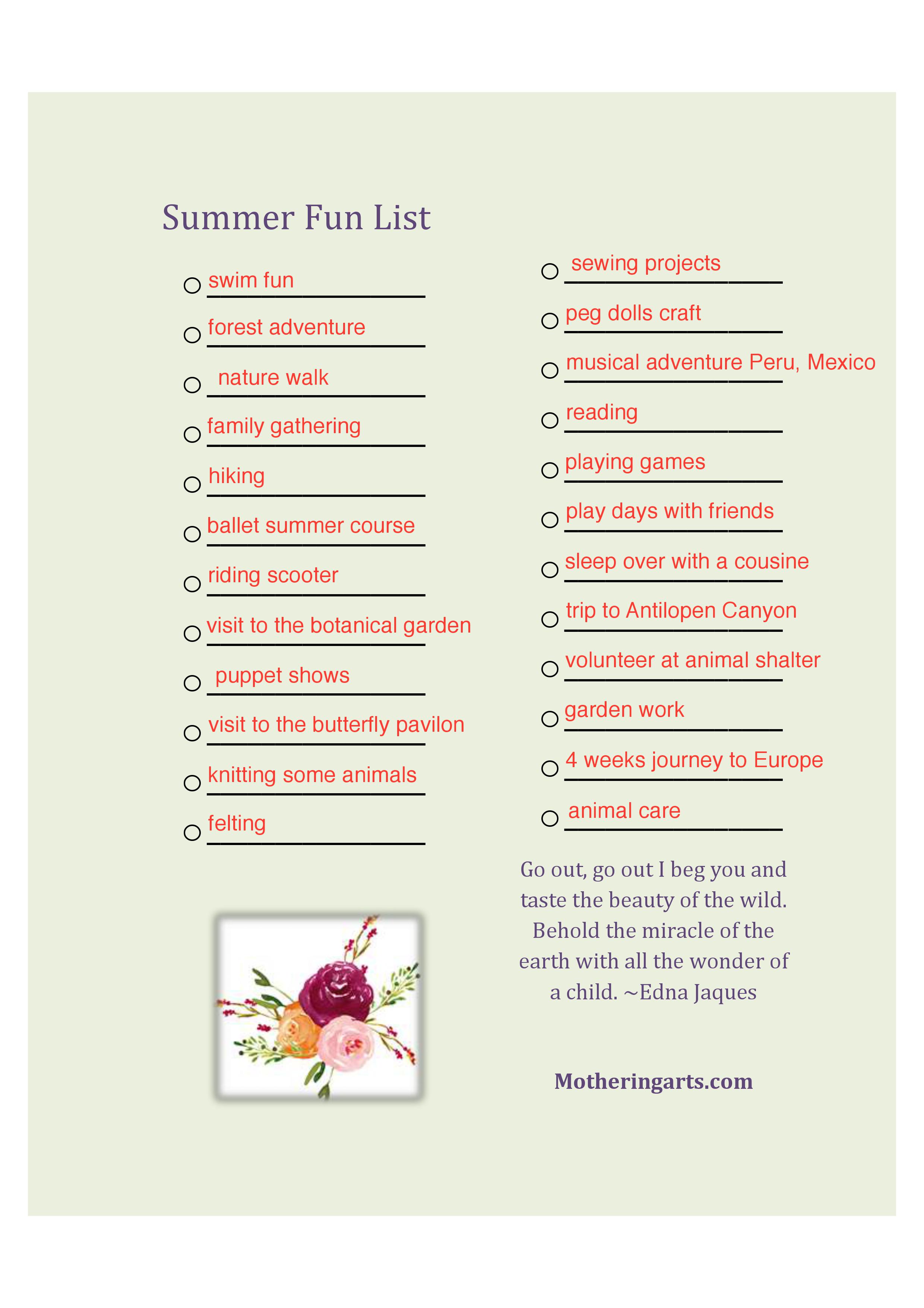 Summer is short!  July is already upon us; can you believe it? Sometimes it can feel like summer is a runaway train, and we are simply hanging on for the ride.  Take a moment today to jot down your intentions for the rest of this summer.  What are the things you still want to do?  Above is a summer fun list created by Living Arts Through the Seasons student, Joanna, using one of our helpful planning tools from the course.  What's on your list this summer? Pencil the things that are important to you on the calendar so you make sure to do them.
Enjoy,
Mary O'Connell, Your Living Arts Weekly blog editor
Creative Exploration
Mother Sunrise Poem Story from Suzanne Down
In the very early morn,
Swirls of gold and orange are born.
They streak across the morning sky
As Mother Sunrise passes by.
In her arms her baby lay,
A joyful child she named 'New Day'.
They greet the lands and trees so tall
With songs of hopes and dreams for all.
So when we wake with wishes bright,
They echo in the sunrise light
Like magic powers to help us do
The deeds that are both right and true.
[Suzanne Down, longtime director of Juniper Tree Puppets is now offering
 online courses 
for those that cannot travel to her in-person programs.  Coming up in 
July 
are two 10 day challenges on writing stories for children, 
Walkabout Tales
, inspired by nature, and 
Protection Stories, 
how to create tales to make children feel all is well in the world.  In 
August is  The Art, Delight, and Meaning of Finger Puppet Theater
!  This one has lots of videos to help guide you.   Go to 
http://junipertreepuppets.com
for details, click on courses.]
Nurturing Care
Also from Suzanne Down…
Summer Imagining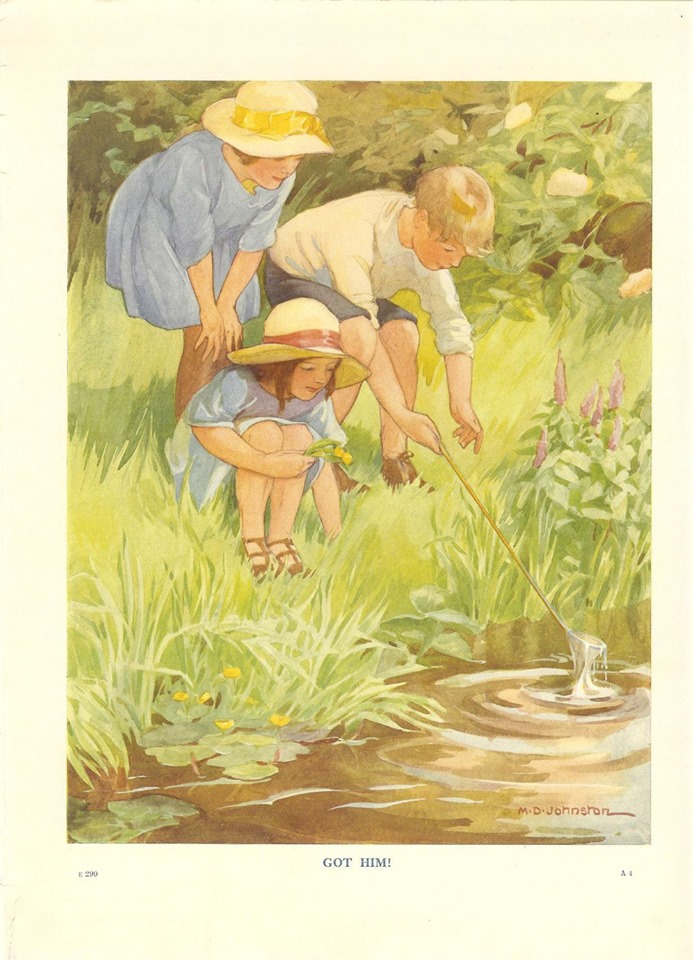 Suzanne writes: "I went on my morning walkabout walk, dreaming into the rhythms of walking, open to all that was around me, the sun, wild morning glory flowers, Isabel farm workers harvesting, children fishing in the lake, allowing story images to arise.
Write a beginning to a story sparked by this picture."
Share your sweet summer story in the comments!
Social Awareness
Everybody's It
Do your kids need a new game to play?  Everybody's It is a favorite.
Summary: Easy 15 – 20 minute game. Brings a new twist to the regular game of tag.
Goal: Be the last person standing.
Preparation:
– You'll need to play in an area where everyone can easily run around.
How to Play Everybody's It:
1. Ask everyone to spread out evenly on the playing area.
2. Once you say "go", everyone tries to tag each other. If one person tags another person, the tagged person must sit down. When the person who tagged them gets tagged, they can get back up. If two people tag each other at the same time, they can settle the dispute by playing Rock, Paper, Scissors.
3. The game continues until all but one person is eliminated. The last person standing wins the game.
Practical Activity
Nature Search
Thanks to our friends at Mothering Arts for this fun Nature Search Activity!  
There are things to listen for, things to spot, a few things to collect (and replace) and things to share from the heart around the campfire.
It's a great activity for birthday parties (4-9 year olds) or in your weekly rhythm at home.