April 2, 2023
Festivals are universally-shared celebrations of life, and they are as diverse as the people of our beautiful planet. In celebration of the festival traditions that bring us together, we would like to share with you the experiences of several members of our LifeWays family this year, all from different walks of life and spiritual traditions. Today, we share an article written by our friend Salma Al-saquaf.  She beautifully weaves together the threads of stillness and rhythm within a busy family life during the season of Ramadan.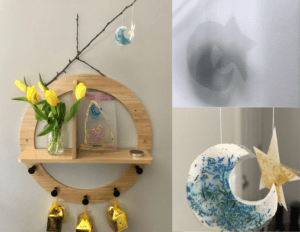 Like many others across culture and age, we begin the holy month of Ramadan in search of the crescent moon. As we come together in observance of our faith, we hope to stop time – breathe in the moments. On our journey we hope to channel the catalytic power of fasting, prayer, and good deeds.
If you are blessed to be amongst children, irrespective of their age, you will find joy within the quiet ritual of worship and tending. Adults (especially mothers) are surrounded by schedules filled with meal plans, cleaning, extending invitations for iftar, volunteering, and work activities, while the children live solely for the magic of being at home -together and (for some) staying up late into the night. 
It has been a long year. The rhythm of our days has shifted immensely. Everything is busier – louder. We are unprepared; yet we agree the joy is in the process and the planning.
Ramadan is a time of renewal. In the Northern hemisphere, we witness the turning of another season. The life force of all that surrounds us, inhaled by the earth during the fall and winter months has reached into its depth and blessed us with a long slow exhale. Welcome spring! 
This year, amidst the barrage of work projects, appointments, volunteer committees, and children's activities, there is stillness. We have created space for it. Having experienced many seasons of Ramadan, the one thing that remains true for my family is the joy of taking comfort in the rhythmic beauty of the days and especially the nights of the holy month. 
We have longed for the slowness. We have planned earnestly to channel the joy and hope of little miracles that surround us and visit us in the form of anticipation, laughter, daydreams, and shared meals prepared sometimes hastily after a long day. 
Creating space for stillness in our busy fast-paced lives is a priority. The stillness calls from beyond the horizon in the night sky in our search /as we search for the crescent moon. As the days fold into the evenings, my children and I are still drawn to the window to search the night's sky. 
Stillness is embodied in our hopes for the days ahead and we frame it within the physical and spiritual walls of our home. It is held in my youngest child's hand, as she places each delicate stone on her spiral – counting down the days 'til Eid.
…stillness stitched and woven into our daily prayers force us to move to the consensus (in our quiet space) that we can seek inspiration, pray for guidance…collaborate. We prostrate with love and gratitude. 
Afterwards, as we roll up prayer mats vague memories of past Ramadans swirling in my head, I take a mental picture and store it away – another Ramadan, another Ramadan story.
The thing about stillness is that it is an irony of sorts. You will find, due partly by the ceremony of it all, that stillness is movement. It is propelling, thrusting, whirling. It comes and goes, always in motion.
Ramadan with children seems to fall into two categories – the before and after.
For all that was natural before, it seems now that everything needs to be defined. Before Ramadan, our chores and rituals were just that – chores AND rituals. In the after, every movement, conversation, the act of sleeping, waking, dressing, cleaning, communicating, preparing for, and eating have become repetitive, meaningful – and exhilarating. Head, Heart, and Hands rising to each task – keeping time – until the next thing.
And so, in the spirit of Ramadan, we need new words- a new vocabulary. Stillness of quiet wonder, observation, shared goals – inhale, exhale. Rhythm.
We gather. We rejoice in the joy of the season with food, stories, art, and prayer. Coming together in observance and recognition of our relationship to the earth and each other, we glance inward. We take stock of all that surrounds us. We assess our behaviour, habits, decisions, understanding of the world around us. 
We cast our glance outward, reminding ourselves that every breath, every minute, hour, day, month belongs to our creator – inshallah we will change and grow for the better.
Ramadan is not about what is gained in the end, but what is earned. Stillness comes from making space for simple things, surrendering, and honouring each moment with gratitude -for all that we hold dear.
           …salam alaikum…peace be upon you!
Salma is a mom of 5 on earth and 1 in heaven. She is an avid reader, (sometimes) homeschooler, and hopes to finish a knitting project within this lifetime. Before the Covid 19 pandemic she was the owner and operator of a Bilingual (French/English) Waldorf-inspired Playschool and Atelier in Alberta, Canada. Presently, her family is in the process of transitioning from a fun, fast-paced, slightly chaotic life of a childcare provider, to a whimsical life spent mostly at home with her children. 
She credits her faith, Waldorf philosophy and the wisdom that she has received from her Lifeways Fundamentals Course facilitators (Cynthia and Mary) as a transforming force in her homeschool and family life – especially during the COVID 19 pandemic.