July 19, 2020
Enthusiasm is common. Endurance is rare.
― Angela Duckworth
Some pretty funny memes have circulated about this challenging year, 2020.  Sometimes a good chuckle helps take our minds off the pressing issues of our time.  Teachers are planning how to safely go back into the classroom, or how to muster up their resolve to continue teaching remotely.  Many childcare providers are already at work in their programs, balancing new protocols and demands with meeting the needs of the children. Parents are figuring out the new meaning of "work-life balance."
While we collectively hold our breaths for what will come next, we recognize that we need to keep living, serving and working. As Cynthia shared recently in a blog post, "I sense that there may be a series of environmental, social, physical and spiritual tsunamis lined up and ready to start sending wave upon wave on us over an expanse of time.  I would love to be wrong about this.  However, just in case I'm not, I hope to be open, present and courageous for whatever may come.  Fear, I have learned, is not tenable, progressive or creative.  We are learning so much from our recent events, and, if we are awake and active, we can meet the next waves with integrity and purpose."
This is resilience. It is our remarkable ability as human beings to rise to a challenge with love, compassion and courage rather than allowing our fear to consume us or incapacitate us.  In our continued work with parents, caregivers and teachers, we hear daily from our colleagues who are meeting the needs of the times with creativity while not sacrificing what they know to be essential for not just the physical safety of the children, but the soul safety as well.
One Waldorf early childhood staff in the Pacific Northwest is considering abandoning their full day program for now in lieu of playgroups that are all outside for shorter periods of time.
An outdoor program in the Midwest is designing a support program for ten families that will meet one day a week outdoors during the coming school year for children and their parents to learn, work and play together while homeschooling (many for the first time.)
One LifeWays graduate in California shared photos of her new outdoor hands-free check-in procedure and hand washing sink.
One group of early childhood professionals in British Columbia created a new relationship-based ritual for the "Covid-19 drop off" in their outdoor program of taking temperatures, hand washing, and ensuring a physically distanced drop-off. Parents and their children say good morning to one of the program's teachers (for a temperature check) where the children receive four colored glass gems.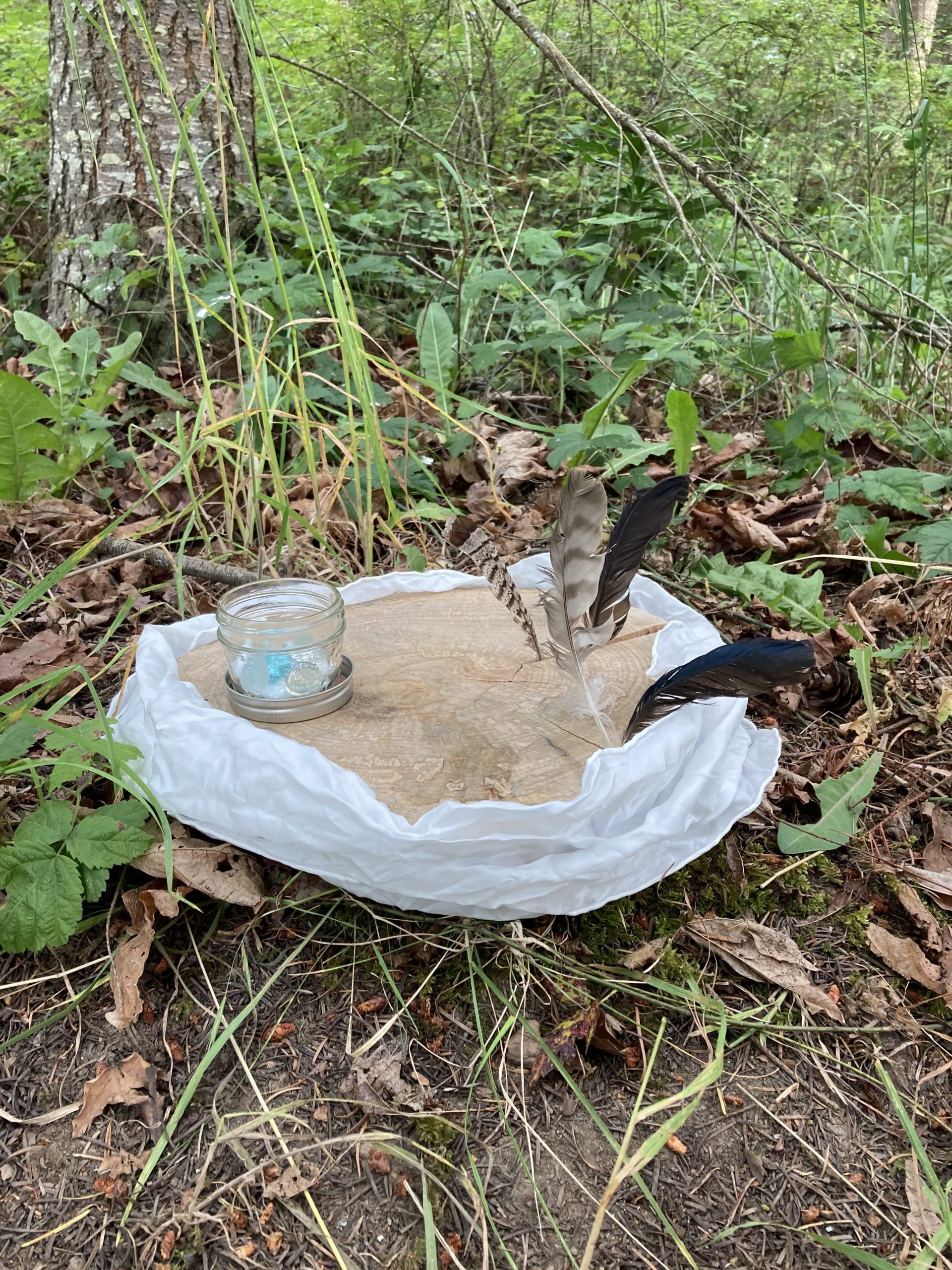 They travel at their own pace through four element stations (one each representing Earth, Air, Fire and Water). Each family enjoys their own time at the stations which are simply decorated flat tree disks generously spaced out along a path, each with a glass jar to collect the children's gems. (The gems in each jar are easily washed at the end of the week.) This walk helps with distancing and welcoming the children with a slow transition from home to school.  Families know not to visit a station while others are there, so everyone stays nicely spread out.
The last station is water, where they sing a short song and wash hands (parents, too) at a hand washing station that has a spouted jug of warm soapy water on a portable stand.  As the parents leave, the children are gathered into a morning circle, where they hold hands that have been freshly washed.
These are just a few examples of the way colleagues in our LifeWays community are displaying resiliency, adaptability and compassion. Now is not the time for hiding our lights under a bushel or for allowing our fear or indignation to overwhelm us.  Let us meet the needs of our times by being open, present and courageous.

https://lifewaysnorthamerica.org/workshops_training/re-thinking-care-and-education-developing-programs-outside-of-the-box/