July 28, 2019
The right word may be effective, but no word was ever as effective as a rightly timed pause.  – Mark Twain
The challenge was to snap a photo of a moment in time and write a little reflection to help you remember the moment. And the winner is….. Maria Allen!  Her photo of her daughter's face while baking with grandma was the favorite of our selection committee because it was a true capturing of a moment in time between grandmother and granddaughter.  Here is what Maria wrote about her photo:
Poof!  The mixer starts and a spray of flour leaps onto the counter.   I wasn't fast enough to capture the flying flour, but the utter delight in my daughter's face is unmistakable. Watching her giggle during baking adventures with "Cookie" (my Mother, her Grandma) bring back endless memories of my time in the kitchen as a child.  Among the gifts of growing up with an avid baker, I'm grateful for my fluency in fraction conversion and knowing how to tweak any baking recipe I find wanting.  However, the most essential gift from my Mother is the knowledge that I can use love and a little kitchen magic to transform humble ingredients into delicious and shareable treats.  Seeing my daughter receive the same gift from her is something I will always treasure! 
Thanks to all who entered our photo contest! Some of our other favorite submissions are below.  I hope all of our readers are taking time to pause for those moments of connection and joy.
Blessings on your week!
Mary O'Connell, Your Living Arts Weekly blog editor
Nurturing Care
Another of our committee's favorite photos was from Victoria.  This photo of her dad and grandfather, who recently passed away, took her breath away. And ours, too!

Three cheers for the dads!  Another great dad moment from Amber in Michigan. These moments of dads nurturing their little ones are heartwarming. Perhaps our next photo challenge should ask for photos of moms taken by others? (As a mom of grown adults, I now realize how many photos we have of our kids with their dad, and how few there are with me!)
Creative Exploration
From Erica in Chicago:
Smoke Signals…
I see hovering signs that my children are growing up before my eyes.  My 9 year old daughter grows every day, looking more and more like a young woman. The way she moves is graceful and purposeful. My 3 year old son, one month away from turning 4 is not so much a baby any longer. He still prefers being barefoot, but he seems to truly feel the earth beneath his dusty feet. Steady as he goes, I think to myself. As they are growing, I sit to the side and watch as they take risks (like playing with fire). I am proud that I don't have to hover and protect them all the time- a sense of freedom washes over me as I watch the smoke dance over their heads.
Social Awareness
Another beauty of four beauties, from Mara in Wisconsin!
Need help pausing?
Join us in Living Arts Through the Seasons!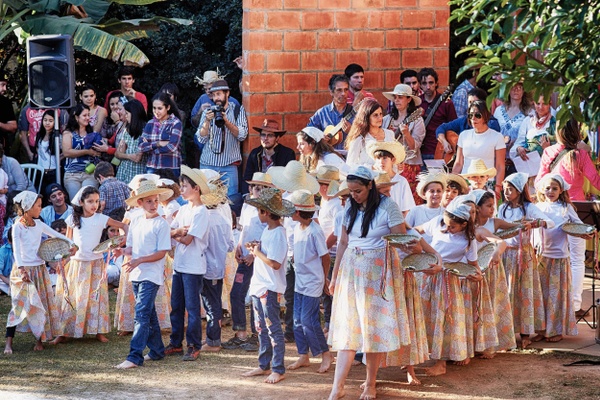 You can still join us for Living Arts Through the Seasons – Summer edition!  Our August lesson opens on the first, and you'll have access to the juicy goodness from June and July, too.  The above photo was shared by one of the students in that course, Joanna, of a festival in her community.  Click here to learn more about this fabulous course!