July 12, 2020
It was a pleasure-giving house and place, a place we were glad to be. – from Hannah Coulter, written by Wendell Berry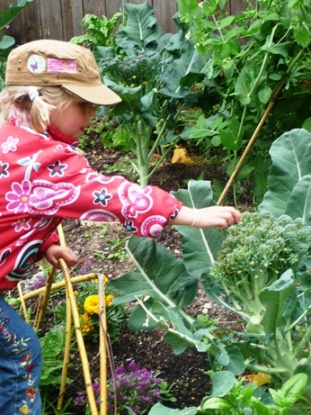 I suspect that you, like me, have spent more time at home lately. This mere fact represents a season of hardship for many – job losses, canceled vacations, and summer opportunities that didn't happen.  The losses due to Covid-19 range from inconvenient to profound.
And yet, beyond the disappointment and the heartbreak, there are silver linings; sweet, slow and tender benefits of more time spent in one place than most of us are used to.
I've been able to spend hours in my garden, learning the nuances of each corner of the space – the soil, the sunlight, the way the summer rain makes everything brighter and greener, and the heat makes everything grow twice as fast, especially the weeds. I've gotten to know the beautiful cardinal and blue jay that have each taken up residence in the neighboring pine tree, and the way they flit and float overhead as I plant, weed and harvest.  How have I not noticed all of these remarkable things before?  And how much joy would have been missing from my life if I had never truly seen them?
As humans in our modern, fast-paced world, we long for a sense of place.  We feel a deep need to connect to a place, to feel our imprint on it. The unexpected blessing of staying in one place is that we are finally able to settle into that place with intention.  Let's not waste it.
How does a house become a home? The short answer is that these walls and floors and scruffy flower beds are saturated with our memories and sweat.  Everywhere I look I see the imprint of hands; everywhere I turn I hear the babble of voices, I smell sawdust or bread, I recall bruises and laughter […]  Real estate ads offer houses for sale, not homes.  A house is a garment, easily put off or on, casually bought and sold; a home is skin. Merely change houses and you will be disoriented; change homes and you bleed.  When the shell you live in has taken on the savor of your love, when your dwelling has become a taproot, then your house is a home.

– Scott Russell Sanders, Staying Put
Will you join me in fully penetrating this focused time at home?

Here are a few prompts from our Spring 2019 edition of Living Arts Through the Seasons to begin considering your home. You might choose one to ponder with your partner, another to discuss as a family, or another to journal about on your own:
In some places in Europe, it is customary to name one's home. What would you name your home?
Where is the "heart" of your home?  Is it a specific room?  Why did you choose it?
Who has tutored you in the pleasures of place?  When did you first become aware of feelings of affection or wonder for your home?
Have you ever been to a place you felt was "ill"?  Describe its symptoms. Can you help heal it?
Do you have any memorable dreams that are set in your present or a past home?
Love in this world doesn't come out of thin air.  It is not something thought up. Like ourselves, it grows out of the ground. It has a body and a place." – Wendell Berry