March 28. 2020
If baking is any labor at all, it's a labor of love. A love that gets passed from generation to generation.     –Regina Brett

The simple act of baking can bring comfort.  It relaxes us, and reassures us that there are certain things in the world that just make sense. And it's not just in the baking that we find comfort, obviously. Is there anything more comforting than knowing that there's a homemade treat waiting for you on the counter, ready to be shared with the ones you love the most?
Navajo Flatbread
Bread shortage?
This is the easiest kind of bread you can make. Costs pennies and can get you through these strange times. Your child can help make these!
Makes 6
2 cups flour
1 – 1 1/4 cup of lukewarm water
1 tablespoon baking powder
1 tsp kosher salt
1 tablespoon oil/butter
Mix dry ingredients together and add most water, mix and add water until it has the consistency of tacky pizza dough.
Knead for a few minutes.
Let rest in greased bowl for 30- 60 minutes.
Divide into 6 pieces and roll out on floured surface thin. (Tortilla thickness)
Heat griddle or cast iron pan to 350 degrees.
Cook until golden brown spots and flip, cooking until done.
They can be made ahead and kept under a flour towel or frozen for later use.
Anytime Cookies (Fruit-sweetened and Grain-free)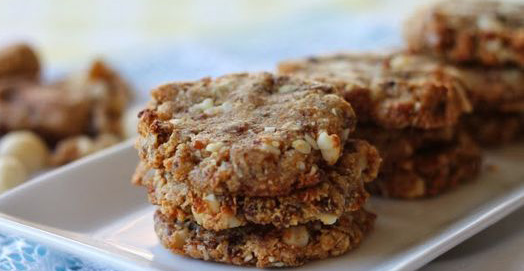 Danielle Walker, from Against All Grain writes: "As kids we were always told that cookies were not an acceptable meal for breakfast. I'd like to know who made up that rule, and then tell them that I'm breaking it. I let my 18 month old eat these cookies for breakfast. They're made with all natural ingredients so even though they're cookies, I feel confident that they're nourishing his little body. These are halfway between a cookie and a muffin anyhow, so let's just call them "cookfins" and we won't get in trouble! I get a little excited when I look at the ingredients for these cookies. I love that there's no dairy, minimal flour, and are completely sweetened by fruit. They're low in calories and high in fiber and protein. I lay in bed at night not only excited to eat one the next morning, but also concocting different add-ins. Like a macadamia chocolate chunk cookie, or apple cinnamon with walnuts. Or maybe pumpkin pistachio.
"Seriously though, they're the perfect way to start off your day. Or to give you an energy burst to help you get through the middle of your day. Or to eat for dessert at the end of your day. Make these whatever you want them to be.
"This recipe calls for coconut flour and dried, unsweetened coconut. If you live near a well-stocked health food store, you should be able to find coconut flour; however, you can also purchase coconut flour and dried, unsweetened shredded coconut online. Coconut is a unique, highly absorbent flour with unique properties. It is favored by those on grain-free diets like the GAPS diet."
Anytime Cookies
Yield: 1 dozen (12 Servings)
Prep: 25 mins Cook: 15 mins
Ready In: 20 mins
These simple cookies acquire their sweetness not from sugar or honey, but from dried fruit: dates, currants and cherries. They're good for breakfast or any time you need quick bite or boost of energy.
Ingredients:
1/4 cup coconut flour
1/2 cup almond butter
6 pitted dates (soaked in warm water for 15 minutes)
3/4 cup shredded unsweetened coconut
1/2 cup unsweetened apple sauce
2 eggs (beaten)
1 1/2 tsps cinnamon
1 tsp vanilla extract
1/4 tsp unrefined sea salt
1/2 tsp baking soda
2 tbsps dried cherries
2 tbsps chopped walnuts
3 tbsps currants
Instructions:
Preheat your oven to 350 degrees.
Line a baking sheet with parchment paper.
Combine the coconut flour, almond butter, and dates in a food processor or blender. Process until well combined and the dates have broken up into really small pieces, about a minute.
Add the shredded coconut, applesauce, eggs, cinnamon, vanilla, salt and baking soda and process for 30 seconds until a wet dough forms.
Add in the remaining ingredients, and pulse once or twice until the fruit is incorporated into the dough but not chopped up.
Using an ice cream scoop or large tablespoon, drop the dough in heaping spoonfuls onto a baking sheet lined with parchment paper.
Dip a metal spatula in water, and use the bottom to lightly press down each ball of dough.
These cookies will not spread or rise so make sure to make them the shape you want them prior to baking.
Bake for 12 to 15 minutes, until they are golden on top and slightly brown along the edges.
Serve immediately or store in the freezer, thawing for 15 to 20 minutes before you plan to serve them.