Resources for Teachers and Caregivers
Early Childhood Certification Dates and Locations
Registration closed for 2021 Program
Marin County, CA
Contact: Marianne Alsop mariannea@lifewaysnorthamerica.org
$225.00 discount if enrolled by March 15, 2022!
Boulder, Colorado
Contact: Kerry Francis, Student Services KerryF@LifeWaysNorthAmerica.org
Courses for Teachers and Caregivers
Online course on discipline with Cynthia Aldinger!
We're offering this very popular course again, starting November 10, 2021
Cynthia's L.O.V.E. Approach to Discipline has been joyfully appreciated ever since she first offered it as a workshop at a large early childhood conference twenty years ago. Constantly asked, "When are you writing the book?" we are happy to announce that instead we are offering it as our first online course on discipline! read more...
With world-renowned educator Anna Rainville.
This course will offer practical ways to bring the senses to life. Learn games to play, songs to sing, and singing games to nurture the joyous confidence of children in your care.
This series of interactive video classes will highlight games and songs for nourishing and nurturing the primary senses, with an explanation of why these games remain timeless in their integrity and importance for healthy development.
A four part series: sign up for all, a few or just one! read more...
With Sharifa Oppenheimer, author of Heaven on Earth and With Stars in their Eyes
This exciting live Zoom course will be a six-month exploration of the gentle ways parents and teachers can bring cutting edge brain science into their home or program, to support the child's finest brain development!
Classes will meet the 3rd Wednesday of each month from October to March. Sign up for select classes or for the whole series!
Classes will be LIVE, from 7 – 8:30 p.m. Central Time. Can't make the live class? All registered students will receive a recording of the live workshop!
Each class will include Foundational Thoughts from Sharifa, small group discussions, questions and responses. read more...
NEW Zoom Course with Lynn St. Pierre
To truly "be'" with the children - present, warm, clear and joyful – self-care is essential!
Through the practice of Spacial Dynamics we will free up spaces within, and around us, allowing for freedom of movement, and freedom in our work with the children. Our movement will include the Spacial Dynamics exercises as well as hands-on techniques. We'll also learn a couple of delightful Ellersiek hand gesture, loving touch, or large movement plays for the children! Learn a series of Spacial Dynamics "streams" for our overall health and well-being. Certain of these "streams" invite the young child into a restful state for a nap, quiet time or when a child is distressed. Experience delightful, seasonal developmental movement for the children and Spacial Dynamics streams to soothe the young child. read more...
New and Improved!
In 2015, we introduced our very first online course, based on Cynthia Aldinger's book Life is the Curriculum. The course was an immediate success, and for the next several years it brought inspiration and guidance to more than 500 students! As we introduced other online courses into our library, and the audio technology in the original version of the course became outdated, we ceased offering it.
Now we'd like to introduce our NEW and IMPROVED version of LifeWays' most popular online course! read more...
With Cynthia Aldinger and Mary O'Connell
Back by popular demand!
Online, starting March 2, 2022
With the strengthening power of fresh air and the elements of nature, more time outdoors can be an elixir for adults and children in early childhood programs!  This online course will explore the elements of an outdoor program founded on relationship-based care and the Living Arts, whether you are creating a program from scratch or simply incorporating more outdoor time into your existing program. read more...
Inspiration and Support for Working with Young Children
Congratulations! You have been hired to work in the Waldorf or LifeWays early childhood program that you have admired for some time. Perhaps you are a new assistant or extended care provider, a new co-teacher or regular substitute. Yet you have no training or background in the work. Or perhaps you have been out of the field for awhile and could use a refresher. We want to help you find the ground beneath your feet so that you can grow in confidence. Your teachers, both on-site and online, are long-time early childhood teachers in Waldorf and/or LifeWays programs. We look forward to offering you support and inspiration. read more...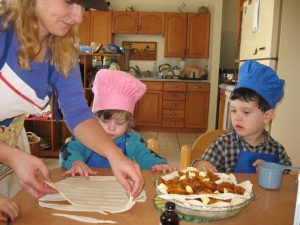 Ongoing - enroll any time!
This on-demand, at-your-own-pace, online course will help you
open your own early childhood program at home
providing relationship-based care steeped in LifeWays Principles.
read more...
Additional Resources for Teachers and Caregivers