Resources for Teachers and Caregivers
Early Childhood Certification Dates and Locations
Registration closed for 2021 Program
Marin County, CA
Contact: Marianne Alsop mariannea@lifewaysnorthamerica.org
Courses for Teachers and Caregivers
Inspiration and Support for Working with Young Children
Course begins August 9, 2021 in person at several locations!
Congratulations! You have been hired to work in the Waldorf or LifeWays early childhood program that you have admired for some time. Perhaps you are a new assistant or extended care provider, a new co-teacher or regular substitute. Yet you have no training or background in the work. Or perhaps you have been out of the field for awhile and could use a refresher. We want to help you find the ground beneath your feet so that you can grow in confidence. Your teachers, both on-site and online, are long-time early childhood teachers in Waldorf and/or LifeWays programs. We look forward to offering you support and inspiration. read more...
A course for childcare providers, early childhood teachers and parents With Cynthia Aldinger and Mary O'Connell
August 18 - September 25, 2021
Early childhood educators can earn a certificate for 15 continuing education hours by completing this course!
We know that the strength of a building lies in its foundation. With high-rise buildings touching the sky these days, it has become all the more important to have powerful foundations. When we expect great things from a building, we know we have to lay the groundwork that keeps the building standing strong against the forces of nature. read more...
A hands-on, spirit-lifting workshop on The Living Arts: social, creative, domestic & nurturing
Upper Black Eddy, PA
Saturday, August 21st
9 a.m. to 3 p.m.

Presentations, Discussion Groups and Fun, Engaging Activities to include:
Photo essay on The Living Arts
Music and games
Practical life – Bringing meaning and joy to the mundane
read more...
Online, starts September 29th, 2021
Those of us who regularly take children into nature – whether our own children or those in our care – feel the calling to guide the children in a way that develops reverence for the natural world. Cultural historian and ecotheologian, Thomas Berry, called this the development of an "I-Thou" rather than an "I-It" relationship with the natural world. During this two-week course, we will explore together the inner work of the adult read more...
With Sharifa Oppenheimer, author of Heaven on Earth and With Stars in their Eyes
This exciting live Zoom course will be a six-month exploration of the gentle ways parents and teachers can bring cutting edge brain science into their home or program, to support the child's finest brain development!
Classes will meet the 3rd Wednesday of each month from October to March. Sign up for select classes or for the whole series!
Classes will be LIVE, from 7 – 8:30 p.m. Central Time. Can't make the live class? All registered students will receive a recording of the live workshop!
Each class will include Foundational Thoughts from Sharifa, small group discussions, questions and responses.  read more...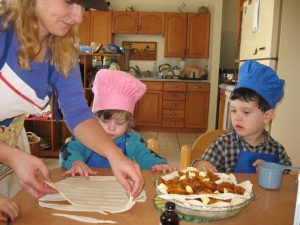 Ongoing - enroll any time!
This on-demand, at-your-own-pace, online course will help you
open your own early childhood program at home
providing relationship-based care steeped in LifeWays Principles.
read more...
Additional Resources for Teachers and Caregivers