"Here as well as anywhere I can look out my window and see the world. There are lights that arrive here from deep in the universe."  -Wendell Berry
Paradise Farm is the site of an historic homestead in southeastern Wisconsin, amid the rolling hills and fertile land of the Kettle Moraine. The Potawatomi people lived lightly on this land for centuries, a staggering feat in a region where the weather can be harsh and cruel for five months out of the year. In 1850 or so, German settlers felled giant oak trees with simple hand tools and fashioned them into the strong beams that provide structure to the buildings that have housed every farm animal and human being on this patch of land for 170+ years. The thriving and the striving, and the living and the dying, of those who came before us for hundreds of years have shaped this little patch of land, and they have shaped us, too.
Thoreau, who went to Walden Pond to learn about the natural world, was convinced that if you study any one place carefully enough, you can learn everything you need to know about the world. Paradise Farm is a place where the invitation to observe and listen is strong and clear, like a bell ringing in the countryside calling us to gather at the table and discover the foundations of our heritage. This invitation is what drew me and my family in, and what formed the farm education program at Paradise Farm.
The Paradise Farm education program began 11 years ago, and like the land on which the program lives, it has morphed and changed over those years, adapting to changing circumstances and the needs of the community. We first started by partnering with schools, hoping to go beyond the usual "field trip to a farm" experience that is a standard component of modern American children's schooling.  The vision was to develop a relationship between children and the farm, giving the children enough time and exposure to life on the farm that they could gather up the goodness of the land and its ancestors. Relationships take time, however, and most schools don't have the resources or the inclination to cultivate a long-lasting relationship between the children and the farm. When responding to teachers' inquiries, it was difficult to get beyond the question, "Can the children come out to your farm and get a pumpkin?" It's still a dream to partner with a school that will invest in supporting a class of children to develop a long-term relationship with the farm. Maybe someday…
In the meantime, we began offering parent-child programs for families with young children. It was delightful to see the children — and their parents — begin to form bonds with each other, the animals, and the land over the course of a number of weeks. We started offering lodging at the farm as well, giving guests the opportunity to stay in our historic log cabin while engaging in the care of the animals during their stay. Some families return over and over to the farm. It has been encouraging to witness not just children, but also the adults diving into their agriculture heritage, many for the first time, and some reminiscing about their own childhoods growing up on a farm or visiting their grandparents' farm.
Then came 2020, the year the world turned upside down. Big changes and scary circumstances often present an invitation to do things differently, to listen more intently to what is being asked for, and to think outside the box. With a record number of families turning to homeschooling, and many others taking part in virtual schooling, a window opened. The Paradise Farm school year parent-child program for families with kids ages 0-14 years was born. One day a week, from September to June, the same group of 11 families comes to the farm for a morning of outdoor education including farm chores, nature observation, cooking, harvesting, crafting, eating, storytelling, singing and playing. The original vision of relationship-based programming at Paradise Farm has come to fruition in a way we never expected. Initially, I wondered, "An entirely outdoor program in Wisconsin all year long? What will we do in January?" Now in our second winter, I know the answers to that question. We wear more clothing. We build more bonfires. And we celebrate the beautiful winter weather with sleds and skates and ice fishing poles and winter games and snowmen. Gathering with a community to embrace the rhythms of nature has helped each member of our group develop a strong, positive mindset during a time of global uncertainty and increased mental fatigue.
Our Paradise Farm community, small but growing, creates a hearth in which we keep the embers burning for each other in a world that threatens to dim our inner fires. We draw on the creativity and the resilience of those that came before us to shape and guide us. And we thrive.
Winter Games at Paradise Farm
One favorite game during the winter is "Everybody's It." It's a game that keeps moving and evolving, thus keeping all the players engaged and warm. It requires no equipment and can be played anywhere. It works well with a mixed age group of children and adults, ages 6+.
As the title suggests, everybody is it, and everybody can also get tagged. If a player gets tagged, he must sit down where he was tagged.  He remains seated until the player who tagged him gets tagged, and then he's back up.  It's that simple!  This is a very active game; lots of running. If players are sitting too long then the referee can yell out, "free pass" and then they can get back up. If players tag each other at the same time, then they play a round of 'Rock, Paper, Scissors' to see who sits. (This is a little tricky with mittens on, but our kids seem to work around that just fine by saying, "Rock, Paper or Scissors" while doing it.)
Winter Work at Paradise Farm
With the garden put to bed and a blanket of snow over everything, what outdoor work is there to do in the winter? Here are some cold weather practical tasks we are doing at Paradise Farm:
Fire building
Animal care and feeding
Animal enclosure cleaning
Firewood hauling, stacking
Kindling gathering
Bird feeding
Making winter treats for the chickens
Shoveling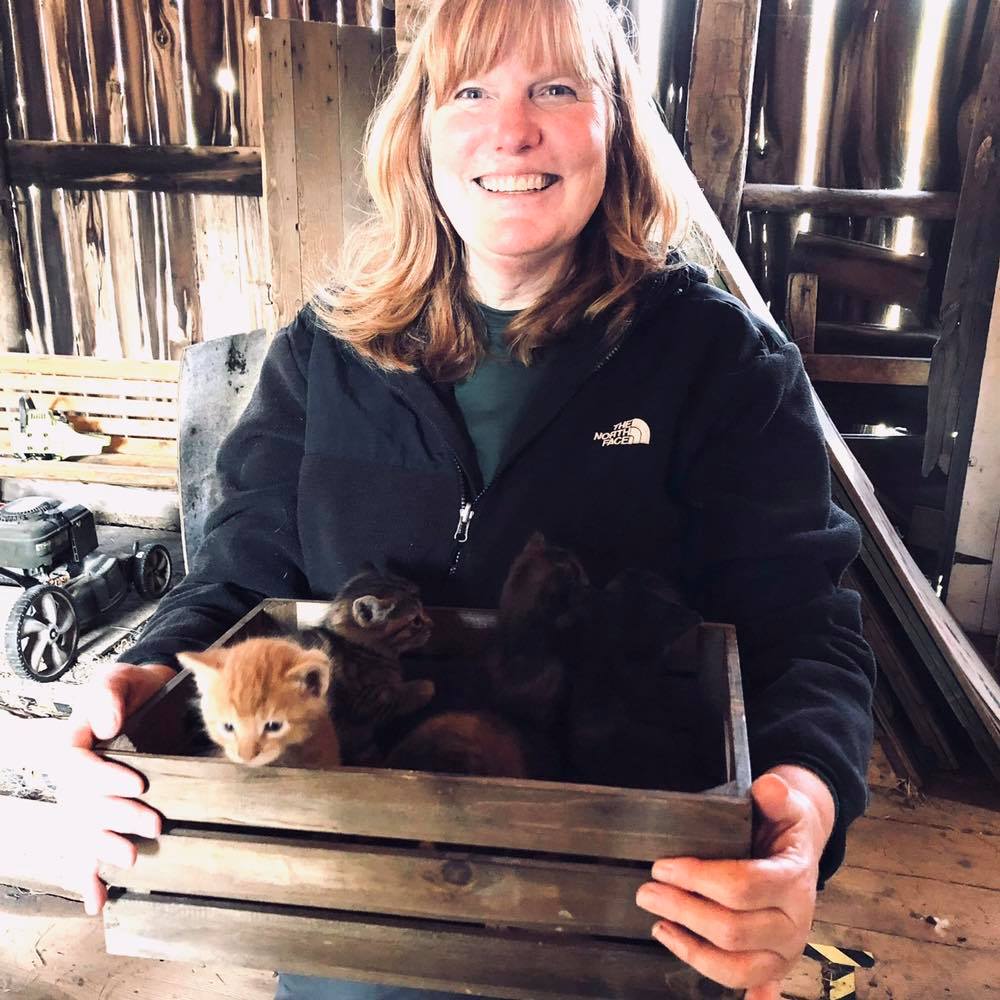 Mary O'Connell  opened LifeWays Early Childhood Center in Milwaukee in 2002, where she served as director for 13 years.  Mary is an alumni of the University of Wisconsin-Madison. She is a traveling teacher and Training Coordinator for LifeWays North America. She has taught parents and childcare teachers all over the U.S. and internationally. In 2010, Mary co-authored Home Away From Home: LifeWays Care of Children and Families with Cynthia Aldinger, and in 2018 she authored Observing Young Children: A Tool for Meaningful Assessment. Most recently, Mary started a non-profit farm education program at Paradise Farm in West Bend, where she and her colleagues provide outdoor, farm-based education to children and adults.