Do you have another insight or perspective on our theme to share with your LifeWays community?
"Often when you think you are at the end of something, you're at the beginning of something new" Fred Rogers
"Mrs. Coalson, You need sit perfectly still. Do not move at all. I have some very serious news to tell you. The x-rays show fractures in your vertebrae, from C3 to T 1. One of those is a burst fracture, so DON'T MOVE!
"What? Are you sure? I know what a broken bone feels like, and this does not hurt that bad. I'll be fine. Just wrap it in something and I'll go home. I am a teacher and school begins next week and I have lots to do. Thanks for your time, I'll be going now."
Yes, I was going… in an ambulance to the Trauma ward, to await emergency surgery!
What began as enjoying a quiet sunset from the Lifeguard chair (my evening ritual for 23 years), ended in a loud garish nightmare. As I was climbing down from the chair, I lost my grip, fell backwards, and landed on my neck. Bone fragments were floating next to my spinal cord. The possibility of living my life confined to a wheel chair was 1 jiggle away.
After 11 days in the hospital, I came home with a new neck and NO paralysis!
Getting my beach lifestyle back and resuming my work as a Forest Kindergarten teacher became my goal, and my reason for not giving into my physician's advice, "Don't try to get your style back. You should not try to ride a bike, run or paddleboard again.
You should learn to play bridge. Be grateful you are not a paraplegic" I heard his words, because the white lab coat carries a certain authority, but inside, my being rose up and said, "Nope, not me. You just watch and see. I WILL get my lifestyle back." That was in September. I began by setting walking goals. The first one was a walk down to the beach to the Lifeguard chair, and back home. About 100 yards round trip. I stopped at the chair and said a blessing over it, touched the sand where I landed, and then, taking hold of my husband's arm, walked down to the water's edge and let the waves wash over my toes. "I'm back", I whispered to the waves.
Each day, I set new goals, each one a little farther than the day before. After a week I ditched the walker for a jog stroller and, as long as I had a walking buddy, I was free to walk as much and as far as I wanted. Familiar landmarks on the beach, like the little pier, the hotel, the last house, and finally, the poles, (a favorite surf spot about 3 miles north of my house), became my goals. I celebrated each one with gratitude. By Halloween, I returned the jog stroller and I was able to walk solo. No longer tethered, I felt a fresh freedom and I walked for miles, every day!
On Halloween, the families from my school surprised me with a beautiful adult tricycle with a basket full of Halloween treats and goodies!
By Thanksgiving, I was pedaling all around my neighborhood. What a memorable day it was when I rode my new trike down the beach to visit my Forest Kindergarten class!
In January, on an unusually cold day, it became clear the Forest Kindergarten program I began and held for 4 years was no longer "mine". This thing that I held onto with tenacity, which kept me motivated to never give up during the most difficult days of my recovery, this baby of mine that I birthed and nurtured through several stages of growth, was no longer mine to care for. Relinquishing my grip on this was a door I did not want to walk through. What I did, my work, my do-ing had become enmeshed with who I was, my be-ing, and separating the two was like going through surgery all over again. After more than 10 years, my time at the school had ended. It was now someone else's turn to continue the work.
"Even the most fulfilling times in life must give way to something new". Eckhart Tolle
"When one door closes, another opens." Maria von Trapp
Try saying "Oh" in place of "No". Cynthia Aldinger
"What's next?" What am I going to do? I had worked very hard to increase my strength and stamina to regain my lifestyle and my job in the Forest Kindergarten, and now I had to accept that this was not an option for me. This transformation was hard, and maybe even more difficult than my physical healing process. Something in my being rose up and said, "I am not finished yet. Can I continue my work of connecting young children and nature, in another way? Could this be, not so much an ending, but a new beginning?"
"Often when you think you are at the end of something, you're at the beginning of something new" Fred Rogers
What's next? Well, the answer came in the way of Walkabout Tales, Suzanne Down's online story writing class. Was this the first door to something new?
Taking this class gave me something meaningful to do, allowed me to set goals beyond my measurable physical goals. It called for new growth and I as felt my creative muscle stretch, my spiritual trust muscle became fully engaged, and challenged as well. How can I measure growth that I cannot see in the earthly realm? Where are the familiar landmarks?
It began with a walkabout assignment to go to a place in nature, sit quietly, and observe. My walking feet took me Dutton Island, the site of my former Forest kindergarten, a very familiar landmark.
As I plopped down in the marsh mud, feeling quite stuck in the muck of disappointment, my mind was flooded with memories of the children in my class and our shared adventures. I had a good cry, took a deep breath, and opened the eyes of my heart. What did I see? The comical antics of dozens of fiddler crabs! As I watched the tiny creatures pop out of their dime sized burrows and wave their big fiddle claw about, I think I heard one of them boastfully call out, "Hey You! Look at me. My fiddle claw is as big as the sea!" I started to smile, and then chuckle and then a big belly laugh burst out of me. I found my joy and I whispered to the marsh, "I'm back".
This simple writing assignments gave me visible, attainable landmarks; exactly what I needed to get through this transition! Fiddly, the fiddler crab, was born and soon he and I were off on adventures. I met with my city parks and recreation directors and shared my idea for a story time hike program called Marsh Tales. I wanted to add to the small-town charm of my community and to offer this from my heart. This was my "toes touching the water", on my terms, and I wanted to be free from expectations, so I did not charge a fee.
In the Heart – the loom of Feeling,
In the Head – the light of Thinking,
In the Limbs – the strength of Will.
Rudolf Steiner
The city loved the idea for "Marsh Tales" and were happy to promote it on the city calendar, website, and even in the monthly utility bill!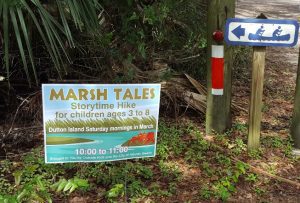 I combined my love for storytelling, with a child-sized hike in a nearby nature preserve called Dutton Island. Fiddly and I were there every Saturday morning in March, and each Saturday, we had more and more families come out to the preserve. My cup overflowed with joy!
As March turned to April, I once again asked "What's next?"
The success of Marsh Tales gave me the confidence to give birth to my new business" Outside Kids".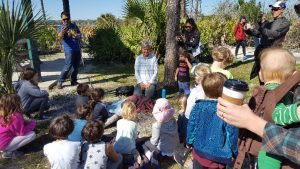 Outside Kids held a Marsh Tales event on Earth Day! I told the story of how Fiddly's fiddle claw got stuck in the opening of a discarded plastic water bottle. I followed the story with a cleanup hike. After that, we decorated beautiful rocks to leave along the forest path, in place of litter.
Now I am in the midst of yet another transformation. Marsh Tales inspired me to run my own little summer day camp.
Through Outside Kids, and with my daughter Jenny, I am offering a two-week day camp this summer!
My work has transformed, through a series of tough transitions. That's the way of life, isn't it? The LifeWays way of life has guided me through this season of transformation. Although my work at the school has ended, my life work is continuing. LifeWays built a strong foundation, and I am not finished yet!
Not only me, but Fiddly too! Did I tell you the story of how Fiddly lost his fiddle claw, and how he grew a new one?
I hope my story will inspire you! I am so very grateful for LifeWays… and excited to see "What's next?"
With Joy,
Lynn
"I give to you a cape of gold, to keep you strong, courageous and bold" Michaelmas 2017