Child care centers work within the context of many complex, dynamic relationships. The center's identity is shaped by these relationships; from the interpersonal relationships between the caregivers, children and parents to the larger social, historical and cultural context of the community they serve. Child care centers that work outside the norms of conventional early childhood education, like LifeWays, may find themselves serving a niche market of like-minded individuals. Working within such a tight-knit community of families with shared values and interests has many benefits as well as a few drawbacks. The community within the center is characterized by strong bonds, dedication, high involvement and shared visions and ideals. However, this like-mindedness can also be a barrier that inhibits our ability to reach out into the broader world to share our vision.
Many child care accreditation and assessment models focus on child evaluations, assessments and portfolios. At LifeWays Milwaukee, we have always valued child observation.
However, our approach was more Presence than Documentation. Mindful presence, objective observation, reflection and meditation are regular practice among LifeWays Master Caregivers. One of the assignments in my LifeWays Early Childhood Certification was to observe children in my care over an extended period. We were asked to note our observations in six specific areas for each child:
Movement, Speech, Listening, Sleeping and Waking, Social Interaction and Play. My approach to the assignment was reflective documentation. I knew that jotting down notes while caring for the children would not allow me to be as present as I needed to be, so I saved my reflections for later in the day when the children were no longer in my care.
After working with the observational tool that the LifeWays Training provided for a while, I realized that it was a helpful way to prepare for parent-teacher conferences. As a new, apprentice caregiver, I would arrive at Parent-Teacher Conferences with a standard "Ages and Stages" printout in hand. This generic document served as a reference point if parents had questions about their child's development. However, much of the content of those Ages and Stages documents were trivial (i.e. measurable). "At ___ age, your child will be able to stack _____ blocks."
I found that combining my reflective observations from the LifeWays Training with the standard Ages and Stages charts, I could form a cohesive picture for parents about my observations of their child's development.
Many years ago, our former director, Mary O'Connell approached the staff about the possibility of LifeWays creating our own observation and assessment tool. We were looking for a way to meet the increasingly prominent impulse to document and assess the development of the very young child while continuing to honor the unique individuality of each child. As the assessment tool came to fruition, I was grateful to move beyond the simplistic "Ages and Stages" charts and have something meaningful to share with parents.
Like the written observations, I used the new tool to guide my reflections on the children's development. I brought the observations and assessments along to parent conferences for reference. But, most often, our conversations were a time for sharing reflections about their child.
Sometimes, a caregiver will pass along their observations from over the years to the parents of a child who is heading off to school. It is interesting to look back and see how the child's individuality shines through in each phase of their young life. Recently, I revisited my Child Observations and Reflections from more than 10 years ago. They were delightful to read and I couldn't resist sending them to the parents.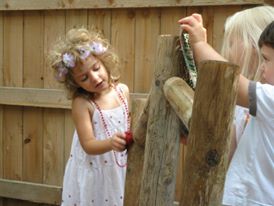 It was wonderful to reconnect with old friends and look back on when their teens were tots at LifeWays. It is an honor to observe how they have developed over the years, from both near and far.
Jaimmie Stugard,
LifeWays Milwaukee Director and KinderHouse Teacher,
Began at LifeWays Milwaukee in 2002
A lifelong caregiver, Jaimmie has been caring for children since she was a preteen. She was introduced to LifeWays as a college student, when she was welcomed into the center to complete her student observation. She was so inspired by LifeWays philosophy and practices that she asked to volunteer. Before long, she was offered a position as a caregiver. Many years later, she was honored to step into the role of director when LifeWays Milwaukee's founder, Mary O'Connell, moved on to work extensively with LifeWays North America, training early childhood educators across the country in LifeWays unique approach to child care.
Jaimmie continues to work directly with the children as the KinderHouse teacher. She also teaches music and is a guest lecturer in the Midwest LifeWays Training. She has served on LifeWays Board of Directors since 2003.
Jaimmie completed the LifeWays Early Childhood Certification in 2006 and has earned her Child Care Administration Credential through UW-Milwaukee. She is a wife and mother of two lovely young children and resides in Bay View. She is an avid reader, storyteller, musician, artist and nature enthusiast. She enjoys hiking, camping, singing, homemaking, gardening, crafting and the good company of her friends, neighbors and family.