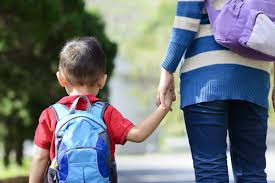 My oldest child never went to daycare.  When he started school in 2005, he was barely 4 years old and entering Pre-Kindergarten.  Pre-kindergarten is for 3's turning 4, so he was right on target.  A few days before the start of school, I actually tracked down his teacher's home phone number and called her.  I asked her how in the world I was going to initiate this drastic change in our routine without fumbling everything from breakfast to bath time and alarming my child (irreparably, certainly)?  The woman on the other end of the call was a 25-year veteran of beginning parents, thank goodness, and she took my call and enlightened me.  She gave me four vital points of action.
Her first point was sharing the quickest way from my house in Shorewood to the kindergarten, bypassing blocks with stop signs and likely morning commuter jams.  (She was only able to offer this because her home is close to mine.)   She followed this up with the suggestion that I aim to allow time to drive the scenic route as often as possible.  She felt the aesthetic calming value of the ride would ease our transition, which you should read as, "A pretty drive might ease your separation anxiety, Mom, your perfectionistic panic."  It also might give my son a little peace in the back of the car to gather himself.  Oh, yeah, this was about him; I was beginning to remember.
The second item she gave me was the wisdom that no child going to school, or leaving school should ever, ever be carried.  And a child going to school should even endeavor to carry his or her own possessions into the building and into the classroom.  But let's back up to the part about never, ever crossing the asphalt to the school door with my precious vessel fixed in my arms – he who had been the very touchstone of my existence for most of the 36,720 hours since his birth.  If that sounds a little unbalanced, a little confused about my role at this juncture, I agree this was true.  But I had called her (at home!) to ask how in the world to succeed at school life, and I was humbly prepared to listen and implement.
The third assignment was that I would enter the classroom with him, wait for the teacher or her assistant to welcome us, and with a simple hug and kiss, smiling bravely, HAND OVER MY CHILD and LEAVE.  Gracefully.   She went so far as to suggest that if I needed to weep, lurk, or assure myself that he was well, I could wait until the classroom door was securely closed and gaze through the one way glass for long as I needed.  Without missing a beat, she even admonished me to REMAIN OUT OF SIGHT if I felt I had to climb in the bushes to get a better view from a window.
I have to smile now, because I was in such turmoil at the time that the need for her fourth suggestion implying success was truly a leap of faith.  But that's a teacher for you.  Her last direction was to praise the school.  She wanted me to let my child hear me speak of his kindergarten wholly in a positive light.  Perhaps I could praise our experience on the phone while he listened nearby, or while he played at his own games.  She showed me that if I was satisfied with his new place, he would be too.   Our children take their cues from us.
So, I began talking out loud about the lovely impression I had the first day I explored the school and the faculty.  I practiced believing that my boy was ready for a circle of love beyond the home and family.   And when the day came I drove carefully up the prettiest streets I could, as if I had ducks in a row from here to Kingdom Come.  When we parked, I extra-cherished the hug I got helping Peter down from his car seat.  I made it especially big, especially long, and let that be all.  On that first day, I don't honestly recall if he raised his arms to me for a "carry" or offered me his school bag, or simply marched off at my side.  I know that there was a moment when he asked to be lifted.  I know that in my best imitation of an Omniscient, Omnipotent, Benevolent Being of Upper-Midwestern Zen-Motherhood I leaned in and said, "Oh, we never carry you to school.  It's school."  And that was it.  I did want to cry, but I did not.  And when I turned my back on him in the classroom, oh boy did he look worried, and I was literally terrified for us.  After all the other parents had come and gone, I did look through the one-way door glass.  I stayed there till my feet hurt from standing, and I did the same for many days to come.  I even started a trend because many of the other parents hadn't realized they could spy so successfully until they questioned me over my semi-permanent post.
That was 12 school years ago, and frankly most of what I learned from our first school teacher is true in my parenting life today.   Wherever I take them, I try to leave time for the beautiful route.  Each child carries themselves on their own two legs and snuggles and lovie-eyes aren't for the doorstep, they need to happen before hand.  Never doubt the rightness of "Goodbye" when it is time, or muck up the new dynamic with indecision.
Believe that your child Can Do It.  She's got this.  He can absolutely handle what is ahead.  After all, they take their cue from you.
Jennifer Stone Grimes has studied Early Childhood Education at Cardinal Stritch University and completed the LifeWays Early Childhood Certification in 2011. Her specialities are sleep support, early language development, and fun! She especially enjoys exploring with young children the science and cultural aspects of Wisconsin seasons. Jennifer lives in Shorewood, WI and is a wife as well as mother of two children plus four pets.