In LifeWays philosophy and daily care for children, we place a great emphasis on warmth. Dressing a child warmly is vitally important to a child's physical health and development, and as caregivers we need to ensure they are prepared for the weather each season brings. Here in Wisconsin, that means below zero freezing temperatures in the winter and 90+ hot and humid days in the summer, making the task of ensuring warmth a bit challenging. Dressing a child in layers and wool in winter time, and breathable layers and shade-providing hats in the summer is one way. Another way to imbue warmth is to sharing warm and nourishing foods and drinks to keep the chill away on bitterly cold winter days, and offering refreshingly cooler foods and drinks to nurture a child's body during the hot summer months.
For my family, especially for my youngest child, keeping warm in the cooler
weather can be a bit of a battle of wills. I'm sure other families have had this struggle – once the child is about a year or year and a half, it seems she never wants to keep her hat on. My youngest, Adella, pulls off every hat we put on her and thinks it is a fun game to pull off her shoes and socks the second they are on. Her will is quite strong, but we've decided the best remedy for this is persistence and patience on our part and making sure the rest of her body is covered in warm layers.
Warmth applies to more than just dressing a child adequately and also aids in spiritual growth. While dressing a child warmly helps ensure proper brain development and physical growth, warmth through nourishing and loving voices and gestures from caregivers shapes and molds their bodies and spirits. Quoted in an interview for Rhythm of the Home, Cynthia Aldinger says, "I also feel it is a spiritual gift when a child's day is hemmed with warmth and love."
Providing a daily rhythm for the young child allows a child to relax and grow, comforted that he knows what will happen next. Offering healthy and delicious food and encouraging all to help make it nourishes a young child's body, soul, and will. Singing sweet songs, telling stories, reading a book while a young child sits on your lap are all simple ways to provide warmth for children.
As an often exhausted mother to my three young children, I find myself continually working on using a warm, calm voice when speaking, especially when I am feeling far from calm. It can be challenging, but I know how important it is so I continue to work hard at this task. I remind myself that warmth and its necessity in life also applies to us parents and caregivers. Keeping our own bodies and spirits warm allows us to provide warmth to our children. I remember during my LifeWays training, we learned how important it is we nurture our etheric bodies (in Steiner philosophy, this is our life force or chi) so that we can help the children's etheric bodies grow. Warmth is one vital component. There are millions of ways to do this and we each need to find what warms us and incorporate this into our daily lives.
I've been working on incorporating things into my daily life that provide spiritual warmth for me. I find reading memoirs brings me closer to understanding we are all part of something bigger than what is visible to us, and love and warmth are things we can always give each other. I started meditating and even though I don't always enjoy it, I am finding that it brings calmness to my more frustrating or angering interactions.
Most importantly for me, I try to really see my children by being in the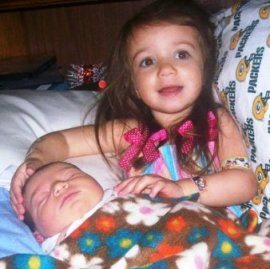 moment with them as often as I can and when I do this, I see little bits of their awesomeness that gives me so much warmth, I'm overflowing! I see the way my youngest perfectly mimics her big brother and big sister and craves to be included in their play. I watch my oldest tenderly care for her baby sister and call out for me if either of her siblings is in danger. I see Adella's sly smile creep over her face as she nurses and slowly wakes from her rest. I hear Lincoln having a crazy conversation outside about the flowers and grass and when I ask him who he's talking to, he adamantly responds, "I'm talking to God!"
Physical and spiritual warmth are vital to every one of us. They nurture us, rejuvenate us, and lift us up. They also help us see how connected we are to each other and the earth. I will leave you with these lovely and simple tips I found when doing a bit of "research" for this piece. Enjoy and stay warm!
http://www.elephantjournal.com/2011/11/5-tips-for-creating-warmth-for-children/
Mara Spiropoulos is the blog coordinator and parent voice for the LifeWays North America blog. She is a recent graduate of the LifeWays training program, resides in Milwaukee, WI, and a full-time mother to 3 young children. Mara enjoys spending time in nature, reading and researching natural parenting and living, and crafting. She would love to hear from anyone willing to be a guest writer and you can reach her by email at linearmara@gmail.com.