The infant is born out of the powerful surrounding rhythms, warmth, and security of the maternal sea, into a jarring world of light, air and unprotected sensory input. She is now totally dependant upon the love, consciousness, and responsiveness of her caregivers. In the days, weeks and months that follow, the baby will have to adjust his bodily rhythms to external environmental conditions. In addition, he or she may be exposed to routines that vary from setting to setting: the variable scheduling of caregiving activities that may or may not coincide with the baby's biological imperatives, such as the demands of hunger, the discomfort of wet and soiled diapers, or a need for a quiet place to sleep. This can cause the child considerable stress, as the infant does not yet have the capacity to accommodate the needs of a group; it is therefore incumbent upon the caregivers to respect and address each baby's unique individuality.
What is optimal for the baby and very young child? Research indicates that their as yet immature bodily rhythms (such as sleeping, digestion, breathing) are best supported through healthy, predictable routines (how care activities are carried out) in a warm, responsive environment with one or two primary caregivers. Additionally, a consistent rhythmical flow of basic caregiving routines throughout the day in a peaceful environment also strengthens secure attachment and healthy social-emotional development. Future competency in all developmental domains is heavily dependent upon the child's sense of security, which is in turn fostered by experiencing predictable routines and rhythmical care. This consistency not only supports the child's maturing bodily processes, but also helps foster resiliency and a sense of confidence in self and trust in the orderliness and goodness of life.
As Kim John Payne succinctly points out in his book Simplicity Parenting Life today for most families is characterized more by randomness and improvisation ofthat rhythm (p.95). A typical day is often atypical in terms of home life, except for the inexorably persistent mandate to get out of the door, drop children off somewhere, go to work, then afterwards, rush back and pick them up again. The infant or young child may well arrive at that somewhere breathless and stressed. How he or she is able to cope with the rest of the day from this point depends largely upon the presence of healthy daily rhythms and consistent caregiving routines in the childcare setting.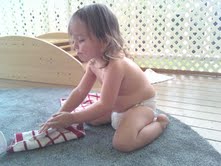 One solution to offset the seemingly inherent and inevitable disharmony of modern life and effectively support parents with nurturing care for their young children is to create a setting where children can thrive in the warmth of a 'home away from home' atmosphere and consistent routines are carried out within the context of daily and weekly rhythms. The LifeWays childcare model offers just such a possibility and is applicable to both home and center-based settings. Founded upon the principle of relationship-based, mixed-age care, LifeWays settings feature small, family-style groupings, with the same primary caregiver year after year, as long as the child is enrolled. Life itself is the curriculum, and daily routines are carefully, consistently imbedded within the natural rhythms of the day, week and seasons. Social, domestic and nurturing arts invite rhythmical routines, in meals, washing up and naptime, for example.  Creativity is fostered through imaginative play, music, movement, games and artistic activities.
A deep and respectful connection with nature is evident in the natural, un-manicured outdoor environment,
gardening activities, as well as through the use of simple, whole foods prepared and served. Sensory balance and restfulness is supported by the soft colors of the indoor environment, the noticeable lack of media and the simple unstructured playthings crafted from natural materials and fabrics.
Rhythms in the natural world and within each of us create the warp upon the loom of our individual existence. The skill and sensitivity with which caregivers create consistent routines that support the optimal development of children and strengthen families, weaves through the rhythms to form a tapestry vibrant with life and hope for the future.
About Pamela: LifeWays serves as her inspiration and it is to this model and imagination that she dedicates her work with, and advocacy for, young children and families on Hawaii Island and statewide
We thank you for stopping by to enjoy this article. If you would like to share your experiences working with children in a LifeWays home or center, please feel free to contact Mara Spiropoulos at linearmara@gmail.com. She would be thrilled to work with you to share your wisdom and experiences on the LifeWays blog.
Citations and Resources
1.Morrish, Ronald.  The Secrets of Discipline: 12 Keys for Raising Responsible Children. 2008. Ontario: Woodstream.
2. Glockler, Michaela, MD. Education as Preventative Medicine.2002. Rudolf Steiner College Press:Fair Oaks, CA.
3.  LifeWays Principles",  pdf, #9. www.lifewaysnorthamerica.org
4.Patzlaff, Rainer; McKeen, Claudia; von Mackensen,Ina and Grah-Wittich, Claudia. The Child from Birth to Three in Waldorf Education and Care. 2011. Waldorf Early Childhood Association of North America: Spring Valley, N.Y.
5. Paulsen, Eldbjorg Giessing. Trust and Wonder. 2011. Waldorf Early Childhood Association of North America: Spring Valley, N.Y.
6.Payne, Kim John, M.Ed. Simplicity Parenting. 2009. Random House: New York.
7. Steegman, Johanna MD. and Karnow, Gerald MD. Cradle of a Healthy Life. P. 11. 2012. Waldorf Early Childhood Association of North America: Spring Valley, N.Y.
8. Steiner, Rudolf. The Education of the Child and Early Lectures on Education. 1996. Anthroposophic Press: Hudson, New York.
9. Steiner, Rudolf. The Spiritual Guidance of the Individual and Humanity. 1992. Anthroposophic Press:Hudson, New York.
10. Steiner, Rudolf. Soul Economy and Waldorf Education. 1986. Anthroposophic Press. Spring Valley, New York.