June 11, 2023
Today we focus on the living art of Creative Exploration that we created in my Wind Rose class shortly before the school year ended. These watercolor banners would also make a lovely project for summer afternoons.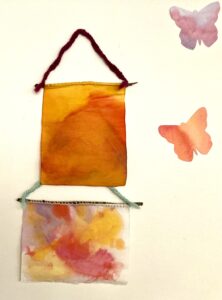 The banners worked well as a sort of "culmination" of the children's experience with watercolor through the year since the fabric lends a more enduring quality to it, and behaves differently than the paint does on paper. Experience with watercolor painting certainly isn't prerequisite to creating them, however.
If you would like to try this project in your own home or classroom programs, here are some basic instructions and tips to follow:
Any type of fabric will work. I used an upcycled tight-knit white sheet and in the end I really appreciated how well it held the color in comparison to muslin fabrics I have used in the past. The muslin tends to have a more wet-on-wet effect with more paint spread, so if you are looking for that it may be the choice of fabric for you.
You could use pinking shears to cut the fabric, but since this was going to be a wall hanging I didn't mind the rough edges. If we had more time- and just because I love sewing with children- I might have hemmed the edges with a blanket stitch. I often teach the six-year olds this stitch and they would have been able to create a very fine and lovely finished product like that.
For painting I limited the range of colors- opting for warm vermillions, golden yellows and premixed red-violet- to help avoid a misfortunate color blend. I also mixed a more saturated paint (less water).
Next, the children selected their own sticks, and we sewed them to the top of the banners with a whip stitch. Those that were old enough helped or did it on their own; and I tacked those banners with three spots of hot glue so they could more easily manage holding the banners in place while sewing.
Lastly, we added a finger knit strand for hanging. Again, the children that had been taught to finger knit created their own, and I did the others.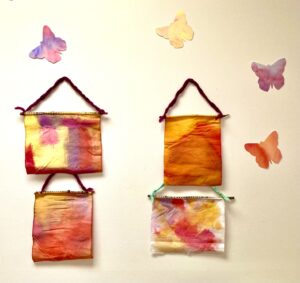 These examples of the children's work were hung on our dull white walls and bring such warmth and color to them. One also hangs among curtains and silks at the window- and it is so sweet with light illuminating from behind- but it was the banner I created and for this, I wanted to share what the children's work looked like instead. The children brought their own banners home as gifts for Mother's Day!
Blessings on your summer,