March 11, 2018
When everything seems lost, and all seems darkness, then comes new life and all that is needed.   – Joseph Campbell
Welcome to our very first Living Arts Weekly blog post!
The turn of the year in January brings with it new beginnings. The fresh new calendar with all those empty spaces waiting to be filled by our "future self" inspires us to make promises for a brighter and better year than ever before.  By the time February comes along just four weeks later, the luster has already started to wear off our shiny New Year's resolutions.  As I write this, I look out my window at yet another cold, grey day here in Wisconsin, which only amplifies the lassitude within. Around here they say, "March comes in like a lion and goes out like a lamb."  I've lived through enough Spring seasons in the Midwest to know the lion can hang around roaring and making a ruckus until much later than March 31st! Even so, as we resolutely press on, we begin to feel something new emerging. We feel life simmering under the surface after the inward "slow cooking" of the winter, and we feel ourselves March-ing forth with a new sense of urgency, our steps quickening with each day of increased sunlight and warmth. What's emerging for you? Share in the comments!
Blessings on your week!

(Mary O'Connell, Your Living Arts Weekly blog editor)
An early March lion roared in today bringing snow and icy rime.

If the saying's really true, a Spring lamb should arrive in three weeks' time!

(A teeny tiny poem from Pamela Perkins)
---
Practical Activity
Roasted Carrots with carrot top and cilantro pesto 
from Kerry Ingram, a mom, foster mom, LifeWays grad, board member and Waldorf trained teacher. She is the founder of Mothering Arts which supports women with all the tools and inspiration they need to create a local postpartum nurturing group. You can find her enjoying the magic of nature with her family and community in northern California.
This recipe seems to be a great representative of this time of year. The roasted carrots are warm and wintry, while the pesto reminds us that spring is just around the corner. Cilantro is full of vitamins, minerals and supports detoxification. Carrot leaves (tops) are highly nutritive, rich in protein, minerals and vitamins. They contain six times the vitamin C of the root and are a great source of potassium and calcium. Together, they are so tasty!
Ingredients:
A dozen carrots with tops removed
Roast carrots in a glass roasting pan cut carrots into large pieces, maybe in half or thirds, toss with a little bit of coconut oil and salt and roast at 400 degrees, tossing once or twice until caramelized and fall off a fork by themselves.
Pesto:
2 bunches of carrot tops
1 bunch of cilantro
1/2 cup of pine nuts, pumpkin seeds or pistachios
zest of 1/2 lemon
0-3 cloves of garlic
olive oil
sea salt to taste
(My friend, Jaime, adds 2 drops of Jade Lemon Essential Oil to her pesto, and it's really yummy.)
Wash carrot tops and cilantro and dry well
Add all ingredients into a food processor, pulse while adding olive oil until you come to a consistency that you like.
You can toss the carrots with pesto or serve it on the side.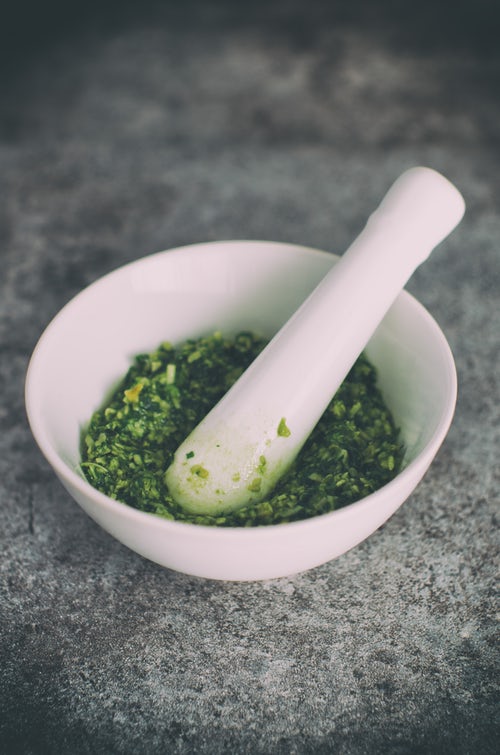 ---
Nurturing Care
Emerging: Self Care Invitation
from Kerry Ingram
Sit outside in nature and notice what is happening around you. Are animals and plants waking from winter slumber? Is winter still blanketing the earth? Take a moment to listen to your body, ask it if it is ready to wake from winter's rest yet and emerge into spring, or if you need a little more time cozied up by the fire with tea. When you feel the answer clearly, be sure to keep this message as you plan your next few weeks.
---
Creative Exploration
Felted Wool Shamrock Pins for Saint Patrick's Day
At our Living Arts Workshop in Milwaukee recently, the participants made shamrock pins for St. Patrick's Day! We snapped a few photos to share the process with you.
You'll need:
Wool roving, dyed green (we got ours from Paper Scissors Stone)
Shamrock cookie cutters
Warm water
Dish soap
Safety pins
Here's the process:
Step One – Stuff the cookie cutter with wool, all the way to the top.
Step Two – Pour a little warm water and a few drops of dish soap onto the wool and rub the wool gently with your fingers. The fibers will begin to bind together, creating felt.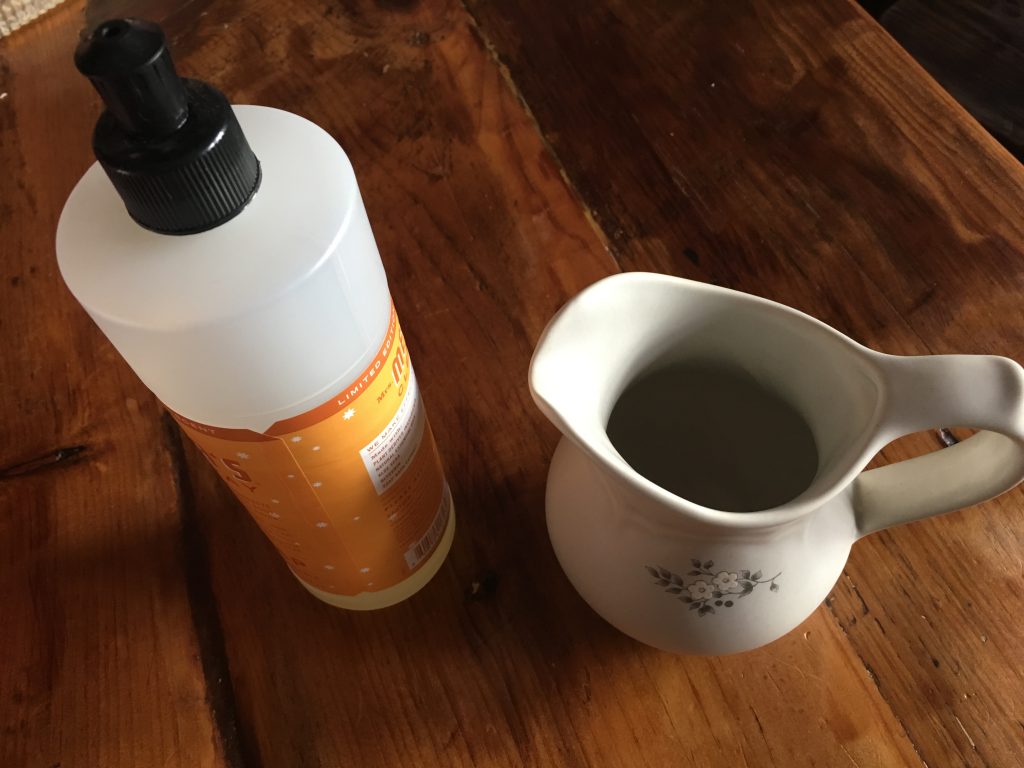 Step Three –  Once all the little wispy fibers are incorporated, you can remove it from the cookie cutter. Now it will hold together if you want to keep rubbing it to get it just right!
Step Four – Rinse the soap out, wring it out and let it dry. You might wish to adorn it with some embroidery or beads or something, or just leave it plain! Attach a safety pin to the back and do a little jig. (Here's a tune from one of our favorite Irish bands, "We Banjo 3″, to remind you that "Happiness is just around the corner.")
---
Daphne the Curious Little Donkey
And the Spring Snow Storm
This story comes to us from Pamela Perkins, who has worked with and for children in various capacities since 1970. A former Waldorf teacher, LifeWays graduate and home provider, she now delights in being with her five granddaughters, plus creating magical needle-felted puppet stories and writing gentle tales to nurture young and old. She lives in the Upper Valley of Vermont, and is working on her new writing project Silver Seedlings – Nurturing Tales for the Young and Young at Heart.
Introduction 
This is a story about a donkey, an unusually curious little donkey with a sense of adventure. The name of this donkey is Daphne.
This is also a story about Maeve, a very kind and patient girl who takes care of Daphne, and who has many adventures because of her.
Daphne and Maeve live on a small farm in Northern Vermont, with Maeve's parents and many animals. The farm and its' fields are surrounded by gently rolling hills that are forested with evergreen trees, as well as maples, oaks and birch.
Several streams flow through the property. The stream flowing out of the woods along the edge of East Meadow empties into the farm pond. Another pond, deep and cool and lovely for swimming, lies over beyond South Hill, through the pine grove, and down into a grassy open area surrounded by many sugar maples.
Daphne has her own stall in the barn, which she shares with many scatter-brained chickens, a beautiful little goat named Pumpkin, and an old gentle draft horse named Frederick. A Jersey cow with soft brown eyes named Velvet is awaiting the birth of her first calf.
This is a story about one fine sunny day in very early Spring, when Daphne was feeling very, very curious, and had an idea. This led to the following adventure. 
                                      Chapter One: Daphne Makes a Choice 
March had ended, but Old Man Winter still lingered in the valley where Daphne and Maeve lived. Large mounds of snow, icy patches and chilly winds made everyone sigh and wish for Spring.
But on this particular morning, the sun had come up into a beautiful bright blue sky. The air was surprisingly mild. Maeve, who was six, went into the barn as she always did after she ate her breakfast, to bring Daphne fresh water and clean sweet hay, and to muck out her stall and put down clean bedding straw. Daphne eagerly sniffed her pocket for her daily treat; today it was a small juicy apple.
Daphne felt the slightly warmer breeze coming in through the barn door. She smelled a hint of new things … the first, faint sign that maybe, just maybe, 'something' was happening outside. She was very curious. 
Daphne was still quite a young donkey. This was her first Spring, for she had been born just as Summer waned and Autumn set in last year. The new longer days, the brighter sunshine, and now, the mild air smelling like -??? She was not sure what!  but it made her feet itch to explore.
Maeve noticed that Daphne was squirmy and restless. She told her, "Now you behave and stay inside your stall today like a good little donkey. When I get home from school, I will take you outside for a walk." 
Maeve told her this because several times in the past, she had jiggled and joggled the latch to her stall open and even managed to paw and scratch at the barn door and squeeze outside. Oh, she had had some adventures and gotten herself into mischief before!
Daphne was only half listening … she usually only half listened. Sometimes that half remembered what she was supposed to do. Today all she heard was, "Go outside for a walk". The other half of her little donkey mind KNEW that meant with Maeve, but the curious part was stronger.
Today Maeve was going to school. Today Daphne was going on an adventure…
(Tune in next week to read more about Daphne, the curious little donkey!)
---
Social Awareness
Now available on the LifeWays website!
Observing Young Children, A Tool for Meaningful Assessment
For use with children ages birth to five years.
At last, a research-based tool for meaningful developmental assessment based on the whole 
child
. This tool is specifically tailored for use by early childhood teachers and care providers who embrace and honor the spirit of the developing 
child
, as found in LifeWays settings, Waldorf education and other 
child
-centered models of care and education.
Hear what Mary has to say about this new book: