August 23, 2020
Teaching children about the natural world should be treated as one of the most important events in their lives.  – Thomas Berry
As we have been settling into our new home, I have been making mental notes of how to recreate our rhythm. Considering all the nourishing benefits of being in nature that I shared last week, I will center our rhythm on time for outdoor activities as much as possible. And since we will be including some remote-schooling friends and family in our school week, I turned to the Re-Thinking Care and Education course (offered by LifeWays this past July) again for inspiration. We may not be centered at one place through the week, or capable of significantly shifting our own backyard so quickly, but we can still find a wealth of outdoor activities and opportunities to anchor into our weeks and months.
To create our rhythm, I will start with the "bare bones", such as eating and sleeping, as well as activities that must be scheduled for school or work. Then, I will incorporate our bigger ideas that call for hours of time and/or involvement of other people. The rest of our routines will fit snugly around these within our weekly rhythm. (If you need help creating a rhythm, Healthy Home Rhythms is a great place to start. It is available any time online to work on at your own pace.)
Alicia C. from the course is hoping to arrange afternoon get-togethers for her nine-year-old son to explore the outdoors with a small group of friends. She will plan for them to do some woodworking projects or take hikes on their favorite trail. I love the idea of incorporating hikes with my nephew consistently into our rhythm. I grew up hiking with my family, taking occasional trips to the edges of our city to explore on and off trails. My husband and I also find hiking to be a very satisfying experience for the span of ages in our family. Our youngest son can take his time, usually dawdling and taking in all the little sights with me, while our bigger boys charge ahead and above through bluffs and trees. If you aren't familiar with a trail or wooded area nearby, visit the National Trails System here to find one.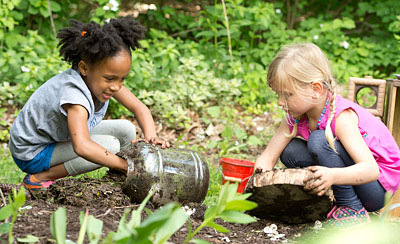 There are also several people in the course who are offering a variety of gardening experiences to families who are interested. We have several small garden spaces to experiment with and enjoy in our own yard which I plan to incorporate time to maintain daily. But our bigger gardening opportunity comes from two of my siblings who share backyards. They have a large garden, several fruit trees, and chickens, with plans for much more. Not only will we spend time there as a family bi-weekly, but my sons will be working the land alone with my brother for some "boy bonding time" twice a week. For those of you lacking in the yard space for a garden, consider participating in a community garden. A database of community gardens around the US can be found here.
Here are some other ideas for slower-paced outdoor activities in backyards and beyond that I think could suit children of many ages:
Beekeeping (5/6 years and above)
Tree/Flower/Plant/Mushroom identification
I wish you all plenty of inspiration for creating a rhythm that makes time for the outdoors!

There's still time to register for the LifeWays Fundamentals Course!  This unique hybrid course allows you to begin online with Cynthia and Mary, and finish with an in-person retreat next summer.  Your entire course fee can be applied to your future tuition in the LifeWays Certification Training. Starts September 9th — Read all about it here!