October 30, 2022
Festivals are universally-shared celebrations of life, and they are as diverse as the people of our beautiful planet. In celebration of the festival traditions that bring us together, we would like to share with you the experiences of several of our LifeWays family this year, all from different walks of life and spiritual traditions. Today, our friend and colleague, Marielle Sestier shares about a journey of growth through the tradition of Dia de Muertos. Marielle is co-founder of LifeWays America Latina, an organization providing an offering of LifeWays North America in Spanish.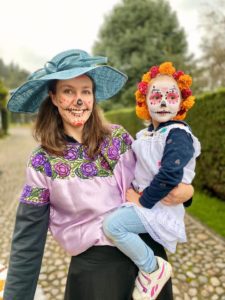 Embracing a celebration of life: a testimonial for Día de Muertos
I was born in Mexico City in the 80´s. When I was a child, I remember that when "Día de Muertos" (Day of the Dead) was near we could see multicolored "papel picado" decorating some parts of the city, as well as beautiful orange cempasuchil (Marigold) with its special aroma illuminating and perfuming streets and some locales. There were also sugar and amaranth skulls in the markets.
While all those symbols were present and could be seen, I also sensed some sort of festive energy but in my family and my community this was not part of our culture. At home, mom used to purchase "pan de Muertos" (Bread of the Dead) full of sugar, which we happily ate and loved. That was our celebration.
In my teens, I learned that in some villages and cities, Día de Muertos was a huge party in cemeteries and houses in which dead people were the honor guests. The parties involved color, tears, food, music, reverence… People believe that souls travel on those days to pay us a visit and have a meal together. In some villages of Campeche (in southern Mexico) people even un-bury the dead to clean their bones (you can read THIS article if you would like to know more about this Mayan tradition). However, those beliefs and habits deeply scared me.
Also, during that period of my life, my grandmother passed away on the 2nd of November, specifically on "Día de Muertos." It was a painful and meaningful experience. My grandmother had a fantastic sense of humor. She connected easily with the art of storytelling, transporting us to wonderful places and making us laugh a lot. I remember she was always teasing her brother because his name was "Marcel". It was a brother and sister joke that lasted for 72 years. The day my grandmother died, we all went to the funeral and were utterly surprised to learn that her second name was Marcela! Not a single person in the family knew this. It was her last joke. And nowadays, I still laugh when I remember the faces of people attending the funeral while reading the board with that surprise. By dying on the 2nd of November, my wise Grandmother made clear that her death should always be remembered and that we should all smile and laugh while remembering her life. 
I moved to study abroad and "Día de Muertos" was left behind. One day, I received a picture from my mom, proudly showing the altar she built at home. It was so beautiful and unusual. I asked her why she had done this if she had never done it before. She simply answered, "Because it makes sense". 
From abroad, I witnessed and sensed how a whole nation connected to its traditions and its roots, and proudly shared it with the world. People who did not used to have altars, made them with intention and shared gorgeous displays. The "catrina", a symbol who has been present since 1920 became the ambassador of the party. People around the world now dress up and paint their faces like her. 
I returned to Mexico in 2012 and the celebration of "Día de Muertos" was getting stronger and stronger. It was present everywhere, in many homes, streets, locales … Many hearts were vibrating together, aligning their souls around this celebration. There was even a Día de Muertos parade, bringing joy, colors, and union everywhere.
Then I became a mother and had the opportunity to deepen into this celebration and reflect on how I wanted to incorporate it in our family. 
It has been a deep transformation. I used to be so scared of death that I tried to hide it from my children. I literally did hide it once. We were raising baby Cornish hens and two of them died. I buried them during the night to avoid pain. But I have been working around this, letting those tears run and seeing life as it is: a cycle. I now focus on living with intention instead of anxiety and fear of dying, creating amazing memories, learning in the process, thanking and celebrating every day… 
Día de Muertos really makes sense now, it is a day to pay tribute and honor those who have departed and to remember. It makes perfect sense to have a party! I have therefore decided to incorporate this celebration at home, with my two little ones and I am delighted to share some of our home rituals below.
To begin, we sing some holiday songs:  (Download lyrics Letra Canciones Dia de Muertos)


Then we make "papel picado" to decorate our house and have a special day reserved for baking Pan de Muertos. We also build our altar, one of the most important parts. It is a long process. In a special corner, we put "papel picado", a colorful tablecloth, flowers, little skeletons, and candles. We display the pictures of grandparents, great grandparents, a pet, some friends who have passed away. It looks festive and colorful. We also incorporate items that our dead used to love: a musical instrument, favorite tools, as well as food. 
On the 2nd of November, the four of us gather around the altar. We light a candle and remember something special about each person on the altar.  I love the mixture of cultures displayed on our altar. My husband's family is mostly from Mexico, mine is from France, and we live in Colombia. This makes me wonder about migration. 
Fantastically, during this period occurs one of the biggest migrations in North America: The migration of the Monarch Butterfly. Some cultures in Michoacan, Mexico, believe that the Monarcas are the soul of their dead coming home to pay a visit. You can learn more about the powerful traditions surrounding this natural event from this video. 
I am also delighted to share the remaining portion of  Cuento de la Monarca, my story about Sara, a Monarch butterfly, and her trip to Mexico. We have added the remaining half to where Acacia posted it in September. We will publish it in Spanish in our story podcast "El vuelo de la cometa" on Monday the 31st of October, if you would like to listen to it in Spanish.
"Día de Muertos" invites us to celebrate life with reverence, to remember, to bring joy and to connect.
Do you celebrate it?
I wish you all a wonderful "Día de Muertos" full of intention and love
Con cariño,
Marielle
**LifeWays America Latina offers several courses based in the Living Arts in Spanish and anyone is welcome to enroll! Visit their "Cursos y Talleres" page to learn what courses are currently being offered!
Click here to listen to Cuento de la Monarca in Spanish, or in English, on Spotify.