It was back in the summer of 1977 and I was sitting with some awe once again in Marjorie Spock's kitchen in East Sullivan, Maine. We spoke of numerous things, including a possible relocation to the area to help start a Waldorf school initiative. As always, she was full of robust energy, humor and a go-for-it attitude. When I hesitantly voiced my reservations, she emphatically stated: " I'll teach eurythmy and help you learn all of the rest."
Well, for various reasons of chance and destiny, that move never transpired, but I did take home from the visit ample encouragement and inspiration to discover and trust my own ways to enliven the festival experiences for my then two-year old daughter. I was familiar with 'traditional Waldorf School' celebrations from driving long distances to attend the Hawthorne Valley School holiday fairs, and from hanging onto the every word of several friends who lived there in that community, but the seeds that Marjorie planted in my heart and imagination also found fertile ground. Over time, as I lived and worked with the inner meaning of the various festivals, I began to recreate unique outer expressions of them within my own family, and in later years, in my own home program.
Now, in mid-November, the mood which flows over and beyond St Martin's into Advent begins. Outwardly, I gradually shift the colors and paintings in my environment to include more blues, purples and white. Even in Hawaii, the nights grow chillier and I feel within myself the inner reflection of the winter stars in the heavens and cold flecked foam upon the ocean. We always have an abundance of fruiting and flowering plants and trees throughout the islands; yet, here in Pahoa on Hawaii Island, what impresses me at this time of year is the extraordinary gold and orange bounty of the citrus trees … a seasonal gifting with selfless generosity of juicy tangerines and tart/sweet lemons that coincides with Advent and Christmas.
As I look out of my window into the back yard, the trees are ablaze with fruits, stirring within me the impetus to reach out, to share – to see where there is need and to strive to meet that. When I am inwardly quiet, I feel an inner ripening of will unfolding, to act with greater generosity of heart, hand and consciousness. Within this inner mood arises a warm and more gentle upsurging of anticipation and joy, far from the screaming blare of commercialism, the preoccupation with self-gratification, and the mad-frenzy stress of both self and socially-compelled activities.
To create an inner and outer alchemical mixture of anticipation, excitement and harmony for the Advent season, I first plan out my own creative projects, then prepare for the gift-making activities that I will do with the children: baking, handwork projects such as cards, window stars, bookmarks, simple sewing or woodcraft projects. My hope is that by year's end, the experiences of the weeks ahead turn into a true harvest of gold : warm memories of love and shared joy.
I collect small treasures throughout the year, and now begin accumulate the essential few sweet treats, so that I will be all set before Thanksgiving for St Nicholas' arrival and for the tradition I began 36 years ago with wooden rosy apple boxes that appear as if by magic Christmas night. Thereafter each morning between December 26th and Three King's Day January 6th, the children will find a tiny sweet treat peeking out. Stocking stuffers and a special gift from the kings, are already for wrapping in their special paper, cloth or cellophane bags : sparkled with gold, or sprinkled with tiny gold stars… all a well-hidden and carefully guarded secret preparation. Even to this day, I have retained some of my mysterious sources and ways to keep the magic alive for my grown daughters, who in turn are mothers creating magic of their own.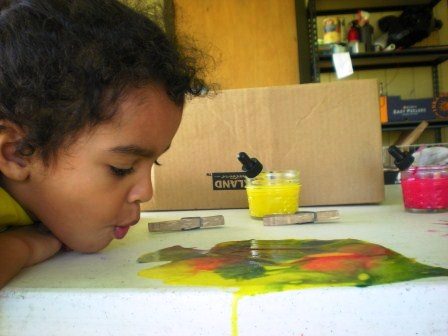 When my eldest daughter turned three back in 1978, I began a tradition that I still continue 34 years later with my granddaughters who live nearby. Each year, on the eve of St. Nicholas ( December 5th) each child puts out her small pair of wooden shoes. In the morning, these are filled with a tangerine, a 'golden coin' and a "golden" macadamia nut ( in its shell) hung on a golden cord, plus a small gift to help her overcome and transform a problematic habit. Beside each pair of shoes lies an open book; the current ones are red velvet with tiny gold stars scattered across the cover and gilt-edged pages. There for each girl to read is a year summary in verse, highlighting the events of joys and sorrows, the magic and mystery that transpired, ending in an inspirational wish for them to carry on into the rest of the year and beyond. Transgressions are addressed with humor and gentle admonition, bringing smiles and a few knowing chuckles…but as with the magic of any therapeutic or 'pedagogical' story, the message goes in deep, and brings a healing balance in its ongoing gentle way. I start this when they are three and continue until they turn twelve, when a new form of connection and communication evolves.
The Advent calendars made their appearance on December first. One is a well- loved winter woodland scene picturing a little Tomte elf decorating an evergreen; each day a furry or feathered friend appears on branch or the ground ..by necessity and to fit into our landscape here, some elderly figures have been replaced over the years with livelier geckos and other local critters ( they are saved in a special box).
On a small three-shelf cabinet the evolutionary sequence of the four kingdoms of nature brings a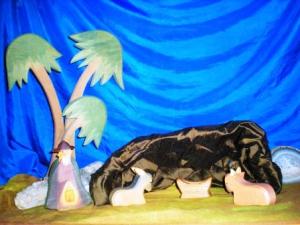 visual representation of the inner spiritual progression through the four weeks of Advent: first, the crystal kingdom with a dark blue background on the lowest shelf, next the winter blue on the second shelf, with stones and shells, and lastly, the heavenly blue draped top shelf with a few crystalline stars. The following week, which also is when we go and pick out our tree, brings the realm of the plants …. then, the creatures of earth, air and sea. Last to arrive are the ox and the ass, calmly munching on wool fleece hay. Mary and Joseph begin their journey around the room, heading ever closer to the cave-like stable made from a variegated stiff brown silk; the shepherds tend their flocks. The guiding angel leads them on. I began 36 years ago to collect handcrafted wooden nativity figures, so by now, the Three Kings finally have their own individual modes of transportation: camel, horse and elephant.
Meanwhile, the house has been rich with the fragrances of baking, of special foods prepared such as lilikoi juice frozen into ice cube trays awaiting to be combined with fresh cranberries for a delicious thick sauce and of course, the lingering aroma of beeswax candles lit first one, then two, three and finally all four each night. We sing carols before bedtime: each person selects his/her favorite as we gather on the floor by tree light happily munching a single carefully selected, wonderfully shaped gingerbread cookie.The girls handmade gifts are labeled, wrapped and tucked away, or perhaps enticingly placed on the tree branches, their contents kept secret in the way of small children: " Mommy, I made you a _____ but don't tell".
I have found that when I can bring a calm, conscious, anticipatory approach to the holidays that is also filled with my own joy, I am able to help soften the impact of the incessantly commercialized,hurried and harried outer world of enticements on the children, whether my own, my grandchildren or the children who have been in my program. We delight in sharing together the fun, secrecy and satisfaction we take as we create gifts for friends and family.The consistent, dependable rhythm of seasonal activities as well as the unfolding visual landscape is reassuring and balancing for old and young alike. My home program environment has always been inclusive of and reflected the diversity of the families and children involved, though here I have focused on my own expressions of the Advent and Christmas season. Over the years, parents have shared their traditional foods, stories, songs and activities, and have helped me to create visual tableaus to reflect their cultural traditions.
This year my grandchildren are not living with me, and I find it more challenging to provide an antidote so to speak to their increased exposure to mainstream, commercially-driven community experiences, especially during the winter holiday season. From another perspective, I still do have the opportunity to 'hold' the festival spirit with conscious attentiveness in such a way that my home environment can spread like a reassuring protective mantle around them when they are here weekends and holidays. The Advent calendars are ready, carefully hidden away alongside the small treats, treasures and other necessities of the upcoming holidays; the nativity players await release from their careful storage; my silks are ironed and will soon begin their metamorphosis into the cool hues of winter; and the red velvet, gilt-edged book will have this year's script faithfully inscribed on new pages by December 6th. The seeds of imagination I received from Marjorie those many summers past, and her encouragement to go within to make the outer expressions of the Christmas festival alive, vibrant and ever-evolving – authentic to my own inner striving and understanding yet reflective of older traditions and spiritual truths – these seeds sprout for yet again another year and will bring forth new life for all who gather with me here.
Pamela Celestine Perkins
Pahoa, Hawaii
2012