So many cultures recognize that the veils between the world of the living and the dead are not as thick around the time of Halloween—hence the celebration of Samhain among the Druids, and All Saints' and All Souls' Days in the Christian calendar. In Mexico and some other Hispanic countries, Day of the Dead celebrations appropriately include all ages as families make little altars remembering family members who have crossed the threshold, affirm the fleetingness of life with skeleton art and with sugar skulls for the children, and gather to decorate graves as family and picnic in the cemetery.
In this country, however, many parents today are looking for alternatives to both the tricks and the treats of Halloween as it has come down to us. Some malls invite children to wear costumes and receive treats Halloween afternoon, while both Waldorf schools in Boulder offer an alternative "Halloween Journey" in which hundreds of children and adults are led in small groups by older children or adult "angels" through a series of fairy-tale and other scenes enacted by the faculty and parents—quite lovely, and quite a production! Wanting to incorporate more of the element of "Michaelic courage," one of the schools in California hosted a "Perilous Path" journey for older children for many years. You may know of other alternative offerings.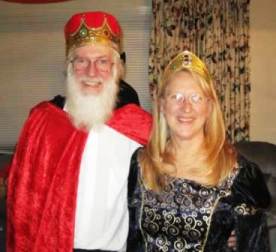 In our present Anglo-American culture, Halloween isn't really a holiday for young children. However, it remains one of my favorite holidays, because I love how older children and adults usually dress up as their alter ego or shadow selves (either positive or negative). It's such fun to see—especially the Halloween parades in Waldorf schools. And, as a teacher, I loved the opportunity to dress up as well.
However, toddlers are too young to "get it" about Halloween costumes—and besides, every day is costume day for them! So parents need to realize that they're dressing their young child up (if they do at all) for their own enjoyment, and that the child may resist or probably won't want to keep the costume on for more than fifteen minutes before moving on to something else.
What we always did at Rainbow Bridge was to explain this to the parents
while still inviting the children to arrive in costume on Halloween if they wanted to. Our guidelines were that costumes not include masks and not be scary for little ones. (We had ages one to five.) Of course, homemade costumes are great fun, but certainly not required with today's working parents (and I never wanted our program to be too "perfect" in any case). While I didn't say much about "media characters," some of the older boys wore simple costumes for us and saved their Darth Vader costumes for that night—fair enough. Everyone seemed to enjoy seeing the costumes at drop-off, and by the time free play was over, children would be out of their costumes and we'd go on with our normal day. While we did plenty with pumpkins in October and November -growing and carving them, baking pies with them, doing fingerplays and singing songs about them- what we did for Halloween day was simple – costume dress up – and it seemed like plenty.
Rahima was co-founder of Rainbow Bridge LifeWays Program, serving families in Boulder, Colorado, from 2008-2012. She is author of You are your Child's First Teacher and serves on the LifeWays board.
We thank you for stopping by to enjoy this article. If you would like to share your experiences working with children in a LifeWays home or center, please feel free to contact Mara Spiropoulos at linearmara@gmail.com. She would be thrilled to work with you to share your wisdom and experiences on the LifeWays blog.