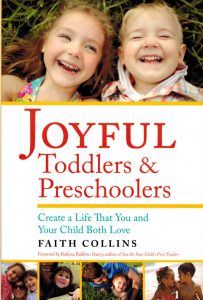 At last there is a practical book providing positive and powerful tools for transforming your life with young children—both at home or in the classroom. Faith Collins is internationally known as an early childhood and parenting educator and shares her insights from her background as a parenting coach, LifeWays childcare provider, mother and teacher in the LifeWays Trainings. To listen to an interview with Faith, click here.
For Parents
Create a life that you and your child both love:
Imagine a life where your toddler or preschooler is happy to do
what you ask, and is able to move on, easily, when disappointed.
Imagine getting all of your housework done while your child
plays, or happily helps alongside you.
Imagine truly enjoying your time with your child, and creating
a life that feels fulfilling for both of you.
"These things are possible for parents and children," asserts author Faith Collins, even with a child who is extra sensitive, demanding, needy, belligerent, or all at the same time.
For Preschool Teachers and Childcare Providers
Transform your work with young children through rhythm, joy and the practical techniques Faith describes.
Incorporate the Living Arts into your daily life with the children.
Imagine truly enjoying the time you spend with the children, creating a life that feels fulfilling to all of you.
The unique contribution of this book is its focus on creating a mutually responsive relationship—meaning that both people respond quickly and positively to each other, even when they cannot do what the other person wants. In a warm and easygoing style, the author guides parents and caregivers in establishing and maintaining such mutually responsive relationships with young children, creating the basis for discipline, education, socialization and a happier life together. Helping our children to develop these skills becomes a game-changer in all adult-child dynamics.
Forward by Rahima Baldwin Dancy, author of You Are Your Child's First Teacher, who shares: "I wish I had had this book as a young mother!"
"Rare and precious! Wise child development insights, along with practical advice, address many perplexing issues faced by parents of young children. A sure companion as you build a secure base from which your child can launch out into the world with confidence and resilience. Most of all, it will likely leave you feeling, "Yes, I can do this." —Kim John Payne, author of Simplicity Parenting
A BOOK FOR PARENTS, GRANDPARENTS, EDUCATORS, CAREGIVERS, AND ALL INVESTED IN THE LOVE AND GUIDANCE OF CHILDREN.
May be purchased at Amazon.com