Hello, My Friends! The last time I wrote to you, Miss Mouse was getting ready for bed and singing to the stars! She has been sleeping so peacefully every night in her cozy little bed. In the early morning, Miss Mouse has been hearing the birds sing, their tweeting and chirping are comforting to Miss Mouse. So, I sang a springtime song to her about birds. "Spring is coming! Spring is coming! Birdies build your nests! Weave together, straw and feathers, each doing your best!"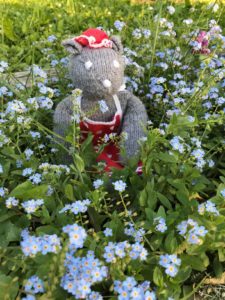 It has been many long weeks since we have not seen each other. I wonder about each of you every day and hoping that you are enjoying nature and playing outdoors. Perhaps you are listening to the buzzing of the bees or digging in the garden, playing with rocks and boxes, or coloring with outdoor chalk. Maybe you are riding a bike or fishing in the creek, climbing a tree, or having a picnic! Maybe you are taking a hike or coloring with markers or helping someone with a chore, maybe you are rocking a sweet baby sister, reading a book or 'resting and digesting'. Wherever you are, I hope that your days are filled with hope and joy!
But there are times when I have been sad too.  Sad that Little House has been closed. During the day, I walked around my garden and looked at the lovely daffodils and the purple crocuses. I looked up to the fluffy clouds and watched the eagles fly over my house. I wondered about this time in our lives. I wanted to find a way to let  you know that I am thinking of you, and that I will never forget you and the joy you have brought to me and Little House. Then when I was taking a walk along the river, I saw some little blue flowers. They reminded me of the "Forget-Me-Nots", those sweet and innocent little blue flowers that also grow in the garden at Little House. And I began to sing again our springtime song:
Spring is coming! Spring is coming!                         Spring is coming! Spring is coming!
                Flowers are coming too!                                               All around is fair!
                Pansies, lilies, daffodillies,                                            Shimmer, quiver on the river!
                Now are coming through!                                            Joy is everywhere!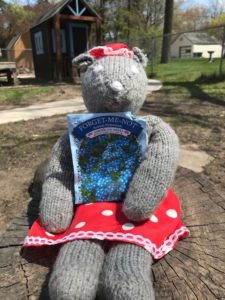 Then, I went to see Miss Mouse and whispered in her little ear an idea that I had about flowers and friendship. I asked her if she thought it was a good idea and she squeaked with happiness and said, "Yes, Miss Veronica, that is a wonderful idea!" And so Dear Friends, in a day or two, you will receive a little gift in the mail, something to say that Miss Mouse and I shall "never forget you!" I hope you like it and can find a place in your garden to remember each other.
Until we meet again and with much love,
Miss Veronica and Miss Mouse