From LifeWays Practices (Specific to the Infants section): Clear, articulate, melodic speech is expected of the caregivers when speaking to the infants throughout the day.
"… speaking to the infant throughout the day." Diapering is one such routine repeated throughout the day (and night!) five to seven times daily for two-plus years— perhaps the most frequent and enduring opportunity for connection and communication between babies and the adults who care for them. The baby's experience of diapering forms a bedrock for relationship-based care. To view this seemingly mundane and uninspiring task through a fresh lens can be transformational for the caregiver and highly nurturing for babies. How uplifting to realize routine diapering can be mutually enjoyable as the infant-caregiver relationship evolves!
LifeWays Practices promote an understanding that relationships with caregivers and the environment form the two most important aspects through which the baby can experience healthy life rhythms/routines. Being cared for is a newborn's first experience in relationship with the adults in their lives and with the environment the adults create. What babies hear, see, feel, taste and smell actively builds the framework for all future development. For newborns, from birth through early infancy, caregivers tend to their every need: food, clean diaper, sleep, repeat. I invite you to join me for a few moments of reflection regarding how we speak to— and about— babies as we change their diaper throughout the day.
A reflection by a participant in a recent class I led for Social Workers centered around how she teased her 6-month old grandson during a diaper change. As she opened the dirty diaper, she exclaimed "Oh, you made a stinky!" and then made a facial gesture of disgust. This loving, gentle grandmother shared her epiphany: "I realized I would never react like that with another family member or even with a someone in a public restroom. From now on, every diaper change will be a time of joyful care and interaction."
Key to this transformation in thinking is the intention to "do with" versus "doing to" babies. Diaper changing with a baby involves emotional connection, gentle movements, verbal cues such as narrating each step and allowing the freedom for baby to move safely and to participate in the process. Here's a short video from Zero to Three of a caregiver narrating her diaper change activities with a three-month old baby: https://www.zerotothree.org/resource/diapering-training-vignette/
In addition to narration using words of comfort and encouragement, LifeWays Practices encourage us to include gentle massage during diapering, dressing and undressing activities. I've included demonstration videos (two are linked below) filmed at The Playgarden by the Sea, a LifeWays Representative Site, to share with you two massage techniques: finger circles and thumb rolls. This easy approach to massage requires no oil since the movements don't create friction on the baby's skin and can be interspersed throughout the diaper change to nurture both the baby and the caregiver. In the videos I sing to my demonstration doll— such fun!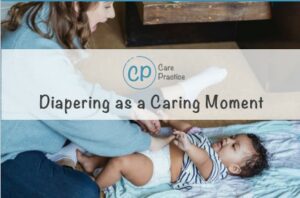 I've also provided a Care Practice Tip Sheet specific to diapering.
The Playgarden is hosting classes this year to teach this Care Practice to families in transition from pregnancy to parenting, and to infant caregivers.
We welcome your ideas and comments!
NTouch Finger Circles close up
---
Chris Lester is a Co-Founder of The Playgarden by the Sea in Jacksonville Beach, Florida
Christine Lester, M.Ed, NBC-HWC, IMH-E®
Infant Family Specialist
Board Certified Health and Wellness Coach
Author and Lead Trainer, NTouch Program
Past President, North Florida Chapter,
Florida Association for Infant Mental Health