In my group of preschool-aged children, I generally find that after the bustle of the holidays, it's time for a change in my circle work. With the return of vitality and more sunlight in our northern wintry climate, I am eager to bring movement and little skits through a collection of nursery rhymes. Traditional and cultural nursery rhymes are found all over the world. These little singing and touching games create an environment without stress and support brain development. Singing, chanting, hand games and tender gestures are shared with the newborn child and beyond. Nursery rhymes offer the following opportunities:
Are a picture of coming to earth (Hush-a-Bye Baby)
A simple understanding of context, a telling of a situation in verse
A rich way of introducing language: rhythm, sound, music, movement of speech
Comprehensive – an understanding through sounds and words
Patterns of rhymed words and sequencing in scaffolded learning towards arranging ideas into pattern for preschoolers
Supports patterning – beginning with rhyming words that are repeated frequently, they develop into patterns, which are building blocks for later thinking
Use of movement – action, bodily movements, demonstration of the will forces
Integration of the four foundational senses: touch, life, movement, and balance that will eventually support the four higher senses: the sense of Ego/Self, thinking, word and hearing
Sensory input and full body play with physical stimulation is essential for brain development
Other considerations:
Use nursery rhymes during transitions as an introduction, before adding them to circle work.
Seek a relationship with a nursery rhyme. A particular nursey rhyme may bring a sense of familiarity, and therefore become more alive. For example: "Pussy cat, pussy cat where have you been? I've been to London to visit the Queen." I have a unique experience to this rhyme because of growing up in England. Children like to hear stories of their teacher's younger years. Reciting a nursery rhyme along with the teacher's tale offers a heartfelt and personal connection.
A gesture precedes speech. Before speaking the word, make its shape with your hands. For example: make pussycat ears with your fingers on your head.  The child sees the ears of the cat and then will associate the visual cat ears with the word "cat". In this case, when a young child learns language, the image of "cat" connects with the oral word "cat" when it is spoken.
Using nursery rhymes during transitions is a good place to begin. A ringing of a fairy bell, a song, a gesture (hands on head) can indicate a starting place for something new to begin, or a mood of tidiness can waft through the room. Nursery rhymes are used when we put away the big building blocks by singing "One, two buckle my shoe. Three, four shut the door etc." and with each block we carry, we sing. Sometimes I sing "This old man he played one" when tidying up other small items and eventually we get to 10 and all the toys have been put back on their shelf.
Then there comes a day, several weeks later when the children are familiar with the rhymes, and I am ready to introduce a Silent Circle time. Because there are many opportunities in the day for rich language interactions, I find it beneficial to discover ways when we can be together in silence beyond rest time. I wish for the children to experience a short group time without words or sounds, but through gesture, expression, and mood.
Why is it important to find silence in group work? Is it possible to discover ways to be in unison and with self-expression, to be creative and respectful during circle work without oral language? Can I intently observe the quality of imitation in young children? How do I create a gathering of wonder through movement? These were the questions I pondered before taking first steps in my Silent Circle time. Only after the children were familiar with nursery rhymes, did I begin by acting them out in silence. The content and rhymes are familiar, but now we live in a mood of quiet. How interesting and unusual it feels. Together, sometimes sitting on the floor or standing up, we use our limbs and body to tell a story in silence.
Suddenly the pail of water for Jack and Jill who went up the hill, feels very big and heavy. Our hands roll one over the other in controlled form, while silently expressing Jack falling down and the same for Jill, who comes tumbling after. Words become movements, and movements are expressions of imitation through the presence and encouragement from the teacher. Indeed, it is a mood to behold. I sense joy and I see smiles. Lastly, we may repeat the rhyme orally to further validate the importance of speech and our sense of hearing.
During these Silent Circles, I strive for my gestures to be slow and beautiful. Movement precedes speech.  Humpty Dumpty's egg is made with my fingers in a round circle. It sits on a wall, where I cross my arms, which resembles a sturdy wall. When using movements for "Humpty Dumpty had a great fall", my hands roll together downwards, and I slap the ground in unison with the word "fall" in synchronicity.  Then I hold my hands before me, as if I am holding the reins of a horse and we act out the next verse "all the King's horses" (we click our tongues as if riding a horse) "and all the King's men" (again clicking our tongues) couldn't put Humpty Dumpty together again. With both arms in front of us, we cross them back and forth as in a sweeping motion, as if nothing can be put together again. Then I finish the rhyme with my hands in my lap.
 Next, the children jubilantly tell me the name of the rhyme. "That was Humpty Dumpty", they announce!
Look through any Mother Goose nursery rhyme book or do some research and you will find a plethora of simple verses. Find ones that can be memorized easily and that bring joy or have personal meaning. Practice using your arms and fingers, legs and feet and whole body to make the words come alive through gestures and movements. Imagine how would a pail look (Jack and Jill), birds baked in a pie (Sing a Song of Sixpence), the dish ran away with the spoon (Hey Diddle Diddle), or a ladybug crawling on an arm in tiny steps (Ladybug, Ladybug). All these movements become intentionally visible, and fingers are nimble.  Furthermore, I like to discover more about the history and origins from rhymes, songs, jiggles, or lullabies. The Oxford Dictionary of Nursery Rhymes edited by Iona and Peter Opie is a wonderful resource for your own inner study. As well, the Laughing Baby: Remembering Nursery Rhymes and Reasons by Anne Scott is a delightful reminder of the importance of these tried-and-true rhymes for young children everywhere.  Enjoy!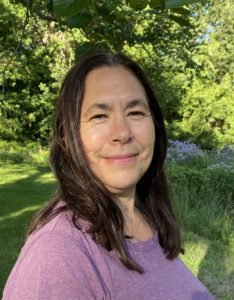 Veronica Oliva-Clour is a Waldorf-trained early childhood teacher at Little House Preschool and Kindergarten, a program for 2 ½  – 6 years old children in Central Minnesota which she owns and operates. Prior to settling in Minnesota, she lived in England where she worked for the United States Air Force in Child Development Programs for seventeen years. Veronica was born in France and calls Europe "home". Living here in America has given her the possibility to help build bridges towards bringing genuine play and nature through the MN Parent Aware star rating accreditation program.