May 22, 2022
As an adult I withdrew from my childhood church to forge a spiritual path more suited to my personal experiences. I also wanted an authentic spiritual life for my (future) children- a regular practice, a container, that would inspire and instill the same closeness I experienced with the spiritual world. As a mother, this task proved daunting to me. My "religion" had become a patchwork of spiritualities but it was ever-evolving and fluid, hardly a consistent "container." As I continued to grapple with it over the years, I found myself naturally and continually revisiting my childhood experience to create the foundation: spirit in relationship, spirit in home ritual, and- most definitely- spirit in nature.
As far back as I can remember, the skies of my Midwestern home- the dome of the heavens- was my real cathedral. A walk through the woods felt sacred and ancient, though I didn't know the words then for the feelings it conjured.  Contrary to the emphasis upon holiness that resided in the church, I was feeling holiness everywhere. Given the chance, children experience this intimate relationship with the Earth easily. We only forget it through the distractions and agendas and dogmas of growing up. I wanted, and still want most deeply, for my children to have and to hold this very special relationship with Spirit as they grow.
I bring this whole picture to you in preface to an incredible new book that now sits at my side, A Litany of Wild Graces by Sharifa Oppenheimer. What Oppenheimer brings in her book, and explains so eloquently in the introduction below, is that a deeply satisfying and spiritual connection to the natural world can be created for our children by cultivating our own intentional and intimate connection to the natural world. 
"In doing research for my book With Stars in Their Eye: Brain Science and Your Child's Journey Toward the Self, I discovered a mountain of studies that shows the foundation of all childhood brain development is what I call "The Love Connection."  The sacred love between parent and child is crucial, as LifeWays teaches us in many ways. A more subtle, yet profoundly necessary circle of love, is the child's need for intimate connection to the natural world.  

Research shows that the child in nature will imitate their adult in nature; the child's  immersion in nature-connection is dependent upon ours.  It is through their deep imitation of us, that they "slip inside our skin."  As we engage in this exploration,  we care not only for our children, but also for our own well-being through the healing forces of the natural world.  In this process our own earth-knowing is bequeathed to them from the inside out. Recognizing this need, how can we deepen our "nature love-connection?" 

It is this question that I explore through essays, meditations and poetry in my new book A Litany of Wild Graces: Meditations on Sacred Ecology.  I hope this book will sit on your bedside table and, one poem at a time, seep into your dreams.  I hope it will inspire your days and encourage you to go outside with your children.  I hope you will get down on your hands and knees ~ the way they do ~ and make intimate hands-on relationship with our green mother and with all the exquisite beings with whom we share our one home, the Earth."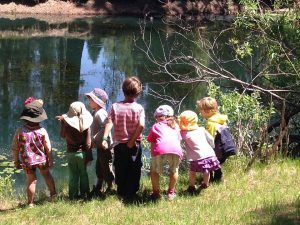 Oppenheimer's book is for anyone wishing to deepen their relationship to the natural world. It is truly an invaluable companion for parents who are wishing to re-ignite within themselves a lasting love and connection to nature that is so easily felt in childhood, and then to protect and enrich that sacred relationship for their own children. I am thrilled to tuck this into my collection of books of poetry and prayer, of sacred and indigenous ecology, to fill my cup on some quiet mornings this summer and beyond. 

For another avenue in which to explore Family Life and the natural world, please visit Sharifa's website sharifaoppenheimer.org   Click on the Family Life "thread" where you will find videos and blogs that follow the structure of the Heaven on Earth workbook "How to Create the Star of Your Family Culture." Sign up for the blog and receive regular inspirations to fill your days with nature's beauty!