We sat in a circle out in the wild, surrounded by the traces of nature. Pine pins sprinkled on the ground, wet leaves in all the monotone colours traced with the dampness of late winter, a scenic cornucopia throwing forth the earth's abundance, as it does in every season.
Reciting the alphabet in their sing-song voice, the children giggled with excitement as we began our finger-play. With a daily rhythm of yoga, painting, storytelling, and a lot of open play, the children looked forward to the adventures of a new day.
Later on, in the afternoon, mud & sand in small hands, a sprinkling of flowers & leaves, mixed with water, gave the best ingredients for fun! Mud kitchen fun! Muffins, pizzas, cakes, and cups of coffee filled the menu of course.  I can't deny or confirm that mud or sand was not eaten that day.
As they prepared to leave for the day, I knew each child took some part of their day with them. For some it was the tenderness of being surrounded by friends. For others, it was playing with their favorite blocks, or trains, or singing French songs. And for a few, the yummy snack consumed just after our nature walk was just right.
One of the most nurturing things we can offer to the children in our lives is rhythm.  I lived and breathed this very principle as I spent my days with young children in my playschool. But just like that our neat, somewhat predictable days spent learning with friends was a thing of the past. What came next has been a story that is still being written.
In April 2020, a government mandated lockdown was in effect. We thought that it was temporary. We secretly hoped that it was.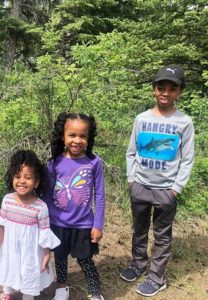 Faced with the unknown, afraid, and stiff from shock, we tried to explain to our children what was happening. But words were not enough. How could we speak what we did not know or comprehend?
As with any form of shock, our bodies and minds tried to realize and realign. Again, how could we push or pull against a force that had no source, just a name – COVID 19.
I remembered reading somewhere that:
"… it's not the objective circumstances that determine whether an event is traumatic, but your subjective emotional experience of the event. The more frightened and helpless you feel, the more likely you are to be traumatized."
It was then that I realized that I did not want this experience – this pandemic to be the "event" that changed my children's lives forever – or worse, to change me, their caregiver forever.
In the face of lockdown life, I found a strange desire to create play; to immerse myself in make-believe. I wondered if this was something, not unlike the virus, that was highly contagious.
Was this how children, unable to control their scheduled days felt? Did they feel the need to fill the void of fear and anxiety by creating fantastical worlds of make-believe, in carefully crafted structures, resolute in their stance against outsiders would? I wondered.
By the summer of 2020, I realized that life was not simply going to return to "normal". I began to take two approaches to mothering my home; the first was to tend to the roots (each member of our family), and the second, finding the many "routes" (ways that we could find ways to hold on to the little joys and trifles), and to celebrate every single opportunity and milestone.
I spend most of my mornings during the week at home teaching my children and thinking about what surprises the next day or week will bring.  I am also parenting and educating a child on the spectrum. The afternoons are spent meeting with our music teacher, tutors, and other community members who help us in our language learning and skills development.
While we turn inward, I (as a homeschooler) continue to reach out to grasp the fibers that hold us together here and now. I believe play is the soul of childhood, and I delight in such matters by transforming the mundane into the marvelous. Sometimes this looks like dressing up in princess dresses and eating cupcakes before breakfast. It's singing songs in praise of learning and growing, scavenger hunts, marveling at the seasons, reciting poetry, drawing, painting, and storytelling.
It's also celebrating milestones, like learning how to ride bicycles, piano and violin recitals, making cinnamon rolls for the first time via Zoom with a friend all the way from Libya, and speaking in random bursts of French throughout the day – something that is a big deal around here.
We also created space for all that we discovered by immersing in nature and celebrating our nature table. It was quite simple, you see. With every blade of grass, each critter spotted outside in our garden, to every raindrop, and dandelion swept up in the wind, we took note. My children found wonder.
Though I've walked many roads and had many other ideas about what I should be doing with my time, right now I am where I am needed. I am home.
The constant motion of mothering, teaching, and filtering all the fear and malaise that sweeps around my family is my full-time job.
The job is not glamorous, and I can confirm that I now own a pair of leggings for every day of the week. Nevertheless, I claim it as I claim every aspect of the beautiful richness that comes with it. The beauty that moves. The beauty that falls, or falters. I claim it! More importantly, I claim the beauty that allows us to craft, share, compile, create, gather, and renew.
My goal is to foster connection, balance, rhythm and an anchoring so deep that the love/hate relationship that we have with hours of screen time, the shame that follows moments of impatience, and the sadness of missing and losing love ones does not sink us.
With one month left until summer holidays, I am feeling lighter, and heavier simultaneously. At a time when home is a haven, a bunker of sorts; I know that it is also complicated, and at times painful to look beyond the moment.
I have learned so much from witnessing how these little people weave the fabric of their own lives; how they sustain the roots that anchor them on their realities, and channel all the wonderful and wildness that accompanies childhood.
As for me, I float and shuffle through the days. I suppose sometimes I stomp as well. I often fail to look up but when I do I find that the sky is there – it hasn't fallen.  The earth still journeys around the sun. We are alive. We are well.
 Salma is a mom of 5 on earth and 1 in heaven. Salma is an autism Behavior Therapist and homeschooler. Before Covid 19 pandemic she was the owner and operator of a Bilingual (French/English) Waldorf-inspired playschool and atelier in Alberta. Presently, her family is in the process of transitioning from a fun, fast-paced, slightly chaotic life of a childcare provider, to a slightly slower chaotic and whimsical life spent mostly at home with her children. She is currently enrolled in the 2021-22 LifeWays Fundamentals Course. She credits the Waldorf philosophy and wisdom that she has received from her facilitators as a transforming force in her homeschool and family life – especially during quarantine.
Visit Salma on Instagram @whimsical_nomads or contact her via email at nomadsandwhimsy@gmail.com