At Little House Preschool I strive to create an environment that is both welcoming and nurturing. The beauty of natural settings with simple toys and materials have always filled me with reverence. Early on in my teaching career as a Waldorf early childhood educator, I realized that while these settings are indeed lovely, my classroom management skills were just as important. I recognized that transitions, and the ability to gently lead children from one activity to another seamlessly was an art that required insight and patience. Recognizing the child's will and guiding them towards sitting together at circle time can be challenging at times or trying to help a small group of children wash their hands before a meal can be chaotic. I began to study and reflect about transition periods and considered them to be an important period within the daily rhythm. From those early days of using songs and fingerplays, to movement and imitation in transitioning children, I now also consider the mood and the intention towards what activity is coming towards us. Creating and implementing transition periods takes practice and can be experienced differently with every group of children. They are a significant part of the day, and one should take time and care during these delicate and purposeful periods.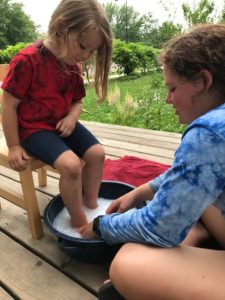 Summer days at Little House are spent outdoors. After lunch each child receives a lavender foot bath. The children look forward to this daily ritual and the transition of "rest and digest" begins. Not only is it soothing to clean a child's feet after being barefooted all morning, but the sound of water and the sense of touch aligns with the sense of Self/Ego. Coming indoors, they enter a rosy colored room with the smell of lavender wafting in the air, and they begin their toileting and handwashing. Next, I wash their face with a soft cloth and say the rhyme "the moon is round, it has two eyes, one nose and a mouth that knows no sound", gently touching the child's face with each line of the verse.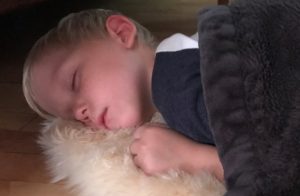 Now the child is ready to rest on their own familiar sheepskin. I am more intentional these days and try to be thoughtful about periods of active play and quiet times, ensuring that children have a balance of both throughout their day. Usually, there are three steps within one transition period and often I feel immersed within this creative form. Recently, I had a father come to pick up his 4-year-old daughter who was sleeping. This was his third child at Little House, and as he approached her, he sighed and said quietly, "coming here is like receiving a big warm hug." I sensed his mood and wondered more about his statement. As I reflected on periods of transition that bridge between our daily activities and those that offer nurturing care, I began to sense all the fine details it takes to create a "mood of soul". I rely on certain items that help support the care of the young child during these periods. It is beneficial to have available the following: lavender oil diffused into the air, a tiny soft bristle brush, a silk cloth, a little soft mouse or finger puppet for short, soothing stories, a repertoire of songs and verses, and some patience and a little imagination too.
A few days later I asked this father if I could interview him about this "mood of soul", this nurturing care that is necessary for healthy growth and development. The following are his insights from the observations he has experienced with his three children at Little House.
Tyler's Reflections on Nurturing Care:
Children need signals that give them clues on what is going to happen. These signals are not mechanical but are part of the daily routine.
Activities and daily care are part of the natural rhythm. It seems so appropriate to have a lavender foot bath after lunch and before a rest period. This helps the child feel comfortable. With a lavender foot bath, their morning of outdoor play has come to an end, and now it is time for quiet and rest, and the needs of the child are nurtured.
Simplicity is best. Treasure these times.
Live in the moment. These early years are important.
Keep media at bay. Often parents give into media because they lack the ability to meet their child's inner needs.
Meet a child's needs with heart.
Nurture the social world of the child. Children are developing these skills as they play and interact with others.
Times of play and sleep are opportunities to develop empathy.
Establish a rhythm of the day. Rice on Mondays, oatmeal on Tuesdays etc. This not only aligns with the planetary influences of the day but also offers predictability and security.
Offer seasonal activities: create a pollinator garden or go strawberry picking in the summer, rake leaves and bake cornbread in the autumn, make colored ice sculptures and drink hot cocoa in a snow fort in the winter, pick dandelions and make a necklace and maybe even some dandelion jam in the spring.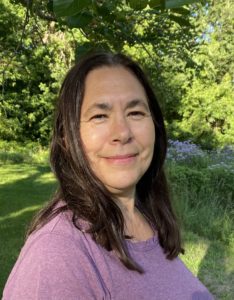 Veronica Oliva-Clour is a Waldorf-trained early childhood teacher at Little House Preschool and Kindergarten, a program for 2 ½  – 6 years old children in Central Minnesota which she owns and operates. Prior to settling in Minnesota, she lived in England where she worked for the United States Air Force in Child Development Programs for seventeen years. Veronica was born in France and calls Europe "home". Living here in America has given her the possibility to help build bridges towards bringing genuine play and nature through the MN Parent Aware star rating accreditation program.