Years ago when my belly was round and ripe, I met someone who would become one of my greatest teachers. At the time, it felt like serendipity, but in retrospect I see how we were destined to meet. Daphne, Grandma Daphne, was referred to me by a friend when I asked around for a prenatal massage practitioner. She was 69 when I met her and had decided to become a massage therapist in her sixties. She met me at her front door with a big smile, an apron and a warm hug. I was about 8 months pregnant, slow moving and missing my own mom who lived on the other side of the country.
Her home was decorated with family photos, ceramic angels, a singing clock and flowers. I felt like a child stepping into my own Nana's home. She took me into her extra bedroom that was made into a massage room. It had Lazured walls, veil paintings, essential oils everywhere and was warm…I knew we were going to be friends!
As we sat over tea and chatted, we shared about our lives. At the time, I had a LifeWays playgarden in my home and she was mostly retired, offering massage here and there, and very active in her church and women's group. She asked if I planned on continuing work after baby came and I told her my dream for a mother and child nurturing group, what is now Mothering Arts.
Daphne listened to my description of a gathering focused on nurturing the nurturer, creating community and acknowledging the unseen journey of the postpartum year. She shared about her own feelings of isolation and loneliness in her postpartum journey…and then she said, "Kerry, you need a Grandmother at these gatherings". I hadn't thought of that, and the idea felt wonderful. When I was ready to get started, Daphne volunteered to visit our group every now and again to rock babies and help serve tea.
In June, our son was born and I had the good fortune to stay home all summer long to rest and bond. One of the first feelings I had when I became a mother is that I really missed my own mother. She and my sister were able to come out for two weeks when Francis was 10 days old. They were such a big help with meals, cleaning, garden tending, dog walking, and all the big feelings of stepping into parenting. When it was time for them to return to NY, I cried my eyes out. It felt awful to be so far away from family, and I knew my mom felt awful that she was missing out on her (long awaited) chance to be a Nana.
Fast forward six months and my vision to gather mothers and babies had blossomed.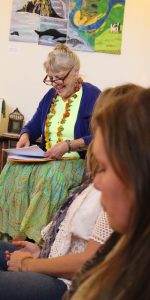 We rented a sweet room in a church and our group was full with a waiting list. Before getting started, I called Grandma Daphne to see if she still wanted to join us…she did! She help me great each mother with a warm hug and a smile, taking heavy baby bags, offering a cup of tea and rocking wee ones.
I asked Daphne if she would like to offer or share something at the gathering and she chose to offer a grounding meditation focused on breathing. She always reminds us the importance of breathing, and how it has been one of her greatest tools for balance and rejuvenation. Daphne has attended every class for six years. Sometimes she brings a song like, Tis a gift to be simple. A handful of times, she has brought one of her friends to our group. Her presence is valuable and reminds us of our own mothers if we are far away. She shares with us of what the postpartum experience was like in the sixties. She brings the spirit of unconditional love that blossoms with age. She creates the gesture of a village, simply by being herself.
She nurtures us.
Daphne also shares that our gatherings have supported her as a Grandmother with her own grandchildren. She receives a repertoire of seasonal songs, games, crafts and oodles of parenting support. She receives resources from the community from meal planning to herbal remedies to breast health. But what she shared that touches my heart most is that being a part of our group gives her hope for the future. It has healed some of the feelings of isolation and loneliness from her time as a new mother.
Reciprocity is sustainability. Our inter-generational gathering is a picture of a healthy community. Mothers need to be mothered, and Grandmothers need a chance to Grandmother. I am so grateful for Daphne and her presence at our group. She has held space for some hot topics like politics, immunizations, relationships and much more and she always brings a bird's eye perspective that comes from her deep wisdom. Grandma Daphne is a treasured member of our community, she is a celebrity at grocery stores after years of nurturing over 100 families. Thank you, Daphne, we love you!
If you are interested in creating an inter-generational gathering to nurture parents in your community, join our online Mothering Arts facilitator training this October.
Kerry Ingram is a Mother, foster parent, postpartum doula, educator, nurturer. She is devoted to uplifting the postpartum journey. A LifeWays and Waldorf trained educator and a postpartum doula, she weaves her education, experience and natural ability to create community.
Kerry believes that a strong network of support for new parents can fortify the entire community, she is committed to sharing all the tools to make it easy for you to gather families in your own neighborhood in her online training. Visit our website at Motheringarts.com