"Hello, Bonjour Miss Mouse," I called as I entered Little House. "Where are you Dear Miss Mouse?" Softly I walked, looking in the blue reading house, inside the big blocks, in the big, wooden boat. Not a sight of Miss Mouse. I wondered where she could be hiding. "Squeak, squeak, here I am," I heard. "Hmm, where was she?" I went into the playroom, she's not on the shelf, not sitting at the table, not on the green futon. "Squeak, squeak, here I am," I heard softly once again. I looked in the play kitchen, and there was Miss Mouse, sorting the pots and pans.
"Oh, Miss Mouse, I see that you are cooking, can I help you?" I asked. Looking closely at Dear Miss Mouse, it seemed that she was a little bit flustered and not quite herself. "Miss Mouse, can you tell me how you are feeling?" I asked. Quickly, she went to sit in the highest chair that she could find in the play kitchen, (it does seem apparent that Miss Mouse prefers to sit in high places). She looked at me with her sweet, little eyes and said softly, "I miss all of my Little House friends." Yes, I understood and wondered what I could do to comfort her. Then Miss Mouse told me that she wanted to make some 'comfort soup'. I wondered, what is 'comfort soup'? She told me that is was soup made with vegetables and lots of love. "Yes, then let us make some. We do need comforting!" I said, and we set to work. We peeled one carrot and cut some celery and a little bit of onion, then added some macaroni, added three soup spoons of water and a heaping tablespoon of love into a pot. We cooked it on the stove for a wee bit and soon the kitchen was smelling delicious. I could tell that Miss Mouse was feeling so much better. She began to sing a little tune, "I see the moon and the moon sees me, and the moon sees the ones that I can't see, la, la, la…" Soon Miss Mouse was feeling much better, with her little bowl of 'Love Soup' and a tender song of friendship in her heart.
Much love to each of you,
Miss Veronica & Miss Mouse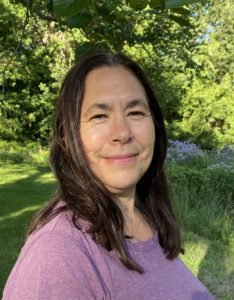 Veronica Oliva-Clour is a Waldorf-trained early childhood teacher at Little House Preschool and Kindergarten, a program for 2 ½  – 6 years old children in Central Minnesota which she owns and operates. Prior to settling in Minnesota, she lived in England where she worked for the United States Air Force in Child Development Programs for seventeen years. Veronica was born in France and calls Europe "home". Living here in America has given her the possibility to help build bridges towards bringing genuine play and nature through the MN Parent Aware star rating accreditation program.