One day the preschool children, my assistant Chelsea, and I were eating lunch when Michelle came downstairs to visit us. Michelle works upstairs and is the daughter of the owners of Harvest Homes Assisted Living, a 50+year old family-owned care facility. I jokingly call the property the family compound, a nod to the Kennedys, when I speak to Michelle because she and her two brothers grew up on the property while their parents were at work there. Her grandparents started the business. Here aunts, uncles, cousins and other assorted relatives have worked and/or lived, too.  It was a special place for children to roam back then when Michelle was little, and now, with the Magnolia Blossom Preschool children bustling about. I think part of what makes this place special is the fact that it is family owned. Nowadays corporations own the majority of assisted living facilities.  The preschool children call their teachers and all the caregivers at Harvest Homes, aunties or uncles. The residents and older employees are grandmas and grandpas. Given that this place, since it's inception, has been about family, I was delighted when Michelle pulled me aside and told me that there was a grandma who was lonesome and would love the company of children. Perhaps she could tell us a story, Michelle said. The timing was perfect since we were all seated at our dining tables enjoying our lunches and visiting with each other. In five minutes time, into the room came our newest favorite grandma, Grandma Barbara. (The building is full of our favorites.)
She was sitting on a Rollator; (I know what it is called because I just googled it.) It looks like this.
Incidentally, if a preschooler comes across one in the hall that is unoccupied, it's quite the boon. It is used by grandmas or grandpas who are ambulatory but may need assistance with balance or may need to sit due to fatigue. The children are accustomed to seeing grandmas and grandpas in all stages of mobility. They, Chelsea, and I welcomed Grandma Barbara to our table with joy and anticipation. She had a ready smile and a twinkle in her eyes. She did not appear lonesome at all, rather ready and eager to engage. I wondered if the story she told would be age-appropriate and engaging for the children. Sometimes when the grandmas or grandpas talk to the children, I need to translate into words that the children will understand. Grandma Barbara began her story.
One day a man came to my hometown of Santa Rosa, California to make a movie. She began to try to explain what a movie is and how you might go about making one, using big cameras and trucks and camera operators and a director. As she struggled to make clear a concept that she could see was not registering with the children, she aborted and focused on the director of the movie. He was, after all, the main character of her story.
His name was Alfred. My heart skipped a beat. Was it Alfred Hitchcock, I asked quietly. She nodded, and I moved ta little closer to the edge of my seat.
Like I said, the director whose name was Alfred, had come to my hometown to make a movie.  My dad said, "We're going to watch the movie being made." He grabbed me and my sister Sharon, each by the hand, and we walked the three blocks to watch.  There were trucks and cameras and people everywhere. Before we knew it my dad struck up a conversation with the director, the Man that was making the movie. He was sitting in a chair. He was a scary man. I did not like to look at him. My sister Sharon and I hid behind our father's back, behind his legs while he was talking to the Man. Sometimes I would peek my eyes around, but I was still scared of the Man. I did not like him. The Man said something to a younger man who ran away, then came back a little later with two ice cream cones. He gave the ice cream cones to the Man. The Man stood up and offered them out to my sister Sharon and me. I whispered to my sister, we were still behind our dad's back, "Sharon, grab the ice cream cones and run." And, she did. She grabbed the ice cream cones, and we ran all the way home.
Grandma Barbara patted her legs simultaneously to punctuate the story's end. We were all spellbound. She told the story with perfect cadence, with appropriate pauses and knowing glances, with suspense; we could all relate to being scared of the Man and wanting to hide behind father. And, to come out of it with two ice cream cones, the perfect win for the real heroes of the story. The children asked her to tell it again. She did. The third time she told the story, two children played the parts of Barbara and Sharon and grabbed pretend ice cream cones and ran away with them.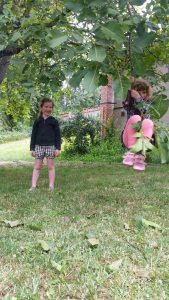 Grandma Barbara stayed and watched the children clear their dishes after lunch. She delighted in watching them play inside. She sat just inside the open door so that she could watch them when their play moved outside.
We told her to come back anytime, and she readily accepted the invitation. Whenever she comes, the children always ask for the same story. I, too, am enchanted with each slightly different rendition.
Since that day, I have visited with her on my own a number of times. I learned that she raised three boys, one that pre-deceased her. I learned that she was born in Santa Rosa in 1935, just three years after my own mother. I delight in her company.
She told me the end of the story, too, about how mad her dad was when he came home. Alfred Hitchcock was looking for a little girl with pigtails, freckles and glasses to play a role in the film. Grandma Barbara's father was hoping that one of his daughters had a shot at it. I asked her which of Hitchcock's movies it was, but she did not recall. I googled "Hitchcock movie filmed in Santa Rosa", and guess what? It popped right up. "Shadow of a Doubt" was made in 1942, which would have made Grandma Barbara 7-years-old.
I love to share this story, her story, because not only is it a great story (with star power even); but, it also encapsulates the very heart of our intergenerational program and all that is good in our world.
Marguerite Aichele-Smith opened Magnolia Blossom Preschool at Harvest Homes in Portland, Oregon the same year she started her LifeWays training in Boulder in 2010.  She likes to call the intergenerational program a little slice of heaven.