The winter seasons are long periods that can last six months at Little House, located in central Minnesota. Snow can gently begin falling in October, which excites us all, and usually covers the garden in a gentle soft blanket. Then it may melt away and seem like a bit of a tease. But eventually we all know that the big snow will come, supported by King Winter and his team of merry folk.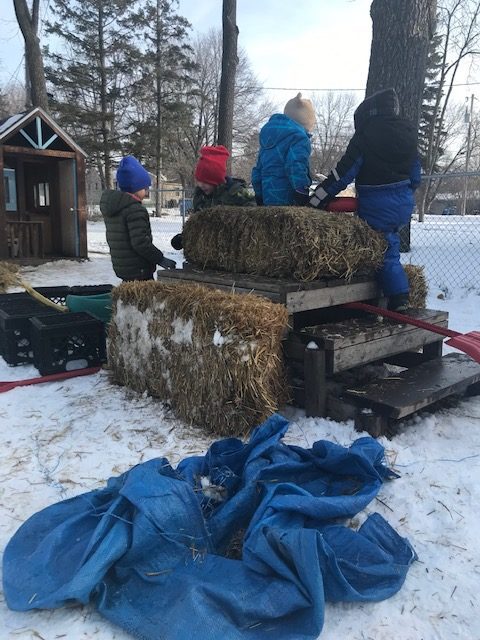 I search for outdoor activities that support children's development, in particular the four lower senses of touch (tactile), life, self-movement (proprioception) and balance (vestibular). I add a small moveable deck, straw bales, tarps and crates for building and creativity. The children add other props, such as sticks, snow shovels, cloth sheets and sleds to their structures, to make an airplane, hut or mountain for example.
Recently I began to incorporate the four elements of earth, water, air and fire into my daily winter activities.  These elements helped me develop new activities and games which eventually brought a different mood to the children and their play. The children made colored ice cubes, which we transformed into gems.  We played hide and seek, created a treasure hunt and used the ice as play food for winter animal play. Outside we made colored water with food coloring in plastic yogurt containers and counted how many days it took to freeze it into ice. Eventually, we put some of the colored ice into a heap and added a little candle light for an outdoor fire. We sat around our ice-fire campfire and sang winter songs together. At other times, we again made colored ice and created a winter bakery. The children looked for natural items such as: pinecones, pine needles, sticks and twigs to decorate their winter cakes, and again we chanted, bakery songs of snow and ice.
One of my fondest childhood memories from France is seeing a Christmas tree lit with small candles. I recreated this memory for the children outdoors with each little flame struggling to stay lit on a cold, windy day. It took perseverance, courage and even our own hope for that vulnerable spark to stay alight. The mood of this celebration affirmed these strenuous times that we are living through, and yet, the element of peace in unity, surrounded us like a warm cloak.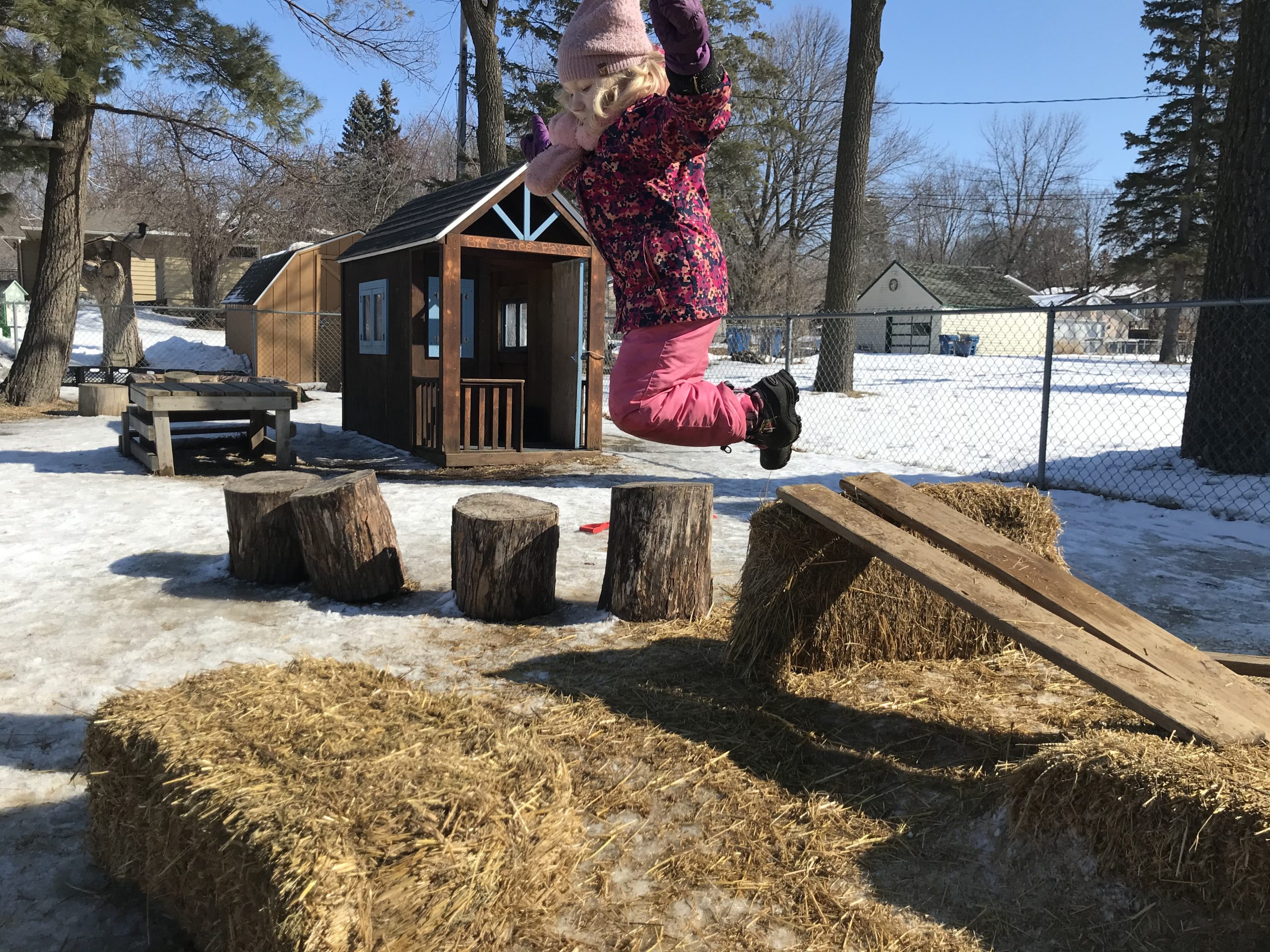 Using the element of fire, in the children I could sense their enthusiasm, energy and vigor when we played games such as, "Walk the Plank" where each child climbs a stack of three crates or a straw bale supported by a wooden plank and they jump unto the snow. Before jumping, I loudly say "All Clear" reminding others to move behind the line on the snow, for safety. All children can play this game, but I find that the younger children receive as much pleasure as the older ones, by simply observing and cheering on their playmates.
Another outdoor winter game we play is "The Bear Went Over the Mountain." Making an obstacle course of straw bales, the children climb the bales to reach the peak. Each child stands on the top of the straw bale and looks out yonder while we sing "to see what they could see." Once on the summit, they can describe what they see. In this age of screen use, I encourage the children to name or describe something that is very far away. Or I may ask the child to describe something that is green or round or to name an animal perhaps. I like to create new situations, such as walking on an icy day, skating on an icy pond, hopping like a snow hare in order to keep their play active and interesting.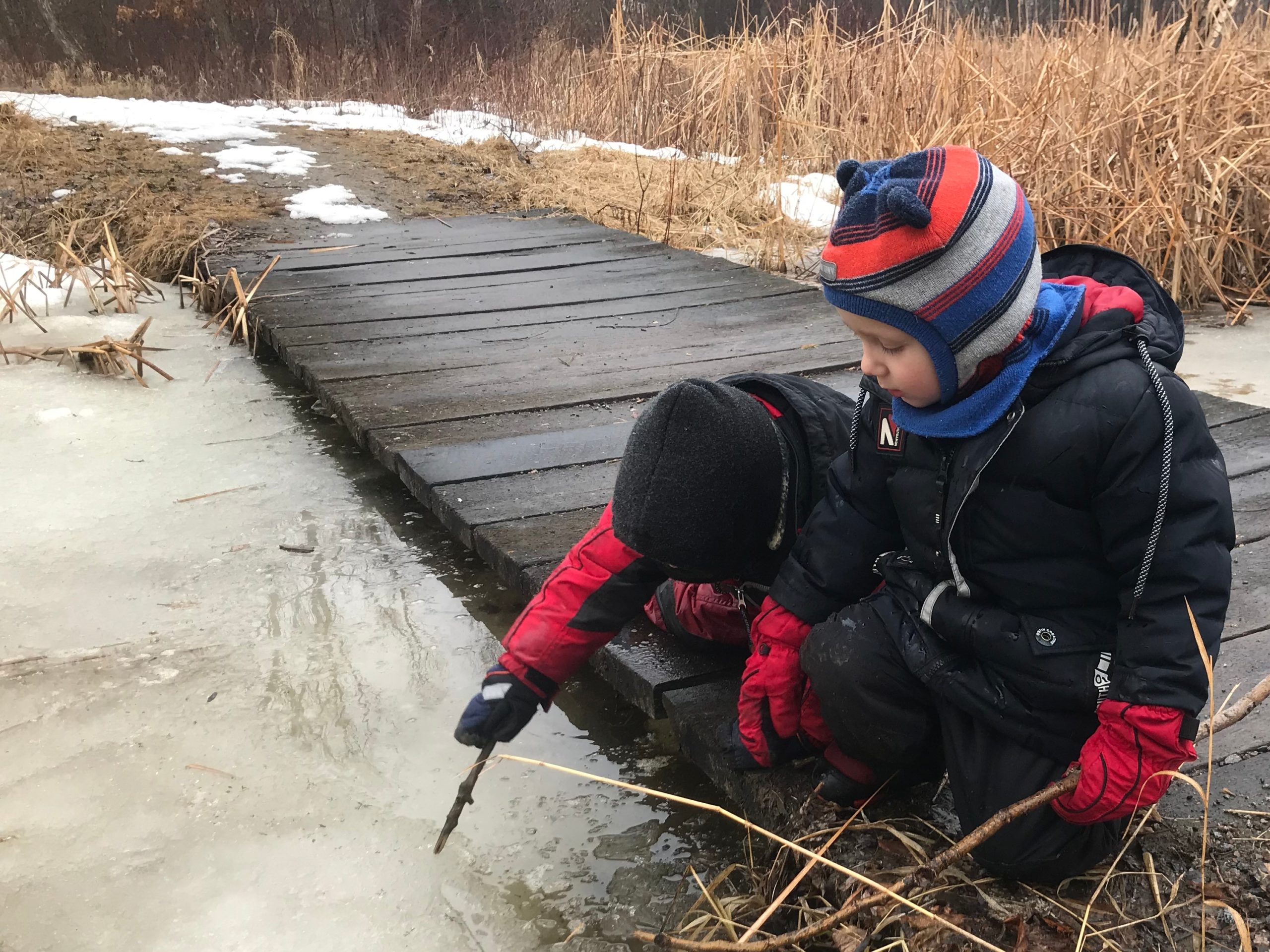 Nature walks on the nearby trail are filled with wonder and seasonal experiences. With a stick, we go ice-fishing or hang up our homemade bird feeders (pinecones, peanut butter and birdseeds) on branches for our winter friends. While our winters are long and often cold at Little House, being outdoors is a necessary and vital part of childhood. I have been told by parents that their children have developed a love for nature, as well as improving their stamina and resilience by being outdoors. Children playing alone or together offers creative, social and practical skills that prepare them for a lifelong appreciation of our seasons, wherever we are and in whatever the weather.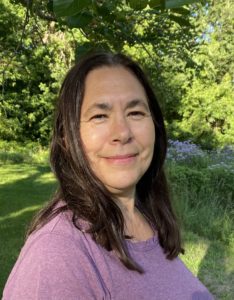 Veronica Oliva-Clour is a Waldorf-trained early childhood teacher at Little House Preschool and Kindergarten, a program for 2 ½  – 6 years old children in Central Minnesota which she owns and operates. Prior to settling in Minnesota, she lived in England where she worked for the United States Air Force in Child Development Programs for seventeen years. Veronica was born in France and calls Europe "home". Living here in America has given her the possibility to help build bridges towards bringing genuine play and nature through the MN Parent Aware star rating accreditation program