In 2008 a significant conversation between Arline Monks, Development Director at Rudolf Steiner College and Alba Lucia Diaz, Principal at Escuela Popular took place. Dr. Diaz shared her vision for a childcare program for the children of her high school dual language students that would light the way towards a new understanding and quality of care for young children and their families. At the time childcare was provided in classrooms that were either overstimulating or almost bare. A cohesive philosophy to guide and unify teachers was sorely needed. The school was housed in an office building in downtown San Jose with a freeway just overhead. The children's "playground" was an area in the parking lot where 4-5 parking spaces had been reserved for the children.
With the support of Newman's Own Foundation and a commitment from Susan Newman for Steiner based education, a program was developed to train and mentor teachers. Patricia Reguerin, Escuela Popular Executive Director was instrumental to the success of the program providing resources and professional development time to insure the entire teaching team could participate. The San Francisco Waldorf School housed the program in the Kindergarten of Diane David and teachers were able to absorb the beauty, peace and magic of the "Waldorf Kindergarten". This beginning was truly a generous welcoming gesture with many joining in to offer their talent and resources to support the program.
Last year we completed the 2nd LifeWays training to support teachers who joined the school after the initial training and as a refresher and deepening experience for the original group. The unfailing support of Newman's Own and teachers who give their talent to their classrooms has truly transformed the childcare program. The school is now in the Alum Rock area of San Jose with ample outdoor space and nurturing classrooms. As plans develop for this coming school year, attention to the outdoor environment and parent enrichment offerings are areas that will build community and opportunities for children to engage in active free play.
My colleague Anna Rainville, along with many Bay Area faculty, offer the LifeWays curriculum and mentoring to keep the program growing.
Working with Steiner's pedagogy has allowed a cohesive focus for work groups to form, allowing relationships among peers to deepen and meaningful conversations to guide their work. The childcare environments have become warm, nurturing, welcoming and inviting. Administrative and other staff at Escuela Popular notice and comment on the camaraderie evident among the early childhood teachers and the improved quality of care.
Teachers share that the training has influenced their personal lives as they take up the practices at home and incorporate healthy rhythms and routines into their family life.
A parent experienced the childcare while her own daughter was in the program and was so moved and determined to learn the "secret" that she applied for and is now a teacher at the center. She says, "For me this is an amazing opportunity to learn, but my daughter was truly blessed to receive the Waldorf Education". Mom hopes to become a Waldorf Teacher.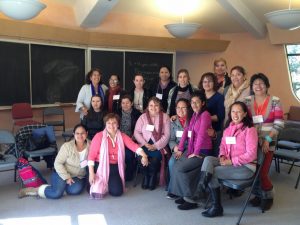 To connect this teaching team to the larger Waldorf community, teachers have participated in the Waldorf Early Childhood Association of North America conferences held annually at Rudolf Steiner College. This professional development has empowered teachers who now feel proud and recognized as valued members of the school. Simultaneous translation for the mostly Spanish-speaking teachers was provided and teachers were grateful for this gesture of respect and inclusion. A number of teachers have also attended the Public School Institute, and these fortifying educational experiences give them much inspiration and practical knowledge for their work with the children. Teachers feel they are a part of a larger system of highly qualified pedagogues with the unexpected consequence that they are held in higher esteem at the school. So much so, that they are being asked to support to the elementary school where many of the children transition into from the childcare program.
In June 2016, the second LifeWays Early Childhood Training began. It covered Human Growth and Development, Child, Family and Community, Program/Curriculum for Child Care and Parenting, Domestic/Nurturing Arts. As the pedagogical lead teacher, I was joined by Anna Rainville. Thanks to Anna's deep roots locally, Escuela Popular teachers have benefited from being able to visit many local Waldorf programs, and the Waldorf School of the Peninsula has graciously opened its doors to visiting teachers, and even hosted some of the sessions. Specialty and guest teachers provided opportunities to create, sing, paint, work in the garden, learn about healing home remedies and nutrition, experience woodworking, movement and Spacial Dynamics.
Teachers commented that the independent activities were very beneficial and the meditative practices and nature observations were personally rewarding and transformative. Most found the music studies and practice a challenge, and this continues to be an area of growth. Now the school is able to provide a warm, enlivened experience for children and their families. These children would not be able to experience the wonder and healing aspects of Steiner-based education without this training.
Escuela Popular "Educates to Transform Lives". With this tag line it is evident the school is fulfilling its mission and that the childcare is a beacon showing the beauty of a community that has come together to share the wonder of childhood imbued by the LifeWays.
These pictures offer a glimpse into the ongoing work of LifeWays in a diverse setting.
Well-deserved celebration!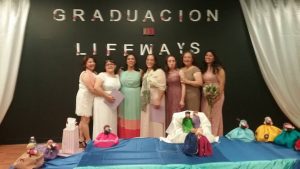 Lupita, Nancy, Maribel, Luz, Edith, Elva, Julianna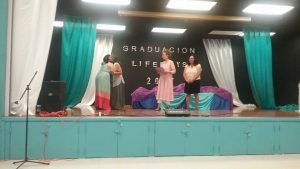 Maribel & Rosario in a hug, Anna, Patricia Reguerin, Director of Escuela Popular