Dear Lifeways community, I wanted to share my own contribution for creating space in nature for both myself, and the children and their families, who now come to my home-based clinical practice. It was healing for me to find the gnomes (many were gifts from my patients), paint the gnomes, make and then line the trail with quartz-containing rocks (found near my home during long walks), and now envision the next steps with creating the magic castle:)
I recently filmed the trail, myself, when all the wildflowers were blooming, so other children and their parents, living in other States, could still experience it, even though they cannot travel here, yet, for their follow-up appointment. I have a lot of wildlife here, though the squirrels and deer disappeared as soon as I used my IPad for filming!
An 18 year old beloved patient of mine, Glen, who now lives in Texas, helped me put this video on a YouTube link, cited below.  I filmed  it as slowly and meditatively as I could, (knowing it is still on a screen) though I now walk with the children and their parents down the trail of gnomes, to the castle area, and then do their movement assessment (i.e. observe the ease of their walking down the trail, itself, as well as their hopping, galloping, skipping, and jump-roping) as the weather permits:)
It is my "Field of Dreams" (i.e. build it and the children and families will come for a visit!). Have fun taking this 19 minute virtual walk down the  gnome trail (CLICK HERE). This is my pandemic project and the rocks that line the trail represent all the walks I have taken around Cape Horn, continuing to strengthen my R knee:) Of course, as I came close to finishing this  trail, I took some short cuts (i.e. I  cheated!) by driving to certain places I had already scoped-out for rocks, filling-up bags with rocks and then transporting them back by car!!! I have had my neighbors in absolute hysterics, watching me carry all these rocks, though now their grandchildren love coming by and walking the gnome trail. In addition, one of my neighbors just brought me three, 16 inch, jewel-beaded poles that she made to add to the trail:)
I thought of adding more nature (bird and running water) sounds in the audio, but many are copyrighted and somehow I liked the softer natural  sounds and periods of silence in my own backyard. It was no easy task holding my IPad, slowly walking downhill, trying not to trip, or making everyone sea-sick because I moved the IPad video too rapidly. Of course then there were all the sounds from barking dogs, construction trucks, train sounds (which I actually enjoy) and the neighborhood donkey which brays continuously at all unusual noises in the neighborhood, sounding like a herd of elephants! This video does have the sound of a distant plane, which I decided to live with, since I have not yet learned how to edit.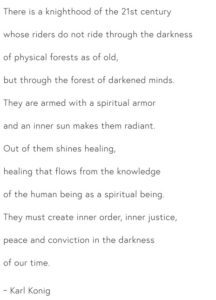 When the magic castle  is finished it will contain three, huge picture-windows, on two of the inside walls, that will appear to look out on a flower-filled meadow, lake, and distant mountains with a castle, along with a few unicorns, fairies, gnomes and lots of flowers on the meadow. I found a picture of a knight, for the third inside wall, who can represent a woman or a man (because the face is covered by a helmet). The knight will hold a banner on a stick with the 7 knightly virtues written out. Finally, there will be written on the 4th, inside wall a poem that I love by a pediatrician, Dr. Karl Konig. This poem speaks of us becoming the knights of this century who must battle to overcome the  darkness in our minds, bringing the light (and love) of consciousness.
Enjoy the gnome journey and feel free to pass it on:)
Love, Dr. Susan
Susan R Johnson MD is a Mother of a now 28 year-old son, Anthrophosophically-trained, Behavioral and Developmental Pediatrician, and certified Waldorf School Teacher. She has a clinical practice in Colfax, CA. where she evaluates children who are having developmental and/or learning challenges in school.  She also consults and lectures at Waldorf Schools throughout the United States and Canada. Her website at SusanRJohnsonMD.com freely provides more than 50 articles for parents and teachers on parenting, education, nutrition, and health.