Creating a Nurturing and Nourishing Space for Children and Caregivers
a unique workshop for parents, caregivers, early childhood educators or professionals and beyond!
led by Judith Frizlen, founder of The Rose Garden Early Childhood Center and author 0f Words for Teachers and Caregivers in Small Doses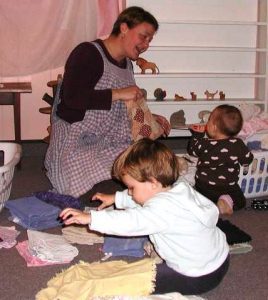 A hands-on, spirit-lifting workshop on The Living Arts: social, creative, domestic & nurturing
Friday, April 13, 6:30-8:30 p.m. "Gathering the Good with the Living Arts"
and Saturday, April 14, 9:00 a.m.- 3:00 p.m. "Living Arts Workshop"
4 Bluewater Hill South, Westport, CT 06880
Presentations, Discussion Groups and Fun, Engaging Activities
How Storytelling and Puppetry Support This Profound Stage of Development
A Workshop for Teachers, Parents and Speech Therapists led by Suzanne Down
Saturday and Sunday, May 5th and 6th, 2018
9 am - 6 pm (Sat.); 9 - 12:30 pm (Sun.)
North Boulder, CO
Contact Kerry Francis for more information. Phone: 303-709-5174
Enchant your child - or the children in your care - by learning to make needle-felted puppets and ways to bring simple lap or table puppetry to the young child. more...
-Cultivating Heart Wisdom in the Teacher
An amazing four-day course for early childhood teachers with Laurie Clark
June 26-29, 8:30 - 4:30
Kimberton Waldorf School, Kimberton, PA
To enkindle warm interest for a child creates enthusiasm for their very existence. We will explore a format designed for Early Childhood teachers that deepens and enhances our capacities to understand the contemporary children in our care. more...