Words for Parents through the Seasons with Judith Frizlen
Judith Frizlen invites you to engage in four seasonal workshops based upon her book, Words for Parents in Small Doses. 
These workshops will take place on Saturdays 10 am Pacific/1 pm Eastern.
Course dates are: October 1, January 7, April 1, July 1
They are a glimpse of what will be offered in a new year-long course for parents that will begin in Autumn of 2023. Each season has its mood; when we align with it, we live into it with greater ease. Nature provides a template for the changing soul gestures of the year.
Establishing a rhythm of self-development through the year can bring about gradual and lasting change. With personal commitment, a guide, and a community, we can raise each other up to our better selves.
Each workshop will include a video and a zoom call. We will gather in our meetings to share inspiration, questions and discoveries based on the informative video. In keeping with the seasons of the year, the workshops will reflect a mood and focus relevant to the season of living with young children.
Seasonal workshop descriptions:
Autumn is a season of letting go, of shifting from the expansiveness of summer to the inward contraction of winter. Nature demonstrates this in the trees dropping their leaves, squirrels collecting nuts for the winter and birds flying south. The human soul gesture shifts from activity toward reflection.
Together we will consider what to let go of, what to gather up, and how to kindle the light within our souls so it will keep us warm throughout the winter.
Winter is a season of quiet reflection, less activity, and cultivating home. Nature is dormant, resting to prepare for growth in the spring. It's a time to plant seeds for what you want, what you need, and how you want to create it. We will create a vision for our family culture.
Together we will explore bringing the elements to our vision, so it is both grounded and uplifted.  Remembering nature's message of rest before growth, we will begin by focusing on the quality of sleep for the whole family.
Spring is a season of growth, of getting in action to cultivate the seeds that have been resting under the frozen ground of winter. We cultivate seeds by providing the adequate resources for growth and building resilience. We will learn how children build resilience to meet the challenges of life.
Together we will explore the sentiments of sympathy and antipathy and consider how to nurture equanimity or a neutral viewpoint to meet life's ups and downs.
Summer is the season for play – for fun and frivolity. Children are experts in play – it is an innate capacity that they practice every day. We can watch and learn from them. Nature is its most light-filled and colorful in the summer. We can embrace that gesture and find humor and joy in our daily lives.
Together we will consider how to create an environment and mood for creative free play. And how to maintain rhythms that support transitioning from child-directed play to adult-directed activities like eating, bathing, and sleeping. All in a mood that is light and joyful!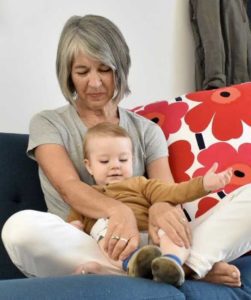 Judith Frizlen is Director of The Rose Garden Early Childhood Center, which she opened in Buffalo, NY after completing the LifeWays Training. The Rose Garden serves is a developing Representative Site of LifeWays North America. Prior to that Judith was an early childhood teacher at Aurora Waldorf School, as well as director of the City Satellite in Buffalo. Earlier in her career she taught elementary grades at Calasanctius School and Buffalo Public Schools, and then presented seminars for teachers at learning centers, colleges and statewide conferences before coming back to early childhood education, which she describes as the nearest thing to heaven.  Judith is a mother, educator, writer and community supporter. She has a Bachelor of Arts in elementary education and a Master of Arts with a concentration in Human Development.
"I participated in the first East Coast LifeWays training nearly ten years ago. Through the training, I acquired practical knowledge of the LifeWays model, an inner resolve to do what I could, and a nationwide network of supportive colleagues. In September, 2009, we opened the Rose Garden Early Childhood Center in Buffalo, NY.  Today, I am engaged in meaningful work, surrounded by healthy children. It's time to spread the word that there is a model for homelike, healthy early childhood programs that serve both at home and working parents." –Judith Frizlen
$45 per workshop; $40 each for couples
$170 for the whole year; $165 each for couples 
Refund Policy: Fees will be refunded in full up to 7 days prior to the start of the course, and at 50% if student cancels enrollment less than a week in advance. Fees are nonrefundable after the start of the course.
Also View all Our Other Courses
Welcome to LifeWays!
Online, view any time for free!
LifeWays Early Childhood Fundamentals Course
August 2022
The Living Arts in Song and Dance with Anna Rainville
Online, Four monthly sessions starting August 24, 2022
The Living Arts - Cornerstones of Care
Online, September 14 – October 15, 2022
Delightful Developmental Movement & Spacial Dynamics Streams
Online, First of six six-week session starts Sept. 14, 2022
Deepening Self-Care with Spacial DynamicsⓇ
Online, First of nine sessions September 17, 2022
Words for Parents through the Seasons with Judith Frizlen
Online, first of 4 seasonal sessions starts October 1, 2022
Rhythm is Life with Sharifa Oppenheimer
Online, first of six sessions starts October 4, 2022
Learning in Nature 2: The Mystery and Wonder of Exploring Nature with Children
Online, October 26 - November 12, 2022
Creating Home Away from Home: A Course for Home Childcare Providers
Online - Start Any Time!
Creating Your Family Culture -- An Elemental Approach
Online - Start any time!
Healthy Home Rhythms
Online - Start any time!
Living Arts Through the Seasons ~ Archived
Online Archive of past seasons