With Cynthia Aldinger and Mary O'Connell
Online, July 22-August 5, 2020
"In out of the way places of the heart,
Where your thoughts never think to wander,
This beginning has been quietly forming,
Waiting until you were ready to emerge."
~ John O'Donohue
As old forms of care and education are experiencing instability right now, new forms are quietly forming, waiting . . .  Some parents have discovered their inner teacher and are considering homeschooling on their own or with a group of families.  Some of you are being called to open your arms and heart to more children (a few or several).  If you are a teacher, are you ready to set your own course and offer home-based education to yours and/or other's children?  Are you a group of colleagues looking to form a teacher co-op or network?   Are you looking for new forms of care and education for your own children when you return to work, and are you willing to support someone ready to embark on a new model? Perhaps a group of parents sharing one or more teachers?  Nanny sharing?  Parent-child co-operatives?  Let's start this dialogue.
In this course of study, we will explore a variety of ways to offer care and education that offer spaciousness around learning, not only for the child but also for the adult(s) guiding the learning.   This is not going to be a course laden with researched articles, scientific citations, rules and regulations.  Rather it is a course for opening our minds to what our hearts have been whispering.  Can we create new forms, or expand upon already-existing progressive and holistic forms, of care and education for children from infancy to ten years old?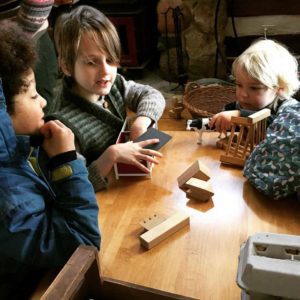 Join us for our NEW online course "Re-thinking Care and Education: Developing Programs Outside of the Box" in which:
Cynthia and Mary will guide you in exploring a variety of new or expanding forms of caring and teaching based on life as the curriculum and foundations of child development found in Steiner education.
We will consider how the Living Arts can support these models.
You will be inspired by each other as we share our ideals and dreams for the future of caring and educating.
You may work together to create practical templates and check-lists of how to get started.
You will earn a certificate for 8 hours of continuing education (completing the coursework by August 8).
"Re-thinking Care and Education" offers multi-media lessons specially designed to inspire you in creating or expanding programs that are non-institutional, well-paced, delightful and rewarding.
Receive a new lesson each Wednesday utilizing videos, new written material, links to related reading, and suggestions for further resources.
Among the topics we'll consider:
Homeschool/School Hybrid
Care and Education Co-Op or Family Pods
Colleague Co-Ops or Teacher Networks
Families Sharing Teachers or Nannies
Parent-Child Co-Ops
Respite Care for Stressed or Addicted Families
How the Living Arts can be applied in each of these approaches
Week One: Various Programs and How to Begin Creating Them
Which type of program is calling you to action?  Who needs to be involved in helping it to manifest?  What are some of the practical details to consider?  Location?  Numbers of children and families?  Legal considerations? Developing a checklist of actions.  Nurturing the vision. Building trust.
Week Two: Building a Foundation on The Living Arts and Life as the Curriculum
We will consider how using life as the curriculum is supported by the fundamental activities of the living arts:
Practical, domestic care and tending of the physical space and environment
Nurturing care of the children and the adults
Creative activity and skill building
Social awareness and creating culture
Cost $79. Register online and pay below by credit card or through Paypal.
Refund Policy: Fees will be refunded in full up to 7 days prior to the start of the course, and at 50% if student cancels enrollment less than a week in advance. Fees are nonrefundable after the start of the course.