The Living Arts – Cornerstones of Care for the Young Child (birth – six) and for Yourself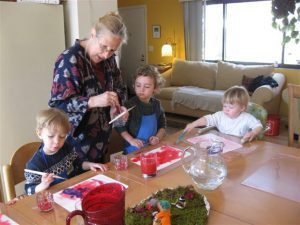 with Cynthia Aldinger and Mary O'Connell
October 14 – November 14, 2020
Transform your home life and professional care with young children through LifeWays' practical approach to enriching your life and creating "home away from home" for children in early childhood settings.
Join Cynthia and Mary for a four-week course exploring ways to use the Living Arts as the cornerstones for a solid foundation of learning for the young child and enrichment for your own life. Each week we will explore one of the Living Arts in detail and you will learn how to bring these activities into your life with young children, whether at home or in programs:
Practical Activity, such as cooking, gardening, cleaning, shopping and even folding laundry!
Nurturing Care, including bodily care, mealtimes, sleep, time in nature and creating a rhythm for your life
Creative Exploration, such as singing, crafting, painting, storytelling and nurturing your own artistic self
Social Ability, the art of helping children and adults learn to relate well with others
Every Wednesday for four weeks a new lesson will be posted with a variety of learning activities: 
New reading materials
Videos of conversations between Cynthia and Mary
Practical tutorials
Videos of real-life care settings using the Living Arts
Your own Living Arts Journal in which to record your ideas, inspirations and goals, and experiences (will be sent to you before the start of the course)
Rich online discussion forums with the presenters and other students.  Learn how LifeWays students throughout the world are using these ideas to enrich their home life or revolutionize childcare.
Life-Long Access: Lively online discussion forums on themes relating to the content are held each week, so participants get to learn from one another's experience as well. The instructors reply over the course of each week, so there is no need to show up at a specific time and no difficulty with different time zones. Life-long access to the course means you can learn on your own time and at your own pace.
CEUs Available: Childcare providers and early childhood teachers needing continuing education will earn a certificate for 15 contact hours through their active participation in and completion of the course.
About the Master Teachers:
Cynthia Aldinger founded the first LifeWays program in 1998 to nurture families and inspire childcare practices throughout the country.  Executive Director of LifeWays North America, she is the author or Life is the Curriculum and coauthored Home-Away from Home: LifeWays Care of Children and Families with Mary. She served on the board of the Waldorf Early Childhood Association for fourteen years.
Mary O'Connell is the LifeWays Training Coordinator and President of the Board of LifeWays North America.  She is also a LifeWays Training Lead Teacher.   She and her husband own Paradise Farm in West Bend, WI, which offers farm education and nature programs for children and adults.  Mary was a home-based LifeWays childcare provider and LifeWays center director for 20 years.
If you have questions, submit an inquiry.
Refund Policy: Fees will be refunded in full up to 7 days prior to the start of the course, and at 50% if student cancels enrollment less than a week in advance. Fees are nonrefundable after the start of the course.
TUITION: $150 includes a workbook for your exploration of The Living Arts and life-long access to the course. (Since we only ship to US addresses, we are happy to provide our International Students with a PDF version of the workbook.)