Nourishing the Senses: The Foundations for Healthy Child Development
With world-renowned educator Anna Rainville.
This course will offer practical ways to bring the senses to life. Learn games to play, songs to sing, and singing games to nurture the joyous confidence of children in your care.
Games and songs (and their combination: singing games) are a part of every culture and generation. These games provide healthy opportunities for sensory integration while lifting spirits and building community. Singing and moving together in simple or complicated forms appeals to all ages!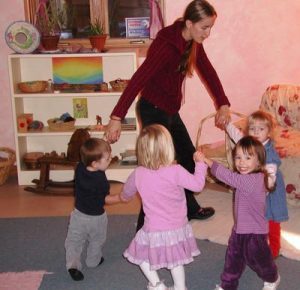 This series of interactive video classes will highlight games and songs for nourishing and nurturing the primary senses, with an explanation of why these games remain timeless in their integrity and importance for healthy development.
Come prepared to make the foundational senses of touch, life, movement and balance come alive as you dance in your Zoom rooms! These games (for children ages eight and under) find their ways into the everyday rhythm of family life as well as bring added meaning to the classroom or early childhood program.
Each class will be a LIVE Zoom call with Anna, and participants will have access to the recording (private link) for two weeks after the event in order to better learn the songs.
No experience necessary, just an open heart and willing feet.
November 10, 2021 — Rosy Cheeks and Dancing Feet: The Sense of Life
January 12, 2022 — Joy in Motion: The Sense of Movement
February 9, 2022 — In and Out of Balance: The Sense of Equilibrium
About the Instructor:

Anna Rainville has lifted spirits with singing games and group harmony for decades. A Waldorf educator since 1978, Anna travels widely as a mentor and teacher. She has experience as a class teacher at the Lexington Waldorf School and the Waldorf School of the Peninsula and as a public school kindergarten teacher in the Santa Cruz Mountains where she received an award from the California Kindergarten Association for outstanding work in early childhood education. Currently, she facilitates teacher renewal and integrated arts curriculum development in schools and universities nationally and internationally including the Philippines, Estonia, the West Bank, Ireland, and India.
Anna takes particular pleasure in supporting a healthy connection between child and nature and has received grants to develop outdoor play and nature programs in early childhood centers in low-income communities. With her mother, Betty Peck, she has co-founded and directed the popular Kindergarten Forum in their magical garden for 27 years in Saratoga, California. Anna's passion for supporting the creative spirit in teachers was honed as a founding instructor at Rudolf Steiner College's Public School Institute for 25 years. Special interest in learning through movement and sensory integration led her to complete remedial training.
Workshops will occur on the following dates from 7:00 – 8:15 p.m. Central Time
Price per workshop is $39

Groups of five or more: $29 per person for individual workshops
Refund Policy: Fees will be refunded in full up to 7 days prior to the start of the course, and at 50% if student cancels enrollment less than a week in advance. Fees are nonrefundable after the start of the course.
Also View all Our Other Courses
Discipline with Loving Awareness
Online, Starts November 10, 2021
Nourishing the Senses: The Foundations for Healthy Child Development
Online, November 10, 2021
Brain Science and your Child's Journey Toward the Self
Online, Next Session Starts November 17th, 2021
Fortify Your Life Forces with Spacial Dynamics®
Online, Next Session Starts November 20, 2021
Home as the Model; Life as the Curriculum 2.0
Online, January 5, 2022
Learning in Nature: Establishing Outdoor Care and Education
Online, Starts March 2, 2022
LifeWays Early Childhood Fundamentals Course
August 2022
Creating Home Away from Home: A Course for Home Childcare Providers
Online - Start Any Time!
Creating Your Family Culture -- An Elemental Approach
Online - Start any time!
Healthy Home Rhythms
Online - Start any time!
Living Arts Through the Seasons ~ Archived
Online Archive of past seasons