With Cynthia Aldinger and Mary O'Connell
Online, June 24 – July 25, 2020
With the strengthening power of fresh air and the elements of nature, more time outdoors can be an elixir for adults and children in early childhood programs!  This online course will explore the elements of an outdoor program founded on relationship-based care and the Living Arts, whether you are creating a program from scratch or simply incorporating more outdoor time into your existing program.
Time in a natural outdoor setting has so many benefits for children: fostering wonder, encouraging natural observation, building resilience and health, nourishing the senses, and promoting relationships. Recent events have led many early childhood professionals and parents to explore the possibilities of offering expanded outdoor opportunities.
Join us for our NEW online course "Learning in Nature: Establishing Outdoor Care and Education" in which:
Cynthia and Mary will guide you in exploring the possibilities of creating outdoor experiences for the children in your care.
You will be inspired by a multitude of ways other caregivers and teachers have offered expanded outdoor exploration.
You will create a plan to bring the Living Arts outdoors!
You will earn a certificate for 15 hours of continuing education (completing the coursework by July 25th)
"Learning in Nature" offers four multi-media lessons specially designed to inspire and guide you in creating or expanding the outdoor elements of your early childhood program. Receive a new lesson each Wednesday utilizing videos, new written material, links to related reading, and suggestions for further resources.
Among the topics we'll cover:
Week One: Relationship based Care in the Outdoors
Why is outdoor exploration and learning beneficial? We'll explore several types of outdoor environments for inspiration – childcare settings, preschool/kindergarten classes, and parent-child programs.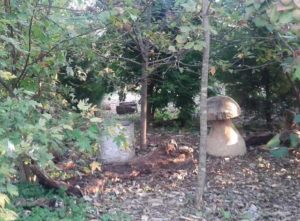 Week Two: Outdoor Environments
What are the practical and inspirational aspects of a nourishing, safe and engaging outdoor environment whether part-day or all day?  Licensing and other regulatory concerns will also be addressed.
Week Three: Bringing the Living Arts Outdoors
We'll explore how to offer the foundations of practical activity, nurturing care, creative exploration and social awareness in an outdoor setting, as well as establishing a healthy rhythm that builds resilience and wellness.
Week Four: Health and Safety
In week four, we'll discuss how to offer a safe environment outdoors. We'll explore not only physical safety but also soul safety, and the safety provided within the context of relationship-based care.
Cost $150. Register online and pay below by credit card or through Paypal. After we receive your registration and payment, you will be sent the link to the course and to the FREE video, "Forest Kindergarten" featuring an outdoor program at LifeWays Early Childhood Center in Milwaukee, WI
Refund Policy: Fees will be refunded in full up to 7 days prior to the start of the course, and at 50% if student cancels enrollment less than a week in advance. Fees are nonrefundable after the start of the course.