Food for Thought: Rhythm and Beauty of Nutrition
A Three-Course Series with Michaeleen Hinca
Course One: Setting the Table, Three weeks starting Wed, April 26th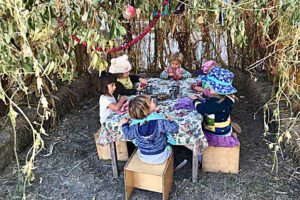 This delicious online course offers a seat at the table to childcare providers, early childhood teachers and parents who are craving Food for Thought about the nourishment they are offering to the children in their lives.
Divided into three separate courses, this first course will focus on Setting the Table. Whether it's a kitchen table, a picnic table, or a blanket on the grass, intentional rhythm and beauty will feed both body and soul.
Raise your intention and enjoy the leaven that learning in an online group offers through this unique course developed and led by Michaeleen Hinca.
***Convenient three-week format offers 12 CEUs for teachers and childcare providers.
How Will This Course Work
Find ways to add meaningful beauty to mealtime, snack time or any time food is shared. Engaging lessons offer parents and childcare providers or teachers the opportunity to stir-up discussion and to learn from each other while cooking up ideas for establishing nourishing rhythms. Each Wednesday, a new lesson will be served with a new menu of learning activities.
New lessons will release April 26, May 3, and May 10
Learn on your own time and at your own pace. Lessons are always accessible for ongoing reference. Childcare providers and early childhood teachers needing continuing education will earn a certificate for 12 hours through their active participation in, and completion of, the course by May 19, 2023.
Details of the Course Content
Week 1: Big Scoop of Intention – together we will explore what it is that we are really serving when we offer nourishment to the children in our lives. How can we prepare bodies and food for digestion?
Week 2: "Good Work" helpers – learn and share the unending opportunities adults and children have to serve each other before the meal ever begins.
Week 3: Setting the Table – Beauty is everywhere. Let's consider unique ways to bring it to the table in ways that nourish body and soul.
Michaeleen Hinca is a graduate of LifeWays Class of 2000. She went on to apply what she learned to raising and home-educating five children, along with her husband, on a small hobby farm in rural Wisconsin. During her farm years Michaeleen developed an in-home organic Traditional Foods business which produced soaked and sprouted grains, nuts and seeds for families around the world. After selling her business, Michaeleen continued to teach children and families the joys and benefits of preparing and sharing healthy foods. She returned to LifeWays in a professional capacity in 2016. In her current role of Publicity Coordinator, Michaeleen edits the bi-annual newsletter and takes delight in promoting all trainings, workshops, and online courses to the global LifeWays community. At Michaeleen's table, there is always room for one more!
Cost $99; Groups of five or more $79 each.
Refund Policy: Fees will be refunded in full up to 7 days prior to the start of the course, and at 50% if student cancels enrollment less than a week in advance. Fees are nonrefundable after the start of the course.
Also View all Our Other Courses
Subscribe to Living Arts Weekly Blog Posts by Email