Brain Science and your Child's Journey Toward the Self
With Sharifa Oppenheimer, author of Heaven on Earth and With Stars in Their Eyes
Starts September 20, 2023
Zoom conferences Sept. 20, Dec. 6, and Mar. 27
Registration extended to October 18; Recording of the Sept. 20 Zoom session will be provided.
This exciting course will be a six month exploration of the gentle ways teachers and parents can bring cutting edge brain science into their classroom and home, to support the children's finest brain development!
**Childcare providers and early childhood teachers can earn a certificate for 15 CE hours through their active participation in, and completion of, the course by March 30, 2024.
How Will This Course Work
Six engaging multimedia lessons, with group discussion and valuable resources will be released the third Wednesday of each month, September through March (excluding December).
Participants are also invited to join Sharifa for three Zoom conferences for face-to-face experience of the content and connection with the course community.
Details of the Course Content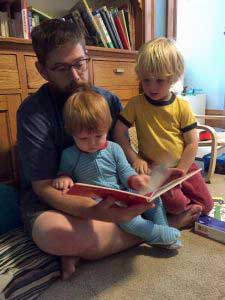 September 20 The Limbic Brain: Love is the foundation of the Self .
How to evolve the love between parents or care-givers and the child

How to foster a loving connection with Nature

How to support a relationship with a loving, guiding higher power
And Introductory Zoom conference, 7- 8pm Central

October 18 The Sensory System: How the child explores Self and World.
Sense experience as nutrition for the brain

Exploring the foundational senses: Touch, Life, Self Movement, Balance

How to let Nature be our guide



November 15 The Movement System: How the child integrates experience into a meaningful whole through Movement.
Discovering the child's natural, inherent movement progression

The role of formed movement and how to offer this at home or in school

The Role of free movement and how to offer this in home or school



December 6 **Bonus Zoom conference** An "office hour Q&A," 7- 8pm Central
January 17 Right Hemisphere: How Art supports holistic thinking
Right hemisphere speaks a language of images; understands through synthesis

Art allows the exploration, expression and discovery of the Self

Simple art activities for daily life



February 21 Left Hemisphere: How Stories support analytical thinking
Left hemisphere understands by analysis, taking things apart to explore

Stories give children experiences of people, relationships, places and the world

Through stories the child can rehearse the Self, who do they want to Become?



March 20 Prefrontal Cortex: Through Play the child practices at becoming herself
Creative Play is the crown of all prior development

Exploration of what play is and what play is not

How to encourage and help "shape" play in a positive direction



March 27 Ending Q&A Zoom conference, 7- 8pm Central
Sharifa Oppenheimer
is a longtime Waldorf Early Childhood Teacher and the author of the bestselling book
Heaven on Earth: A Handbook for Parents of Young Children. 
Sharifa was the founding teacher of the Charlottesville Waldorf School in Virginia where she taught kindergarten for 21 years. A master teacher, Sharifa has mentored teachers at Sunbridge College and Rudolf Steiner College. The author of many articles on Waldorf education, she recently began a home-based kindergarten program. Her current research is devoted to the ways in which Steiner principles support the latest findings in brain development. Sharifa is the mother of three grown sons.
$199 for the whole six-session course; 170 each for groups of five or more
Refund Policy: Fees will be refunded in full up to 7 days prior to the start of the course, and at 50% if student cancels enrollment less than a week in advance. Fees are nonrefundable after the start of the course.
Also View all Our Other Courses
Welcome to LifeWays!
Online, view any time for free!
Brain Science and your Child's Journey Toward the Self
Online, Starts September 20, 2023
Inspired Homemaking with Rahima Baldwin Dancy
Online, starts October 4, 2023
Circle of Hands Year 2
Online, Next session October 15, 2023
Working with the Four Temperaments
Online, Starts October 18, 2023
Opening the Gate with Anna Rainville
Online, next session October 19, 2023
Circle of Hands
Online, Next Session Starts October 29, 2023
Celebrando: Entendiendo, Creando y Viviendo las fiestas con intención
En linea, a partir del 1 de noviembre, 2023
LifeWays Early Childhood Fundamentals Course
Starting August, 2024 in several locations!
Creating Home Away from Home: A Course for Home Childcare Providers
Online - Start Any Time!
Creating Your Family Culture -- An Elemental Approach
Online - Start any time!
Healthy Home Rhythms
Online - Start any time!
Living Arts Through the Seasons ~ Archived
Online Archive of past seasons