May 2, 2021
As the Covid disruption continues, many schools have canceled their May Day celebrations. My little farm program in Wisconsin, however, made our very first maypole this year.  The kids harvested their own pole by carrying a dead tree out of the forest and adorning it with ribbons.  As we practiced the maypole dances for our May Day festivities, I watched the ribbons wrap around the pole and thought, "This is community.  We each bring our own gifts to the celebration of life, and when we work together in unity, a beautiful weaving takes place."
     Twice each year we pause our weekly blog posts to give you an update on our LifeWays community and the work we are doing, and we ask for your support.  Our LifeWays community continues to grow and thrive thanks to the unique gifts of many people, a few of whom I'll spotlight here: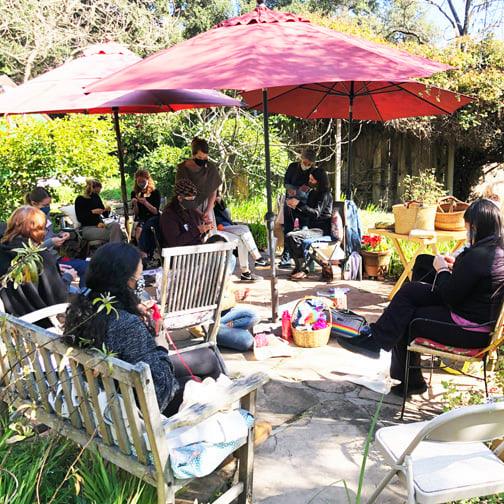 Our San Francisco Bay area LifeWays Early Childhood Certification training started its 12th year, thanks to the efforts of Marianne Alsop and her wonderful team (making an in-person training happen this year in California was no small feat.)
     LifeWays North America has been involved in planning work with an incredible group of people from the Crow nation in Montana who are developing a healthier model of early childhood education for indigenous children.
     We welcomed some truly talented and inspiring colleagues to join our online network of instructors this year, from our Zoom series with Anna Rainville and Lynn St. Pierre, to our online Festivals course with Chinyelu Kunz and Molly Brett,  and our upcoming Champions of Play course with Judy Frizlen. We are putting together a special storytelling Zoom series for June with Cynthia Aldinger, and one for fall with Sharifa Oppenheimer based on her latest book.
     Our hard-working colleagues in Mexico are continuing their work creating LifeWays America Latina, which broadens the reach of LifeWays' Living Arts to a Spanish-speaking audience.
     Our hybrid LifeWays Fundamentals course (part online and part in-person) continues to bring sustenance and inspiration to adult students, with retreats taking place this summer in Boulder, CO  and West Bend, WI.
     Two of our board members  just completed a Diversity, Equity and Inclusion training with the council of anthroposophical organizations. Our board and staff continue to examine our own policies and content through the lens of anti-racism, believing wholeheartedly that our strength as a community lies in our diversity.
Will you support LifeWays North America to continue our mission to support caregivers, parents and teachers in their work with young children?  Any amount of support is appreciated. You can donate here.
With gratitude to all of you who make up our beautiful LifeWays community,
Mary O'Connell
for the LifeWays North America Board