July 1, 2018
May we think of freedom not as the right to do as we please, but as the opportunity to do what is right.  – Peter Marshall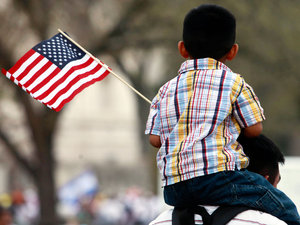 Independence Day has always been my favorite holiday. Gathering with the whole community for the parade in the morning and then later under the stars for the fireworks makes the Fourth of July the best of celebrations. I must admit this year I have been feeling ambivalent about standing on the curb and waving my little flag in celebration of the United States. The fact that America's independence is celebrated as a national holiday demonstrates we have a deep pride in our country's origins. We also know that "liberty and justice for all" is not as simple to achieve as it is to say, and we are continuously reminded of our national struggle to agree about what it means.
The reports, photos and audio recordings released in recent weeks of the children separated from their parents at our border weigh heavily on my heart. I am happy to share the project of Katrina Meyers, one of our LifeWays Training graduates from Oregon, taking place on the Fourth of July. Please watch the video interview here to learn more and see how you can participate. While sometimes it's tempting to think there is little one person can do, you and I can make a difference. That's what I'll keep in mind as I wave my little flag this Independence Day, with gratitude that this flag represents our freedom to speak up (and sing!) for those who don't have a voice.
Happy celebrating,

Mary O'Connell, Your Living Arts Blog Editor
---
A Story for Our Time
by Pamela Perkins
Once upon a time, in a place neither here nor there, then or now, the stars looked down upon the Earth. Far below they could see many, many places  where children were celebrating … laughing, dancing, singing together with their families under the star-and-moonlight with lighted lanterns , candles and bonfires.  Then they noticed several places where the children did not have light to shine in their darkness. They looked up into the sky and their faces were sad and lonely. Even the grownups looked sad and lost and could not find their laughter and song. The stars wanted to help. They spoke among themselves: what could they do ?
Some stars decided to send songs of love. These shimmered down upon the dark places like thousands of the tiniest silver bells, whose echoes one can hear within the heart, and once again feel joy. Other stars chose to become wishing stars and sparkle extra brightly, so that when the children and the grownups looked up at them, they felt hope. The last group of stars came down to the earth and twinkled playfully in the grasses everywhere in the darkness, blinking on and off, on and off, playing hide and seek so that the children might run and laugh again. When the children laughed, the grownups smiled and laughed too.
And so it is, even today, that if you go outside on a starry night and are quite still, you can feel the stars' silver songs of love in your heart. If you look up, you can find a special sparkling star waiting to receive your wish. And perhaps you might be lucky enough to live where fireflies call to you to play hide and seek.
Even if you cannot find these bright lanterns of the summer night, do dance and sing, laugh and play by the light of joy and love shining within your hearts, for this helps to brighten the dark places, both near and far.
Pamela Perkins has worked with and for children in various capacities since 1970. A former Waldorf teacher, LifeWays graduate and home provider, she now delights in being with her five granddaughters, plus creating magical needle-felted puppet stories and writing gentle tales to nurture young and old. She lives in the Upper Valley of Vermont, and is working on her new writing project Silver Seedlings – Nurturing Tales for the Young and Young at Heart.
---
For America
from Rudolf Steiner (the English translation and the original German)
May our feeling reach
To our heart's inmost core,
And seek to unite in love
With people of like aims,
With those spirits who, full of grace,
Look down on our earnest heartfelt striving,
Sending strength out of regions of light,
Bringing light into our love.

Dringe unser Fuehlen
In unseres Herzens Mittelpunkt,
Und suche in Liebe sich zu vereinen
Mit den Menschen gleichen Ziele,
Mit den Geistern die gnadevoll
Auf unser ernstlich-herzliches Streben
Aus Lichtregionen uns staerkend
Und unsere Liebe erhellend
Herunterschauen.
---