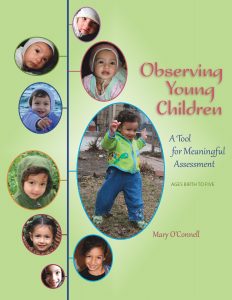 ~ by Mary O'Connell
For use with children 0-5 Years
PDF Version of the book for Download
Order this version if you live outside the U.S. (we only ship within the U.S.) or if you prefer a digital copy.
At last, a research-based tool for meaningful developmental assessment based on the whole child. This tool is specifically tailored for use by early childhood teachers and care providers who embrace and honor the spirit of the developing child, as found in Waldorf education and other child-centered models of care and education.
Observing Young Children is an open-ended assessment tool that you can tailor to your own needs. It offers a system of meaningful observation, a tool for recording observations, and research-based timelines for 33 areas of child development across five domains (Social/Emotional, Physical, Cognitive, Language and Approach to Learning).
Teachers and caregivers can use this tool to record observations of children in their care, help to determine where children may need extra support, prepare for parent-teacher conferences, or simply to use as a reference.
Parents can use this tool to follow the timeline of their child's development and provide just the right support for the child's emerging skills.
Observing Young Children is a stunning, full-color book with lots of photos as examples of the archetypal development of the young child.
What do the experts say?
With my highest praise, I recommend this tool without hesitation and applaud LifeWays North America for continuing to hold the line on what is best for babies and young children. LifeWays' approach to the growing child's timeline — as a spectrum of development and not a threshold for success — provides further evidence of LifeWays' commitment to individualized care and education that meets a child where they are and stands watch over what they most need. This is a strong return to the origin of subjective, scientific observation, which is intended not to evaluate a child or their skill set but rather to know the child deeply and to use that reflective knowledge to hone where the child needs encouragement and when the child is ready for a new challenge.

Mary O'Connell's stand on observation in the early years is not only a testament to the value of LifeWays North America but a refreshing reminder about the intended importance and valuable contribution reflective, objective observation can provide caregivers and parents. Her tiered approach using:

* recorded observations,
* collective input,
* portfolio development,
* dedicated time to reflect on the full picture, and
* looking toward the archetypal child development timeline to inform the caregiver's approach and environment

are well within the expected outcomes desired by quality rating systems. O'Connell takes observation to the core of its intended use, helping the adults in the child's life get to know the individual before them, to articulate that child's needs, and to anticipate the places the child may be ready to go. Additionally, her emphasis on how a well-prepared provider and environment promotes growth and development demonstrates the priority LifeWays places on genuinely nurturing care and child development.

Kimberlee Belcher, Ph.D.
Curriculum and Instruction
Educational Policy and Leadership Studies
Also available: Observing Young Children Recordkeeping, a fillable PDF file companion piece to the book, available as a download for $9.95
Price: $19.95 Book Only; $24.95 Book Plus Recordkeeping
Download Book Only
Download Book Plus Recordkeeping