with LifeWays Founder, Cynthia Aldinger
Saturday, March 3, 2018
8:30 a.m. – 2:00 p.m.
Rose Rock School and LifeWays Center, 1515 W Main St, Norman, OK 73069
For more information, please contact Shanah Ahmadi 405-412-3583
Join LifeWays North America founder and international speaker Cynthia Aldinger for a fun-filled and informative workshop on creative discipline with young children. Take away a toolkit of ideas for how to meet challenging behaviors and establish healthy rhythms and routines.
This workshop has been offered to hundreds of participants around the world, and Rose Rock School, a LifeWays Representative early childhood center, is delighted to host Cynthia for this engaging and joyful event.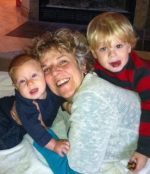 Cynthia founded LifeWays North America in 2001.  Author of the book Life is the Curriculum and co-author of the book Home Away From Home: LifeWays Care of Children and Families, Cynthia has lectured and presented internationally and is pedagogical director for trainings and seminars across the United States.  She served fourteen years on the board of the Waldorf Early Childhood Association of North America.  A former Waldorf Kindergarten teacher, Cynthia received her Waldorf teaching certificate at Emerson College in Sussex, England.  A mother and grandmother, Cynthia's passion is the preservation of the playful spirit of childhood and helping to create home-like environments that provide the comfort, security and activities found in a healthy home.
$50 (lunch included)
Register below: