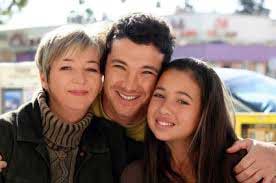 Featuring Jack Petrash & Cynthia Aldinger
January 22 – February 2, 2020
Includes a FREE download of Nurturing Our Children and Ourselves, Cynthia's popular audio lecture! PLUS a FREE copy of Jack's book, Navigating the Terrain of Childhood! (US addresses only)
This two-week guided online course for parents of children from birth to age 21 is a gem!  Based on a workshop Jack and Cynthia created for a live audience and Jack's insightful and practical book Navigating the Terrain of Childhood, parents will accompany us on a journey through the changing landscape of developmental needs as children grow.
With special emphasis on co-parenting, whether you are living in the same household or separately, Jack and Cynthia offer a meaningful and often humorous dialogue based on the metaphor of a trip across the vast United States to describe the different developmental regions that children inhabit as they grow, and the things parents can do to support them as we accompany them on their journey.
For two weeks, every few days a new lesson will appear in your email inbox that contains a variety of learning materials:
Lively, engaging videos featuring Cynthia and Jack
Practical advice from Navigating the Terrain of Childhood
A variety of resources to support you on your own journey as a parent
Rich online discussion forums with your course instructors, Cynthia and Mary
Life-Long Access: Lively online discussion forums on themes relating to the content are held throughout the two week course, so participants get to learn from one another's experience as well. The instructors reply over the course of each week, so there is no need to show up at a specific time and no difficulty with different time zones. Life-long access to the course means you can learn on your own time and at your own pace.
This online course features:
Jack Petrash, of Nova Institute, is a veteran Waldorf teacher and highly esteemed author. His books include Understanding Waldorf Education: Teaching from the Inside Out, Navigating the Terrain of Childhood: A Guidebook for Meaningful Parenting and Heartfelt Discipline, and Covering Home: Lessons on the Art of Parenting from the Game of Baseball. His parenting pieces have appeared on National Public Radio and in the Washington Post.  Jack is a father and grandfather.
Cynthia Aldinger founded the first LifeWays program in 1998 to nurture families and inspire childcare practices throughout the country.  Executive Director of LifeWays North America, she is the author of Life is the Curriculum and coauthored Home-Away from Home: LifeWays Care of Children and Families with Mary O'Connell. She served on the board of the Waldorf Early Childhood Association for fourteen years.
Your online instructors are Cynthia Aldinger and Mary O'Connell:
Mary O'Connell is the LifeWays Training Coordinator and President of the Board of LifeWays North America.  She is the author of Observing Young Children and co-author, with Cynthia, of Home-Away from Home: LifeWays Care of Children and Families.   She and her husband own Paradise Farm in West Bend, WI, which offers farm education and nature programs for children and adults.  Mary was a home-based LifeWays childcare provider and LifeWays center director for 20 years.
$59 TUITION Includes a FREE download of Nurturing Our Children and Ourselves, Cynthia's popular audio lecture, which normally sells for $12.95. You will also receive Jack's book (normally sells for $14.99) for FREE. (Pay only $5 for shipping – US addresses only.)
If you have questions, submit an inquiry.
Refund Policy: Fees will be refunded in full up to 7 days prior to the start of the course, and at 50% if student cancels enrollment less than a week in advance. Fees are nonrefundable after the start of the course.
Register online and pay by credit card or through Paypal below. After we receive your registration and payment, you will be sent the link to the course.